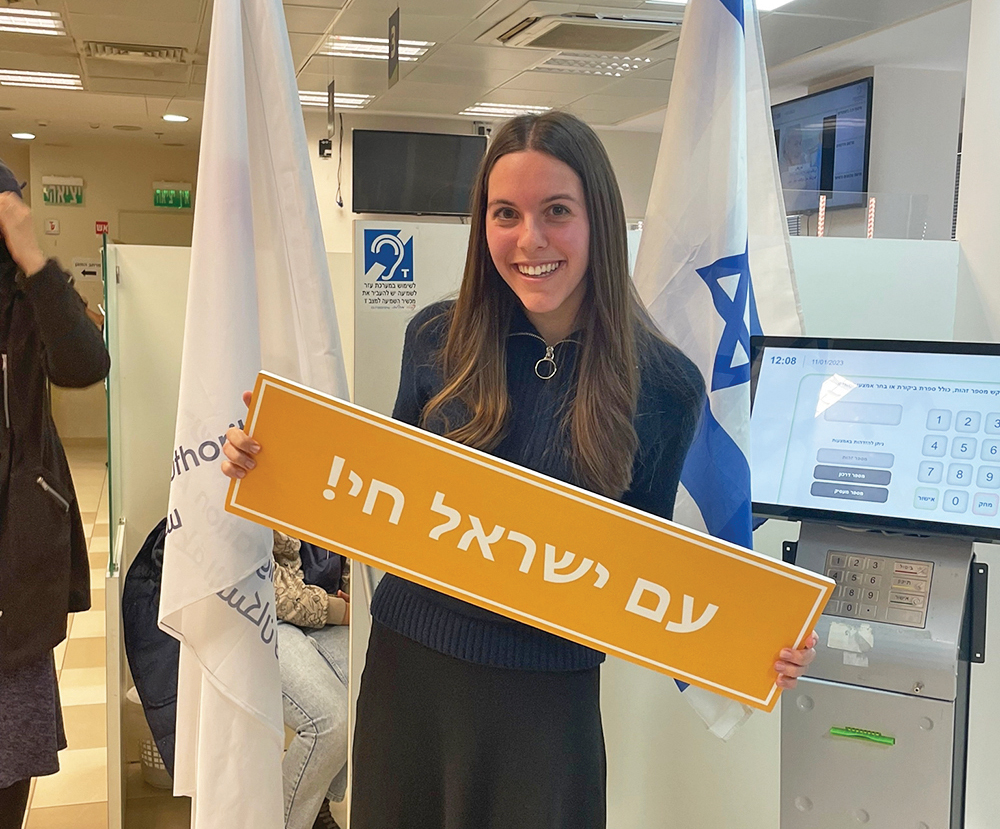 Ellie Shron, 20, made aliyah this past January from East Brunswick to Baka, Jerusalem. She had studied at MMY and decided to make Israel her permanent home just ahead of her parents, Josh and Mairov, who now live in Modiin.
Where did you go to school?
For elementary school, I went to yeshiva at the Jersey Shore, which doesn't exist anymore, and to Ma'ayanot for high school. Both were very Zionistic.
What motivated you to make aliyah?
My whole life—in my schools, in my camps, and at home—I have been taught that Israel is our final destination. I didn't know if I was going to make aliyah, but when I came for seminary, it seemed very realistic because many of my family members had made aliyah. My parents had been talking about making aliyah as far back as I can remember, but I didn't know when it would happen, so I did it on my own.
What were your trips to Israel like when you were younger?
They were always family trips. We went to Modiin and stayed there for the summer with our cousins. I even went to day camp here in Israel when I was little. One summer, I went on a summer program and toured the country. Going to different families for Shabbos and seeing that they were so happy and living their best lives really helped me make my decision.
What was the final impetus for you to come last January?
I just knew I wanted to live here and raise a family here, im yirtzeh Hashem. I was finishing Shana Bet in MMY, and I knew that if I went back, it would be so easy to get comfortable there. I knew I was supposed to be here, I knew the language, and I had a clear path of what I wanted to do. All my friends went back to Stern, and all I wanted to do was stay in Israel.
What are you doing now?
I'm supposed to be in Machon Tal's nursing school. I had a three-week mini-semester, so I got a little taste of it. But since the war, I've been helping out where I can—babysitting for families who have a parent in Miluim and volunteering at Shaarei Tzedek Hospital running a daycare and giving out coffee. I have also been able to go to MMY for some classes because I live so close by.
What do you love about living in Israel?
I love that the bus driver wishes you a Shabbat Shalom, and when you ask a seemingly secular Israeli on the street how they're doing, they answer, "I'm good, baruch Hashem." Everyone looks out for each other even though they can be a little harsh on the outside. If someone is yelling at your kid, they are just nervous because the kid is about to go in the street.
Do you miss anything about living in New Jersey?
I miss my friends, the shopping and driving. Here, I don't have a car or a license yet, but the buses are good.
How have you been feeling since the war started in terms of being here versus being there?
People keep asking me that, and I feel like there's nowhere else I'd rather be right now. If I were in America now, I would be trying to find ways to help, but writing a check wouldn't be enough for me. Here, seeing all the achdus—seeing everyone coming together and wanting to help in any way they can—is so incredible to see. I love that I am part of that. I'm not just sitting on the sidelines and watching from far away. I am actively helping by doing something as little as watching someone's kid so she can take a shower.
Do you have a message for anyone who's considering making aliyah?
It seems impossible, whether or not your family is here, but you can do it. You'll learn the language and you'll make friends, and your friends will become family.
---
Aviva Zacks is a writer living in Israel who loves speaking to olim and hearing their stories. If you know of an oleh/olah who is interested in being interviewed for The Jewish Link, please email [email protected].