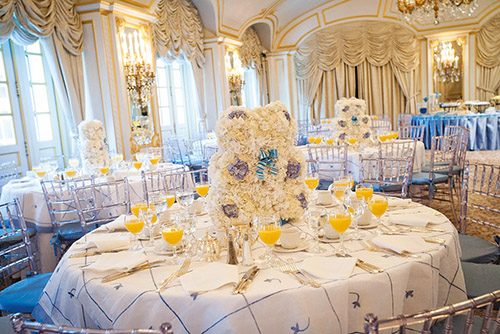 Choosing a caterer may be the most important decision you'll make for your simcha, but it can be the hardest to research. Price isn't the only consideration. The number you get on a proposal from each caterer will be different and based on many factors. What kind of food do you want? How important is presentation? What staff and facilities does your venue offer? What level of service do you want—and are willing to pay for—from the caterer? You should put some thought into answering those questions before you start making inquiries.
"We know price is going to be a huge factor but we can't put together a proposal without some guidance as to what factors are driving the cost and knowing what is most important to each client," said Noam Sokolow, who owns RAVE Catering. "In the corporate world, we get an RFP [request for proposal]—a document with everything itemized that goes to several caterers for a quote. But in the social world people don't necessarily know what they need. A caterer needs a tremendous amount of information to give an accurate proposal."
It's not just the number of courses and whether you want chicken or steak. The ratio of waiters to guests affects the pace of the service and impacts the overall cost. Some venues include staff but the caterer may add their own people. Labor often costs as much or more than the food.
In most cases, it is more expensive for the caterer to serve on china than to purchase disposables. China often has to be brought, delivered, returned and washed, which requires more service staff. "In some venues we kasher the kitchen, silverware and serving ware. In others we are not permitted to do the kashering and have to bring everything in," said Sokolow. "That's why having all this information is critical. We have over 35 years of experience in all the major facilities so we know what's involved with each venue. We always bring in key members of our staff because the venue doesn't always provide service the way we do."
In terms of food, each caterer uses different quantities. "When you go to the supermarket and you want a rib roast or an oyster steak, you see the different prices," said Sokolow. "When a menu proposal says rib steak or short ribs, it may not be the same from two different caterers. One could be giving you a 12-ounce portion and one an 8-ounce portion. One could be giving you a domestic product, and another is quoting an import." Sometimes people think changing an item or two could bring the cost down but that isn't a significant factor. "It's a fixed cost to get to the facility," said Sokolow, "food is just a small part of the overall cost."
And there should be a balance in the kind of food you have at your event. Sokolow said he had a client for a kiddush who wanted to take the cholent and kugel off the menu to reduce costs, and leave the charcuterie, short ribs and pastrami. But to make up for the shortfall, more of the expensive meats had to be ordered, which ended up increasing the cost. "We work one of two ways. Give us your budget and we'll work backwards to suggest a balanced menu and give you a proposal. Or tell us what you want, like a sushi bar at the smorg, and a four-course dinner with a steak, chicken and fish option. We try to get the information that drives the budget."
Once a client chooses a caterer, there are still decisions to be made, and sometimes that means advising the client on what or what not to have. "We won't allow someone to make a decision that reflects poorly on our catering services," said Sokolow. "If a client says, 'We want rack of lamb; we know it's expensive but our family loves it; and we'll keep costs in check by serving it on bamboo plates,' we'll tell them, 'Lamb has to be served on china.' It is your party and we want to follow your wish list, but we won't let you do something that's not going to work."
Now in its 35th year, RAVE has many repeat customers. There are families in which RAVE has catered a baby's brit, his bar mitzvah and his wedding, and now the children's simchas. RAVE is a boutique catering and event planning firm that usually does just one single event per day, so Sokolow advises anyone researching a simcha to start calling as early as possible. Bar and bat mitzvah parties are usually planned a year in advance. Weddings have a shorter time frame but couples often book vendors for their wedding before they formally announce an engagement. On average, weddings are planned six to nine months in advance.
"Remember that you're buying a service, not a product," Sokolow emphasized. "If you're buying an Apple iPad, it's the same iPad wherever you look. With catering, you're buying reputation, expertise and experience."
Joel Schiff is a relative newcomer to the Teaneck area; he's been catering events from Heimish in Teaneck since 2020. He sees that as an advantage. "My product is based on what I personally specialize in, not what I see others do," he said. He spends a lot of time talking to people about why comparing quotes can be misleading. Someone asked him why he was quoting $12.50 per person for a dessert and someone else was charging $3.50. Turns out the cheaper quote was for an ice cream pop and not the elegant creation Heimish was proposing. "I could do an ice cream pop for $3.50, too," Schiff said.
Schiff understands there are many ways to allocate money for catering so he makes sure to understand what people are looking for. And it varies wildly. He is doing a weekend program for 1,000 people where the organizer told him he didn't want any décor options, not even flowers, just good food. He's also doing a reception for someone who told him she is less interested in what he serves than how he serves it: The food has to look fancy and beautiful. "Half the bill is décor and service and she's very happy," he said. Schiff isn't a party planner but he's very involved in the entire simcha and likes to take on the role of selecting and ordering the elements of décor when a client requests that service.
One of the first questions Schiff asks a client is whether they want the kind of food that they would serve at home, like fish, salad and chicken with two sides, or something different like tacos and charcuterie boards. He gives options for each course. He discusses the menu with a client two weeks in advance to make final decisions. He also emphasized that if you try to cut out a few items or reduce staff to save money, you won't have the event you want. "We won't compromise on quality but we may have to cut down on the extras that make an event upscale, like a nicer food presentation with garnishes, or a waiter walking around with glasses of juice." It is sometimes better to have a different kind of event. One client had to cut down the cost by half, so Schiff gave her a better suggestion for her budget. "I told her to do it with drop-off platters. It didn't make sense for her to spend $1,500 on staff and $1,500 on food—she wouldn't get much. I said, 'I'm happy to work with you and give you beautiful platters,' and she was very happy."
Jacob Ottensoser has been in the food industry for 20 years and became the owner of Esprit Events Kosher Catering in 2017. "We are a forward-thinking caterer that likes to do things that don't have a 'been there done that' sameness," he said. "We want people to walk in and out of our events and say it felt different—the cuisine, presentation and execution. Within reason, we are always trying to push the envelope, and the menu should mirror the venue. The menu will be different if the wedding is at a farm in upstate New York or in a Manhattan hotel." Even when he does events at the same venue, he makes sure they are different. "For two weeks we were in the same venue, with overlapping guests, and had completely different menus," he said. The food may have a rustic theme one week and be very modern the next. At larger events, the choice of stations might reflect on the season as well as the client's preferences.
Almost everything Esprit serves is made in-house by chefs trained in all cuisines. "Whether we are catering a large event or a more intimate event, we are there throughout the process to guide our clients and give them the attention they need."
Gary Rubin of Petak's in Fair Lawn said it is definitely preferable when people have an idea of what they want before they call, but he's happy to spend a lot of time getting to know a client and giving his input. After he gets the basic information about the date and the venue from a client, and understands what they are looking for, he prepares a sample menu. Rubin will work with a specialty chef when a client has a request for a specific type of cuisine to ensure the product is authentic. He recently brought in a Middle Eastern chef for a specific customer. "I believe in developing long-standing relationships with my clients," he said. "I'm looking to not just do this single event with a client, but to develop a relationship and do many more events together."
Perhaps the best research you can do if you have a simcha coming up is to take notes whenever you are a guest. If you like what you see and what you eat, get the name of the caterer.
By Bracha Schwartz