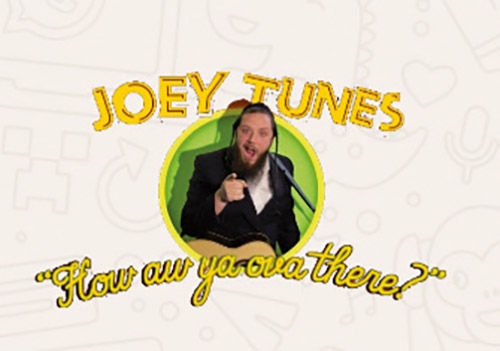 "So how aw ya, everyone?"—Joey Newcomb style. Believe it or not, there's a billboard in Lakewood with that slogan and Joey's face, LOL. Our whole family really does care how people are, and our radio fans know it. The holidays were filled with music as well as collaborations. Concerts, medleys, special adventures and appearances, meaningful family time, spiritual farbrengen, and our first Pesach together as a blended family are hard to say farewell to.
Our colleague Talkline Radio host Zev Brenner was busy at a Pesach program, live on location. He and Joey had a chat about his upcoming new album. He interviewed us as "The First Family." Yes there are many perks to being "Joey's mom." We have access to and relationships with all the talents these days, though we never abuse the privilege. In fact, we often try to go incognito until Joey calls us over for a photo and folks realize we're family. Joey jokes: "Of course she's my mom; no other woman grabs me up close!" Joey's loyal, modest wife and kids have special protexia, of course.
We're now entering a time period when some forms of music are restricted. It's not easy to refrain. As radio folks and music lovers, we know full well the power of music and its role in simcha and healing. Joey and Lipa Schmeltzer rode horseback while singing together in Cancun, delighting the crowd, #TYH! Joey also played with Eli Levin and Shulem Lemmer, met our mentor Rabbi Simon Jacobson at Stone Mountain, Georgia, and many others. But the fave collaboration and special kavod goes to Yossi Hecht, a special bochur with a huge heart and soul; despite his spinal tumor confining him to a wheelchair, his spirit/impact soars. They wrote and sang "Borei Refuos" together. May Yosef Chaim ben Devorah Leah have a refuah shelaima along with all cholim, bezras H"!
During the weeks of Sefirah we do our best to provide inspiration. We share engaging shiurim, acapella music, conduct interviews (please join us on-air), public service programs, accept requests, call-ins and dedications, share the news with our commentary, provide unique weather reports with a twist, go live on location spontaneously, and of course, "Gordon jest" in our trademark style. Leibidig Al wants me to be clear: He does not like a capella music, LOL, but we play it anyhow, knowing full well we're here to serve.
Our goal for this time period heading towards Shavuot is to see baseless hatred replaced with baseless love—whatever it takes, as per Rabbi Efrem Goldberg of Boca Raton Synagogue, a former New Jersey native. Abie Rotenberg's new "Journeys 5" album has a song called "We've Got the Music," showcasing the many talents in the Jewish music world. We love the "we" factor, so important in music and in life.
Within the many types of music, each can find their own genre. Across the board mass appeal artists are rare, so are people for that matter—team players. As we work to upgrade ourselves on the journey towards Shavuot, music plays a role. Please remember: Healed people heal people.
We noticed music soothing kids of all ages, babies to adults. Our music and grief therapeutic colleagues have studied effects, results and impact, and the track record speaks for itself. May we all go forward in life, together in empowerment.
We've all come such a long way since 2020, with awareness and connection fueling 2022 recovery in growth-minded mode. We've added new programming, including a weeknight "Supper Serenade" Jewish music/fun program blending new artists, oldies and everything in between on New Jersey and New York radio, accessible around the world online as well. Please join us "on-air" anytime. We welcome and value your voices. Teaser alert: Teen/young adult DJ/programming coming soon in the form of "Joey's sister." Please stay tuned. Thank you to our loyal listeners/readers and of course, Thank you, Hashem!
---
Al and Sarah (Newcomb) Gordon own and operate 1640 WJPR, a unique radio station in hybrid format out of Highland Park/Edison, New Jersey. Al has been dazzling Radioland with his voice and personality for decades. Sarah, a writer, realtor and therapeutic healer is new to radio and new to the Gordon household. Together they hope to blaze a unique trail utilizing their special koach impacting their children, grandchildren, community, many fans and all others as intended from above, one song and one smile at a time. #TYH Nation YOU matter! They can be reached at: [email protected].