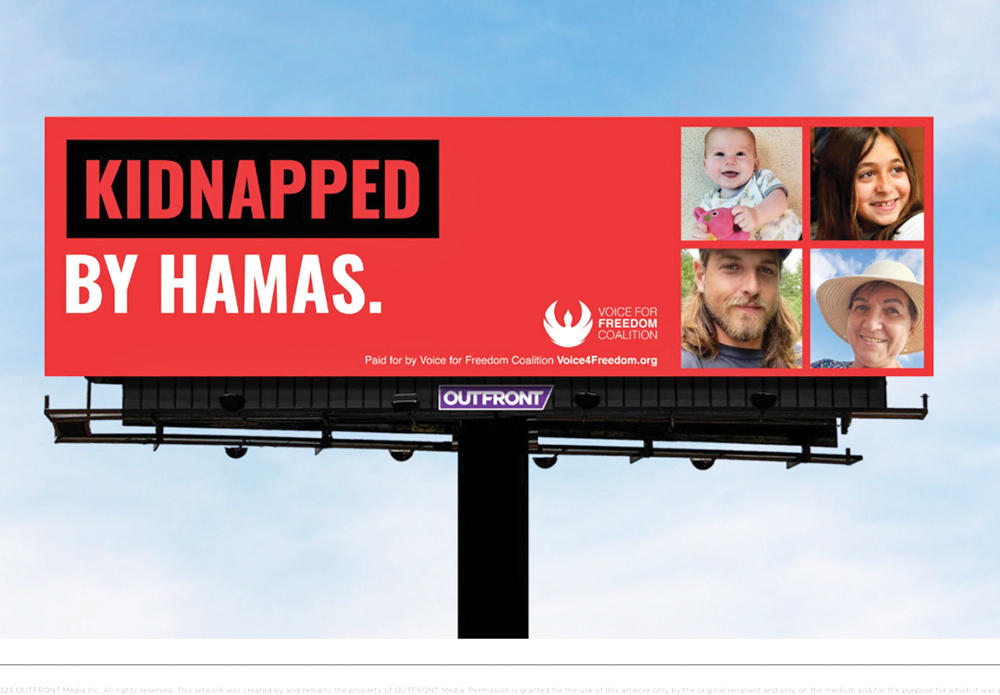 No one's tearing these posters down.
Shortly after the attacks of Oct, 7, Jason Suss quickly organized a nightly Tehillim group in his shul, Keter Torah in Teaneck. With posters of the hostages hanging on the walls of the shul, each evening dozens of members congregate to recite tefilot on behalf of the more than 240 kidnapping victims who are still being held captive in Gaza.
Although plenty of people have been putting up posters of the victims, Suss and every other member of the community has been left sickened, horrified and disheartened by the despicable individuals tearing down these posters. After looking at the poster hanging in shul, he was also feeling frustrated, not just by the vicious actions of the heartless villains ripping off the posters, but also by the fact that the faces of the victims on the posters were small and difficult to see. In disgust, Suss turned to his good friend Jacob Schulder who said, "Well, if it's up on a billboard, they can't tear it down." Suss told Schulder that it was a great idea and just like that said, "We're doing this!" With that brief exchange the "Billboards in New Jersey for Hostages" campaign was born to tell America all about these innocent victims who have been subjected to unimaginable suffering by the murderous terror of Hamas.
"I just said it without thinking there is someone just as crazy as I was to do this undertaking," Schulder explained. "It was a very generic and natural reaction to this horrible situation that the Jewish people are facing." But out of that brief exchange between these two friends a plan had been set into motion. The two friends quickly mobilized to put together a billboard marketing campaign to raise awareness about the hostages that were kidnapped by Hamas terrorists during the pogrom on Oct. 7. Within 24 hours, Schulder had engaged a billboard company that was interested in taking on this campaign, while Suss brought on a nonprofit organization to help bring this idea to life.
"What Jacob and I did is we sort of dreamed this concept up when we were so frustrated with what was going on. We wanted to broadcast this to the world, not just to the haters but also to those that just don't know," Suss added.
"It's a campaign that we just now opened to the public and we hope it's a very short campaign," said Schulder. The hope is that the hostages will have already been released long before this story is published. "But until that happens, it's our duty to raise awareness, not just in the Jewish community, but also to the rest of the world," he added. They linked up with a nonprofit 5013c in Israel Voices for Freedom in order to give people the opportunity to make a charitable contribution when donating to this cause.
In turn, Voices for America felt a deep debt of appreciation to Suss and Schulder and marveled at the notion that people as far away as New Jersey cared so much and wanted to help in any way they could.
"It really warmed our hearts just to know that this message of what we wanted to do had been received by the families of the hostages, and how grateful they were of the efforts from so far away," Suss said.
A majority of this campaign will be featured on 28 digitized billboards and three static billboards in strategic locations that promise high visibility guaranteeing 20 million impressions — which is the billboard industry's term for "views." "But, basically, the impressive piece to this is that 20 million impressions is the equivalent of having the message broadcast across 100 billboards, and that is a number where we can really raise awareness," explained Suss. "We want to connect to human beings and to connect to human beings you've got to see an image," he continued.
The billboards can be found in Bergen, Hudson, Passaic and Essex counties on randomized eight second loops, based on impressions and viewability (which, according to algorithmic studies, is essentially how many people the billboard company can ascertain will drive by and see these signs). There are billboards on the way to the George Washington Bridge, I80, the New Jersey Turnpike, Route 4, Route 17 and Route 3, among many other locations.
The campaign, in the meantime, has garnered considerable attention and momentum. On a grassroots level, information about the campaign has been shared at an exponential level, allowing Schulder and Suss to raise $58,000 in less than 24 hours. As of a few days ago, the campaign had raised about $75,000. Then, a friend of Suss's, who happens to own a massive billboard space in Times Square, heard about the campaign and wanted to immediately put up the Schulder's and Suss's life-sized poster. There are also plans to utilize a mobile billboard company on college campuses to call out antisemitic professors, activists, students and others who are vocal in their antisemitic and anti-Jewish sentiments.
"We want to utilize this exponential ability to expand our collective Jewish voice for a cause that is so very important," Suss said.