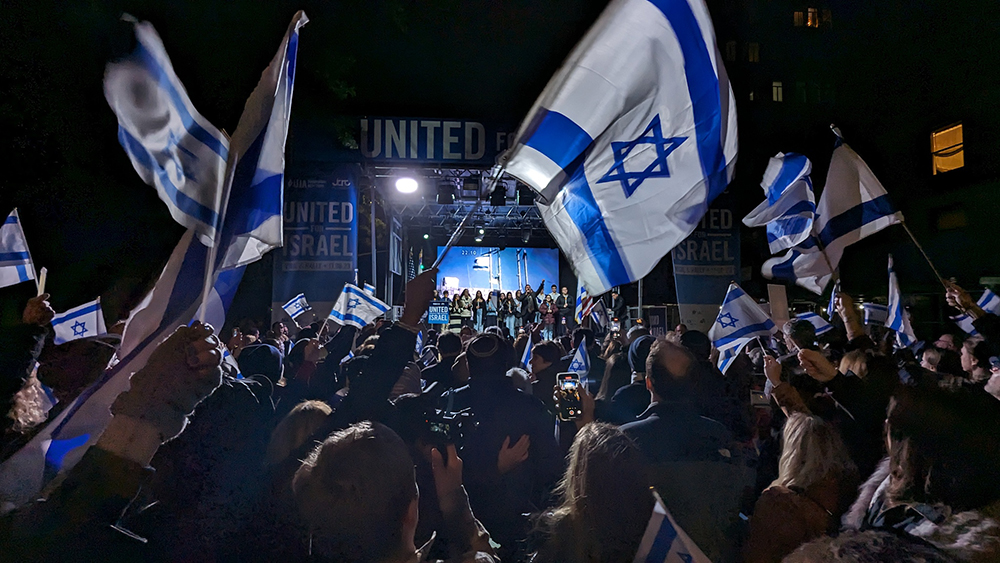 United in heartbreak and solidarity, a crowd of 10,000 gathered on Central Park West and 83rd Street in Manhattan on Monday evening, Nov. 6, to mark the shloshim of Operation Swords of Iron. The crowd of young and elderly, religious and secular, united for a vigil and rally organized by UJA-Federation of New York and the Jewish Community Relations Board of New York. Co-sponsoring agencies included ADL, AJC, Jewish Federations of North America, JNF, New York Board of Rabbis and the OU, among others.
As the heartbreaking images of the more than 240 hostages being held captive by Hamas were featured on the giant screens, Israeli singer and songwriter Idan Reichel, who had spent the previous three weeks traveling from army bases to hospital wards to devastated kibbutzim throughout Israel, performed an original musical work entitled "Mi'ma'amakim" (From the Depths). He was accompanied on violin by a survivor of the annihilated Kibbutz Be'eri which suffered unmentionable atrocities at the hands of the butchering Hamas.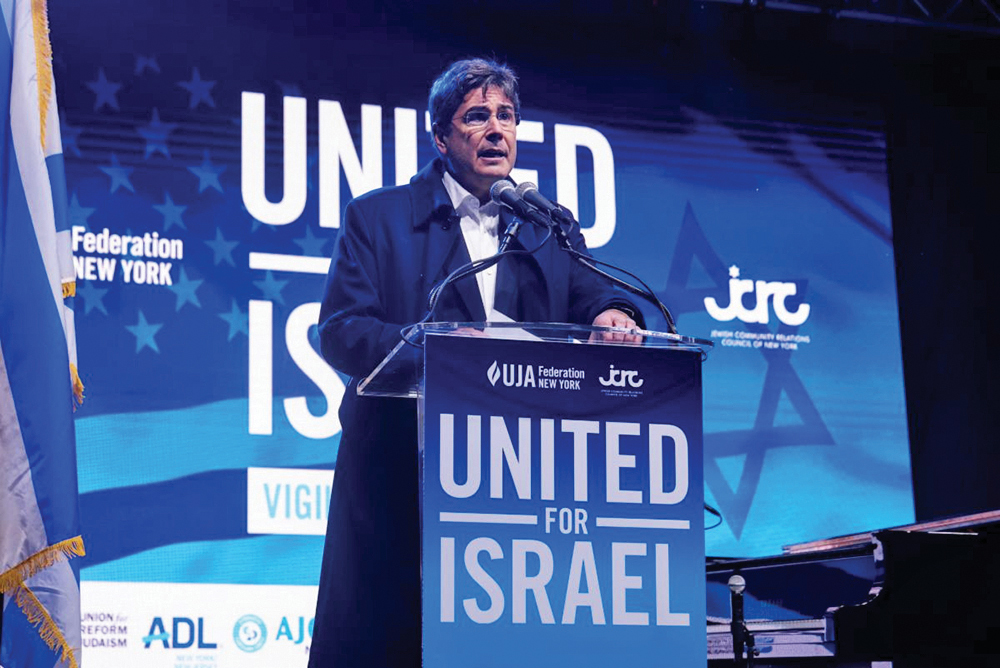 CEO of UJA Eric Goldstein referred to Oct. 7 as the darkest day in Jewish history and called upon the world forum to "unequivocally" condemn Hamas. He praised the U.S. Jewish community for raising their voices at vigils and rallies and for the generous outpouring of financial support through UJA and the hundreds of other Jewish organizations helping the war effort. He led the crowd in the rousing chants of "Bring Them Home" and "Am Yisrael Chai."
Israel's ambassador to the United Nations, Gilad Erdan, his yellow star pinned to his lapel, called Oct. 7 the "atrocity that will never be forgotten." He compared the Hamas vision to that of the Nazis — obliteration of the Jews. He condemned the international community for not coming out strongly enough in condemning the inhumane actions of Hamas. "We are done listening to trite slogans and empty words. This is 2023, not 1943. Action must be taken now! Those who attack their fellow students on college campuses should be expelled. Those who riot must be prosecuted.
"If we do not act now, these atrocities will go on. University presidents, governors, mayors and elected officials throughout the world must take a stance against these violations of Jewish life. Jewish blood is not cheap. But, at the end, we shall prevail. Am Yisrael Chai!"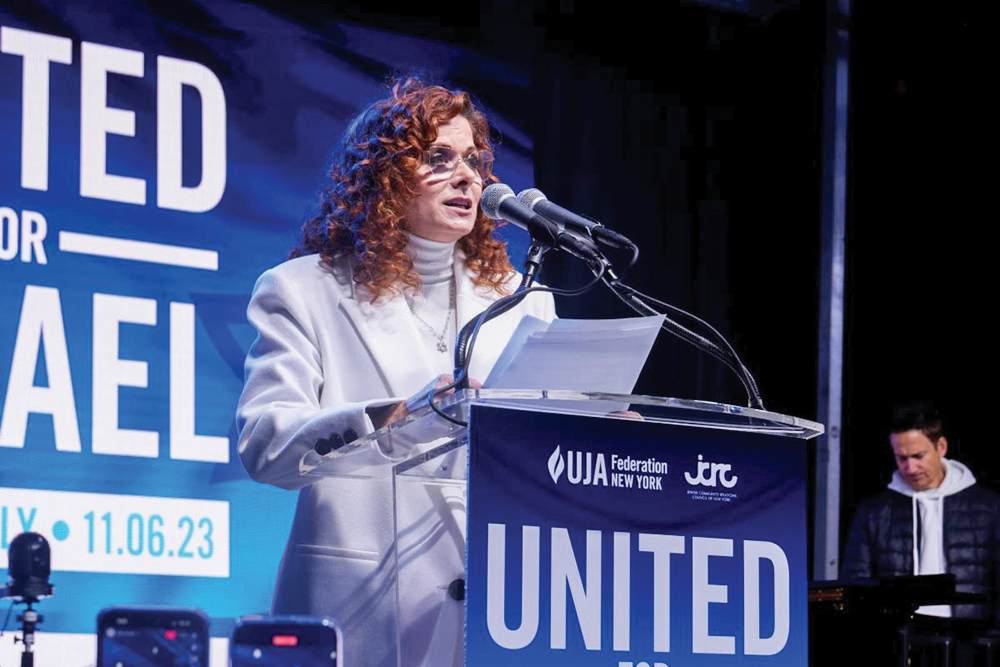 Sen. Chuck Shumer, the highest ranking Jew in American government today, was in China on Oct. 7. He flew to Israel upon hearing about the outbreak of war and had to flee into a bomb shelter when he arrived. He shared the horrific story of the 100 residents herded into a room at Kibbutz Be'eri and slaughtered wholesale. For him this gruesome image reflected his own great-grandmother's story of being herded along with 33 relatives into a synagogue in their Polish village and subsequently murdered. Addressing the citizens of Israel, he declared, "We have your back. You do not stand alone. I will stand by to ensure that Israel is accorded all the support that it needs. Am Yisrael Chai."
Comedian Elan Gold, who admitted to not being funny during the last 30 days, called Oct. 7 the "modern day blood libel" used to incite violence against the Jewish people. He urged that instead of vilifying Israel in its fight to rid the world of Hamas, the world should venerate Israel and assist them in these efforts.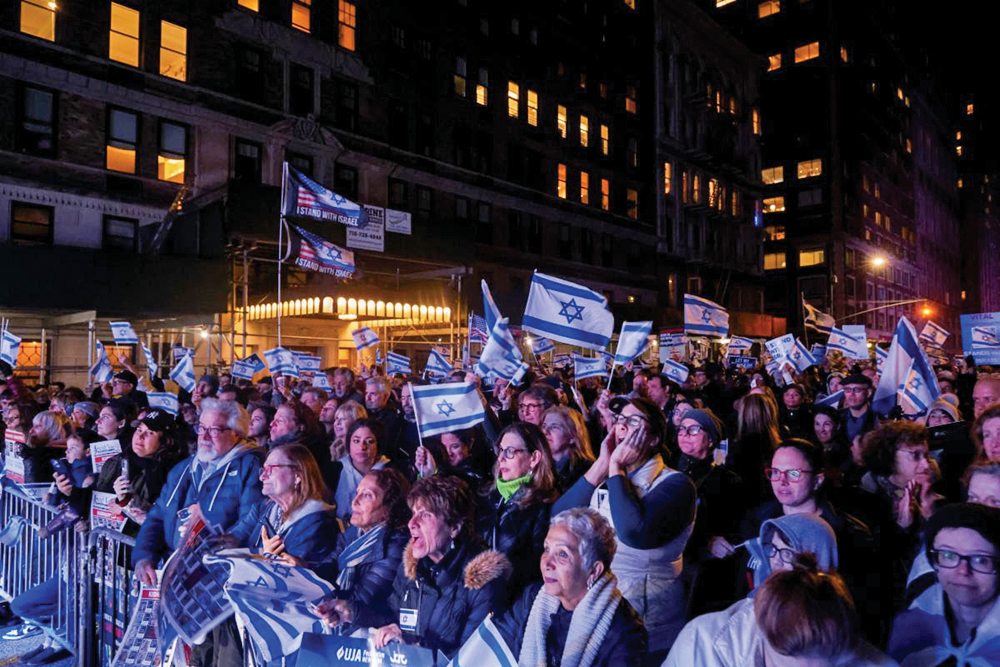 Actress Debra Messing of "Will and Grace" fame, movingly read a letter that she mentally composed to her deceased mother. She recalled her own experiences with antisemitism as a young child growing up in Brooklyn. She shared how her father would simply and quietly replace the lights and windows maliciously smashed by hostile neighbors. Despite it all, her parents taught her that good people abound. Her message was "be strong and resilient, righteous and loving, embrace your faith, sing and dance and celebrate your heritage. Am Yisrael Chai."
Christian pastor Charles Galbraith of Brooklyn shared the prophecy of Isaiah in which God gives strength to the weary and power to the weak. He assured the audience that just as they have consistently stood up for his people, his people will stand up for the Jewish people in these horrific times.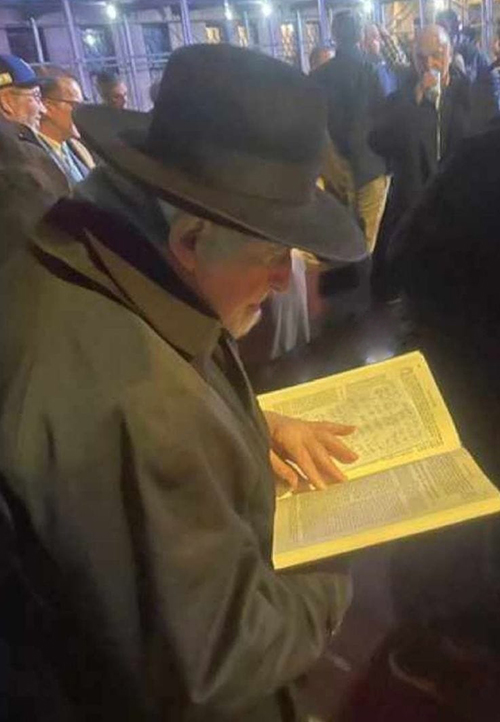 Rep. Dan Goldman (D-NY-10), who was in Tel Aviv on the morning of Oct. 7 and had to rush his family into a bomb shelter, stressed the importance of having Congress on Israel's side and squelching the voices of a small but loud fringe that does not understand the underlying facts of the current situation. He urged us to keep united and continue coming out in large numbers to rallies in support of Israel and its citizens until we bring the hostages home!
Relatives of hostages, one being the niece of a couple who vanished from Kibbutz Nir Oz near Gaza, and the second, the brother of a young mother who was kidnapped by Hamas, urged the attendees to be hopeful and try to imagine their loved ones returning to their families alive and well.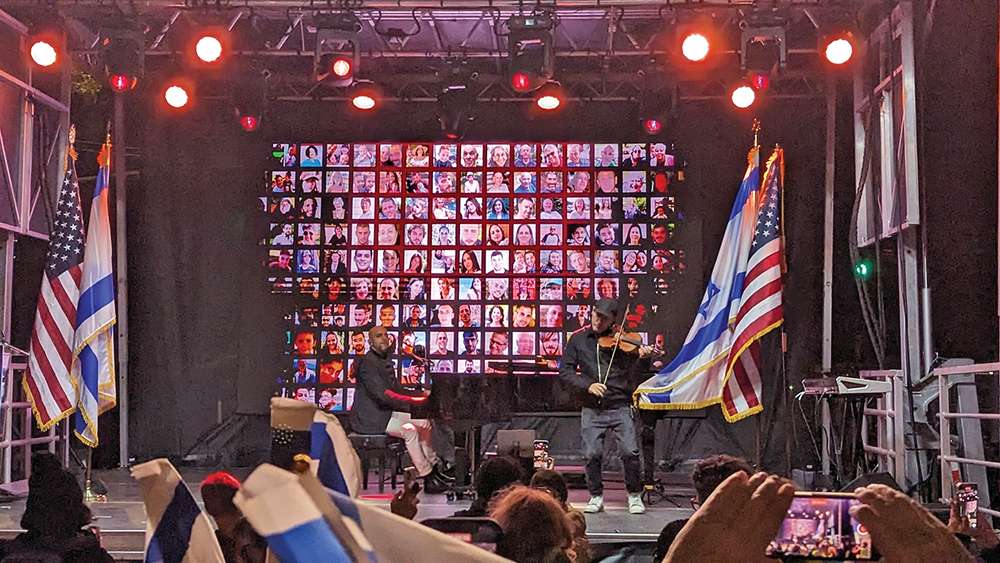 Israeli singer Gad Elbaz closed the program with moving musical renditions of "Avinu Shebashamayim" and "Vehi Sheamda La Avoteinu" to which the audience joined in. Behind him was a group of 14 young men and women from Jewish day schools and universities in New York City representing the 1,400 victims of terror who died "Al Kiddush Hashem."
Am Yisrael Chai!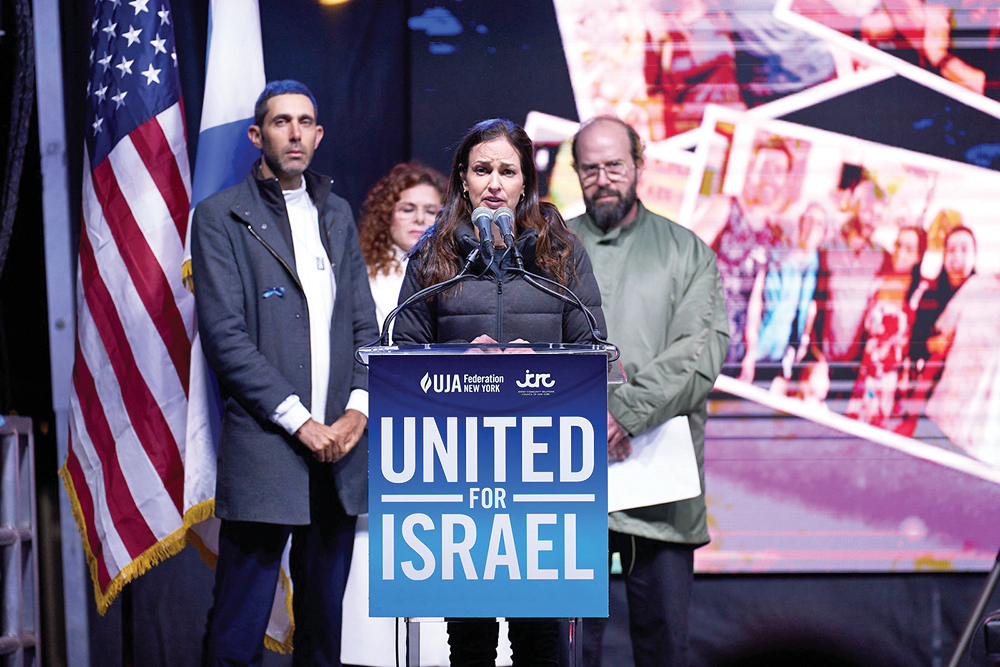 ---
Pearl Markovitz is senior staff writer at The Jewish Link.