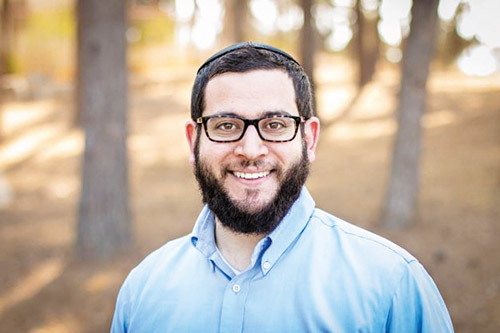 (Courtesy of Congregation Agudath Sholom) Rabbi Dr. Shlomo Zuckier, a Judaic studies scholar, will be spending Shavuot in Stamford at Congregation Agudath Sholom, and delivering five Torah classes over the holiday.
Dr. Zuckier will give his first two classes on the first night of Shavuot, Thursday evening, May 25, as part of the all-night learning program at the synagogue beginning at midnight. His first class will be titled "When Was the Torah Given and When Should We Celebrate Shavuot?" and his second class will be "Do Mitzvot Require Preparation?" Refreshments will be served.
Dr. Zuckier will be delivering the sermon at the main sanctuary on the first day of Shavuot, Friday, May 26, at approximately 11 a.m. The title of the sermon will be "Why the Torah Was Given to Mere Mortals."
On Friday, May 26, Dr. Zuckier will give a text-based class between Mincha and Maariv at 8 p.m. on "The Book of Naomi: A New Perspective on the Story of Ruth."
Finally, on Saturday, May 27, Dr. Zuckier will deliver his final class, "What Does the Divine Image Look Like?" between Mincha and Maariv at 8 p.m..
"We are delighted to host Rabbi Dr. Shlomo Zuckier for a series of high-level Torah classes during the Shavuot holiday," said Michael Feldstein, a member of the adult education committee at the synagogue. "Dr. Zuckier endeared himself to our community while he and his family lived in Stamford briefly, and we are very happy that we are able to bring him back to teach Torah to us."
Rabbi Dr. Shlomo Zuckier is a Research Associate at the Institute for Advanced Study in Princeton and a Maggid Shiur at Stern College and the GPATS program at Yeshiva University. Previously he received his PhD in Ancient Judaism at Yale University, was a member of Yeshiva University's Kollel Elyon, served as a postdoc at McGill and Notre Dame Universities, and was director of the Orthodox Union's Jewish Learning Initiative on Campus at Yale University. Shlomo is an alumnus of Yeshivat Har Etzion and RIETS, as well as a recipient of the Wexner and Tikvah Fellowships.