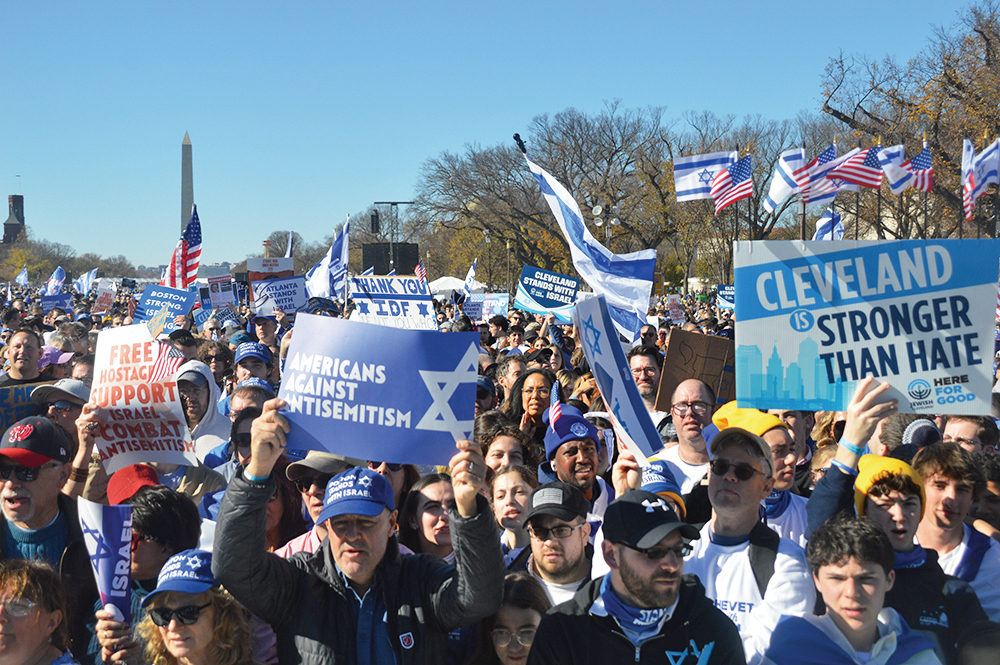 Fathers, mothers, brothers, sisters, children and cousins congregated on the National Mall in Washington, D.C. for the largest pro-Israel gathering in US history.
The Americans March for Israel rally was a testament to the enduring spirit of the Am Yisroel, the Nation of Israel, as more than 290,000 people of all ages came from across the United States and Canada to show their support for Eretz Yisrael, for soldiers serving in the Israel Defense Forces and for the 238 people being held captive by Hamas in Gaza.
One of those attending was Talia, a student at Florida International University. Her 98-year-old grandmother survived the Holocaust, and her brother is serving in the IDF.
"I promised my brother I would be his voice while he's doing the physical fighting and I promised my grandmother that I would never be silent," she said. "This fight is for our existence, for Israel's survival."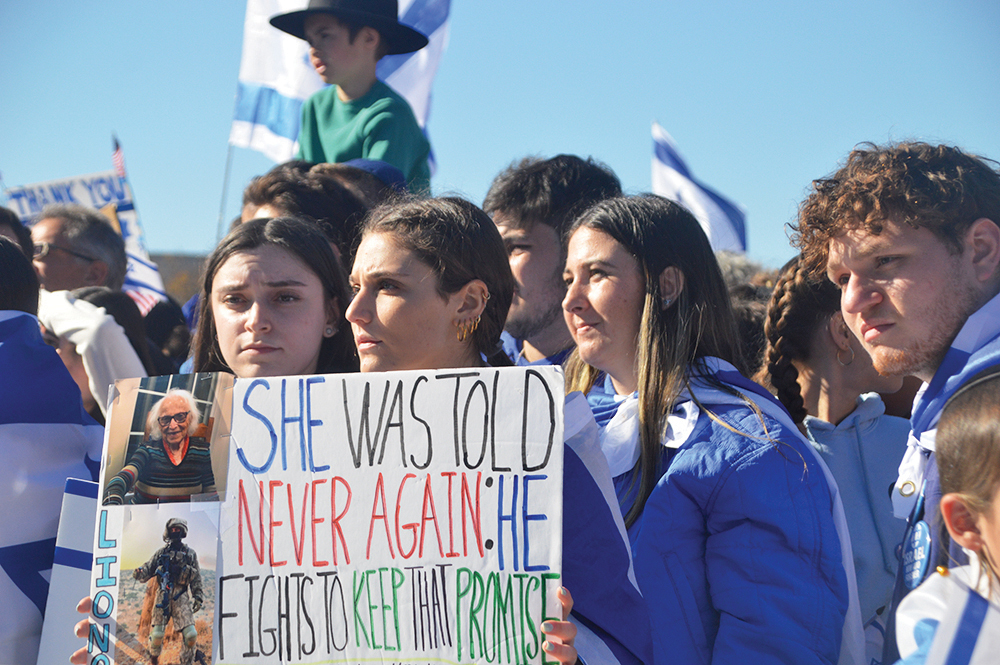 Cousins Nili, 10, from Maryland, and Yael, 12, from Los Angeles, their moms, and 30 members of their extended family were at the rally. The girls said they came to "support Israel and to show our cousins serving in the [Israeli] army that we care," said Nili.
Yael said that her school recited the names of the hostages, "all of them," during davening. "It's heartbreaking to hear all the names," she said. "It makes me sad. This should never happen, but I feel that I know them. It makes my davening more meaningful and more blessed."
According to Prizmah: Center for Jewish Day Schools, an estimated 12,000 students from Jewish day schools and yeshivot were in attendance, many wearing shirts that showed their school spirit and their Israel pride.
"We are one community and our youth are as much of that community as the adults," said Paul Bernstein, Prizmah's CEO. "From the moment the war started, our students have shown an incredible solidarity and desire to learn and share their feelings about Israel. They want to show that solidarity."
As Lily, a seventh-grader from Beth Tfiloh in Baltimore who attended with her school, said, "Even though we are young, we are able to help Israel."
The crowd chanted, "Bring them home. Bring them home." It is a refrain they recited again and again throughout the afternoon.
Siblings Zack and Sasha Leitner, along with their mother Ella and other members of Central Synagogue in Manhattan, wanted to make sure their voices were heard.
As Natan Sharansky, a former Israeli Knesset member and Soviet dissident, spoke to the crowd, Zack heard the message, "He's saying we need to stand together and fight."
Added Sasha, "We are resilient, and we will not stop fighting for the Jewish people."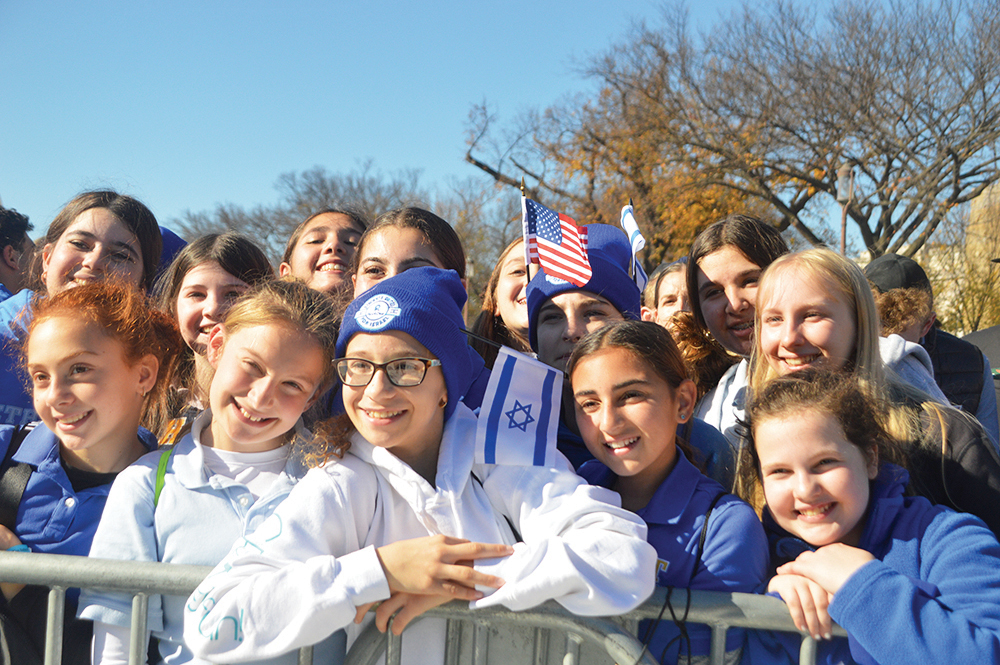 For their mother, who arrived in the United States at the age of 6 from the former Soviet Union, it was a particularly powerful moment. "It is so special for me to hear him speaking," she said of Sharansky.
Mark Wilf, a New Jersey resident and chair of the Jewish Agency for Israel's board of governors, sees the echoes of the rallies once held for Soviet Jewry in this week's rally for Israel.
"Much like the 1987 march for Soviet Jewry and the 2002 demonstration during the Second Intifada [both of which were also held in D.C.], Tuesday's tremendous display of solidarity with Israel shows that there is strength in numbers and, most importantly, in American Jewry's unity at the Jewish State's darkest hour. It is the ultimate expression of our mutual responsibility for one another. We must stand together against terrorism and antisemitism and remain vocal on the urgent need to release the hostages held by Hamas in Gaza."
College students who are on the front lines of the antisemitism battles in the United States were also well-represented at the rally. They came individually and with groups like Students Supporting Israel, Chabad on Campus or their local school's Hillel.
Among them are Maya Zaveduk, Ilana Rubenstein and Abigail Nahum, students at Ohio State University, where last week two Jewish students were assaulted and the Hillel house was vandalized.
Nahum called the incidents "saddening," given how well established the Jewish community is at the school. A native of Cherry Hill, she has family in Israel and said they "cannot believe how the hatred has spread so far."
Standing in the center of friends and carrying a sign that said, "Where do you want us to go?" Rubenstein, from North Caldwell, said what Israel's enemies fail to understand is that "Israel is our home, and we have no other place to go."
For some, this rally was one of just many they've been to over their lifetime, but for others, it was their first rally ever, underscoring for them and those around them just how much is at stake today.
When she first heard that a mass rally for Israel was being planned, Barbara Bomberg said her initial reaction was one of "fear" because of rising antisemitism in this country. Though she had never attended a rally before, her own reaction spurred her to action. "I said if I'm afraid to rally in my own country, then I have to be there."
She was there with friends Caren and Herb Ford, and Arlene Kollin. They were among a group of congregants from Temple B'nai Abraham in Livingston. They came, they said, because too many Jews are living in fear—with Jewish nursery schools needing guards and college-aged grandchildren afraid to go to classes or events at Hillel or Chabad.
"It's just really inspiring being here," said Caren Ford, who in her youth attended several peace rallies. "It seems people from all walks of Jewish life and even non-Jewish people are here, despite fear of antisemitism."
Driving much of the conversation during the day was the fact that hostages remain in Gaza. People wore shirts with the words "Bring them back" and were carrying posters with pictures of the missing.
Rachel Goldberg, whose son Hersh Goldberg-Polin, a wounded American-Israel who is among the hostages, explained that she and the other families are living life in "slow-motion torment" and have "third-degree burns on our souls." Yet, she told the crowd, the world is silent. "Why, why is the world accepting that 240 human beings from almost 30 countries have been stolen and buried alive. These children of God range in age from 9 months to 87 years. They are Christians, Muslims, Buddhist and Hindu. Why are they being left underground in the dirt?"
She recounted how a Christian-German man once said he hid Jews during the Holocaust so that when he died and stood before God "he will not ask me what he asked Cain in the Bible, 'Where were you when your brother's blood cried out from the ground?'
"What the world needs to start thinking about today," Goldberg said, "is what will your excuse be? Bring them home now."
The chant of "Bring them home" echoed and rippled through the nearly 300,000 gathered on the National Mall. Their voices rang out loud and clear as if to say, the world may be silent, but we will no longer be silent.
Faygie Holt is the author of the bestselling Jewish children's book series, The Achdus Club, for girls ages 8 to 11. The books, The New Girl and Trouble Ahead, are available at Jewish bookstores across the country and online at menuchapublishers.com. An award-winning journalist and editor, Faygie's work appears regularly on Chabad.org and in the Jewish Link of New Jersey, among other outlets. Learn more about the author, her books and her writing at faygielevy.com.