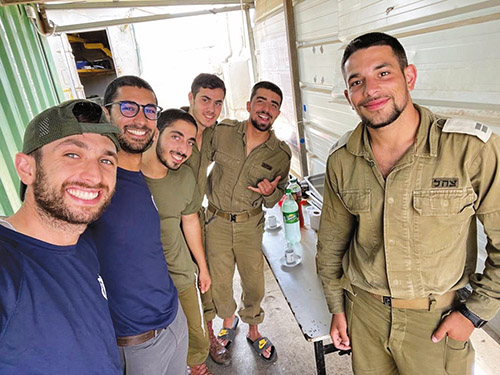 "Ever since I was young, I was fascinated by the army and Zionism," Yoni* said to me.
From an American perspective, it didn't sound too different from the many other Israelis I've met when they reflect on their childhood, but I could tell Yoni's background was different.
Yoni grew up in a Hasidic household in Israel, one of over 10 children. None of his siblings drafted; the army was a taboo subject. Yoni's parents' expectation was that he would sit and learn in kollel, yet when he was 17, he left yeshiva and began to think about his next steps. Ultimately, Yoni decided to draft to the IDF.
His parents, however, didn't accept that decision, and pressured him to reevaluate. They brought in rabbis and community leaders to convince him otherwise, even bribing him with free college. Anything not to draft. Yoni, though, was determined.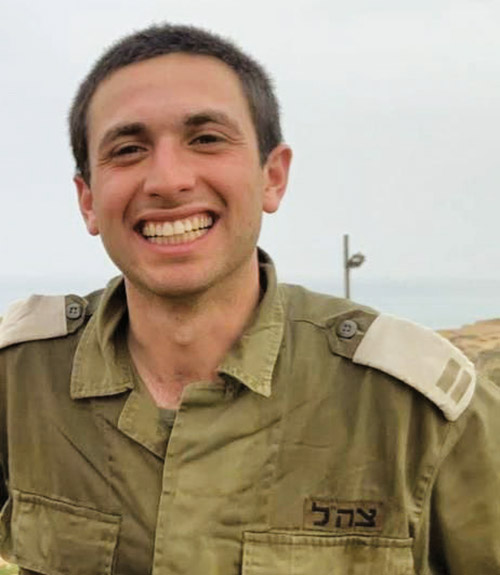 "Up until I drafted, I remained in contact with my family, but once I put on the uniform, I was kicked out of my home." For the first few months of his service, Yoni couch-surfed, bouncing from one friend to another until he finally found an apartment to live in with other lone soldiers.
Unfortunately, Yoni's story isn't unique. Hundreds of men from the ultra-Orthodox community draft to the IDF each year. The lucky ones are still welcome in their households, whereas others, like Yoni, are forced to start anew on their own, without a home or financial support.
Recognizing the challenges these young men endure, the IDF set up special units to enable them to retain some semblance of an ultra-Orthodox lifestyle while attempting to assist them in their personal lives.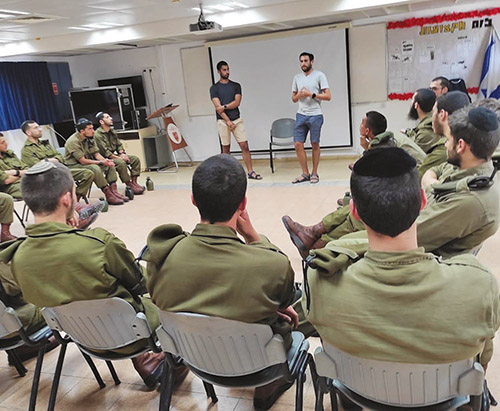 Yoni served as a paratrooper in one of these units, aptly coined Chetz (an acronym for charedi tzanchanim or ultra-Orthodox paratroopers). Chetz was founded a few years ago, designed to be the top destination for ultra-Orthodox men wanting to draft to a combat unit in the IDF. The unit quickly reached capacity, attracting many draftees, eager to serve with those coming from similar backgrounds.
Many receive lone soldier benefits, including a higher salary and extra benefits; even though their parents may live in Israel, they don't have a home. As many as half of the soldiers in the unit are lone soldiers, and not just those who come from abroad. Soldiers who find themselves in this heartbreaking position struggle to find living quarters, make ends meet, and navigate the bureaucracy of the army and day-to-day life. The army tries to help them but has limited capacity.
That's where Amutat Chetz (The Chetz Association) comes in.
Founded by two former lone soldiers, Shai Adler of West Orange and David Solooki of Boston, Amutat Chetz aims to one day be a one-stop shop for ultra-Orthodox soldiers, assisting them throughout the pre-draft process, during their service, and their transition to civilian life after their release, bridging the gap between ultra-Orthodox soldiers and those in other combat units.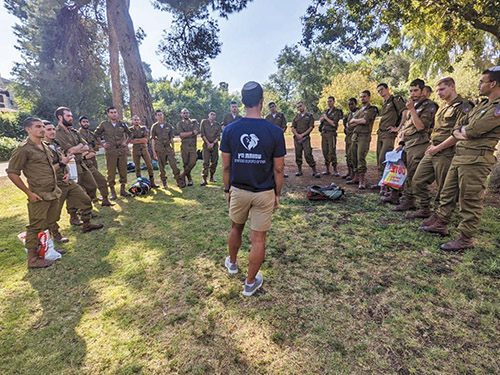 Adler first got the idea to start the organization after serving two years as a soldier in Chetz, originally as a squad commander and later as an officer in command of a platoon. "I saw the need for an organization to help these soldiers, and when I finished my service, I wanted to continue helping the unit," he explained. Eventually, "the army came to us saying that these soldiers needed extra help they couldn't provide, and gave us the opportunity to help."
Adler immediately sprang into action, bringing Solooki on board right away. Founded in 2020, The Chetz Association aims to bridge the gap between ultra-Orthodox veterans and their comrades. Its first initiative was creating a big brother program for current soldiers, utilizing veterans of the unit who wanted to give back.
The big brother program has so far been a resounding success, offering role models and a support system to soldiers going through grueling combat service. About a year into the program, Amutat Chetz partnered with Ach Gadol, a larger organization that provides lone soldiers with big brothers. Through Ach Gadol, Amutat Chetz's big brothers have undergone training and provided Adler and Solooki with support and logistical help.
Around the same time as their partnership with Ach Gadol flourished, Adler and Solooki worked hard to address the need of soldiers who were kicked out of their homes. Amutat Chetz partnered with Emek Lone Soldiers and later won a grant from The Michael Levin Lone Soldier Foundation to rent an apartment for soldiers of the company who have nowhere to live when they're off base. In the year since they rented the apartment, they've been able to provide shelter for over a dozen different soldiers during their service.
Although Amutat Chetz has become a thriving organization, the two founders didn't necessarily expect they'd be this busy. "I didn't think our volunteering project would take off the way it did," Solooki said. "We started as something small and the reason we are where we are today is because everyone we've turned to has seen the importance in the work we're doing.mEvery time we get the extra validation, it pushes us to do and create more."
Building on their success, in the summer, they launched Chetz L'Atid (Chetz for the Future), a program within the organization to help soldiers plan their next steps. In late 2022, in partnership with the Jerusalem Municipality, they held a career fair, inviting universities, academies, scholarships and other organizations to meet soldiers at the end of their service and all veterans of the unit about transitioning into civilian life.
Once Amutat Chetz receives funding, they hope to have financial literacy workshops, career coaching and direct partnerships with universities for the soldiers, creating a direct pipeline from the battlefield to the classroom for those who are interested.
Adler and Solooki know their programs are successful; they've gotten great feedback from donors, the army and soldiers themselves. "We're not reinventing the wheel here; we're just applying it to a population that never had attention before," Adler said.
Amutat Chetz will be having a fundraising campaign starting May 10, where they'll be aiming to raise money to help them ensure brighter futures for the Israel Defense Force's ultra-Orthodox combat soldiers and veterans. To support Amutat Chetz in its mission of bridging the gap, one soldier at a time, visit www.amutatchetz.org.
---
Marc Cohen is the director of public affairs for Amutat Chetz.