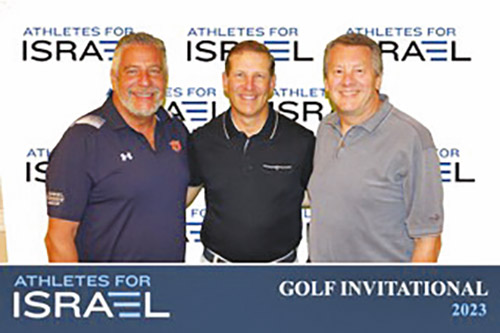 On May 22, Athletes for Israel held its inaugural golf outing in Westchester, bringing out professional athletes, sportscasters and supporters alike. Former Yankees and Mets pitcher David Cone and retired NBA legend Theo Ratliff came out for the festivities, along with ESPN Sunday Night Baseball commentator Karl Ravech and NBA G League player and former YU Maccabee sensation Ryan Turrell. Following brunch, the star-studded event featured a shotgun round of golf with prizes for long-drive and closest-to-the-pin competitions and a banquet where 160 guests were treated to moving words by former NBA player Sedric Toney and Bruce Pearl, head coach of the Auburn Tigers basketball team.
Athletes for Israel founder and CEO Daniel Posner established the organization about four years ago to combat antisemitism and change the negative narrative that young people tend to have about Israel. He had become deeply disillusioned by all the rampant false and negative information about Israel.
"It became very clear to me that the narrative that we were talking about to the world just wasn't resonating." He found that to be especially true with younger people who were not interested in engaging with the information that was available. "Instead of just talking about politics and arguing points—because there will always be someone on the other side who has something negative to say about Israel—we need to just flood the world with all of the positive vibes and energy that's happening there." By using social media to transmit information, he believed he would reach the younger demographic in a way that would resonate with them.
"I'm passionate about Israel and I am passionate about sports and I wanted to share my love of Israel with athletes whom I have enjoyed watching for decades and enable them to experience Israel for themselves and broadcast that to the world." Athletes for Israel brings professional and collegiate athletes to the country to experience firsthand the amazing sites, diversity and beauty that Israel has to offer. "Through this mechanism," explained Posner, "we help amplify their trips on social media to reach their followers, whose numbers have the potential to reach hundreds of thousands, if not millions, of people."
Posner explained how people have these false, preconceived notions and perceptions about Israel. "When we talk to some of our participants before their trip they often think Israel is a military zone, filled with refugee camps and human rights violations, overlooking a big wall with impoverished Palestinians walking everywhere." But then they come to Israel and see this magnificent country with a rich culture, steeped in history and surrounded by people of all different races and religions who flourish here and are able to practice their religion freely. "They come to find a democracy with this amazing nightlife, world-class cuisine and an energy that is unlike anything that they had ever anticipated."
While bringing professional athletes to Israel is nothing new, no one has brought athletes there systematically, with a quantitative Wall Street mindset—which is exactly what Posner does. Athletes for Israel makes sure to measure the ROI on every trip to ensure that each one is successful in that the participants come away with a newfound love and appreciation for Israel that extends to their followers.
NBA stars Eddy Curry, Theo Ratliff, Sedric Toney, Ennis Freedom Kanter, Ray Allen and former NBA coach Reggie Theus are just a few of the names who have joined Athletes for Israel on trips.
"Our goal is not to reach the 15 million Jews in the world, but the hundreds of millions of people that don't know the first thing about Israel and are not educated about it." Posner said that among those people are teenagers, who in a few years will find themselves on a college campus for the first time where their first exposure to Israel will be false and negative information. "We want to plant the seed now that Israel is a 75 year old country that has already accomplished so much and has so much potential. We want to encourage people to learn, explore and be excited about everything the country has to offer to every individual with any background."
This past summer Athletes for Israel brought in Bruce Pearl and the Auburn Tigers basketball team. "[Pearl] wears his Judaism and his love of Israel and Zionism on his sleeve and loves to talk about his Jewish heritage," Posner said. "Pearl had this dream of bringing his team to Israel." So Posner told him he was going to make it happen.
The Tigers played three games against Israeli teams, including one against Israel's national team, to sell-out crowds in Jerusalem and Tel-Aviv. The event created a lot of excitement, not just in Israel, but worldwide. The trip and the games were all televised by ESPN, which even flew in its resident college basketball analyst, Jay Bilas.
"He always talks about how that trip to Israel really helped the team bond together and believes that Israel is a place where we can all come together and connect through our religion and responsibilities of taking care of ourselves, our families, our traditions and each other."
After the final game that Auburn played in Israel, Pearl addressed about 500 NCSY campers inviting the crowd to be his guests in Auburn, Alabama. He ended by shouting, "Am Yisrael Chai!" and was met with roaring applause.
A video of the trip was shown at Auburn's season opener—which they won—and where 150 NCSYers came to cheer them on. Throughout the season, ESPN analysts and commentators regularly discussed this Israel trip and how it helped create a greater connection and stronger bond among the Auburn Tigers basketball team.
To view a short video about Coach Pearl and the Tigers visiting Israel, visit https://drive.google.com/file/d/1qEjn5JGAx6saiN9MrrGk7DNcixtyZGPH/view
To learn more about Athletes for Israel and see how you can get involved in combating antisemitism, and changing the narrative in Israel for the better visit www.athletesforisrael.org
By Ronit Mershon