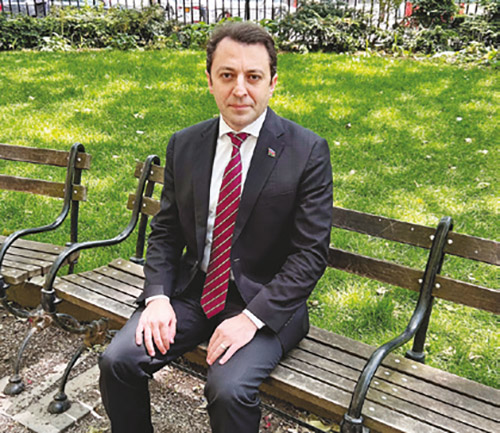 His country may be one of the more vital, long-standing, and lesser known allies of Israel and the United States. Yet as circumstances in the region have shifted, Azerbaijan's ties with Israel and the U.S. have grown and their strategic concerns have become more complex.
In an interview with The Jewish Link on May 21, Elnur Israfil oglu Mammadov, the deputy foreign minister of Azerbaijan, shared essential aspects of his country's history, alliances and current concerns.
History
Azerbaijan, a country roughly the size of Portugal or the state of Maine, declared independence in 1918; it was the first secular democratic state in the Muslim world. The country was invaded by Soviet troops 23 months later, in April 1920, becoming a Soviet Socialist Republic. The country's independence was restored in 1991. Azerbaijan is the largest economy of the Southern Caucasus region, producing 70% of the total regional GDP.
Azerbaijan has experienced ethnic strife with the neighboring country of Armenia, which led to a war in 1991. In that war, Armenia invaded and occupied 20% of internationally recognized territories of Azerbaijan. This occupation was condemned by four United Nations Security Council resolutions in 1993. In 2020 Azerbaijan successfully retook all of these territories.
Azerbaijan is also one of the rare independent Muslim countries to build strong ties with the State of Israel, establishing diplomatic relations in 1992. Azerbaijan has a native Jewish population of roughly 35 to 40,000 people, and Jews have lived there for 2,000 years. Mammadov asserted that they have "never had signs of antisemitism" in the country, and that the Jewish community there is a thriving one, with seven synagogues and two Jewish schools.
Connections With Europe
Azerbaijan undertook a major initiative to expand the infrastructure of its energy industry in the 1990s. As a result, the country has become a major provider of natural gas to Europe. Azerbaijan currently provides 12 billion cubic meters (BCMs) of natural gas annually to the European Union. In a recently signed memorandum of understanding with the EU, Azerbaijan has committed to expanding its delivery to the EU to 20 BCMs per year by 2027; to do so, the country must increase the capacity of their infrastructure further and attract foreign investment.
Azerbaijan is also a major exporter of crude oil and gas, supplying the EU with 40% of its annual needs. Azerbaijan's total export market of crude oil is $55 billion a year, with $23 billion going to the EU, its largest trading partner.
Strong Ties With the U.S.
Mammadov pointed out that Azerbaijan was one of the first countries to support the U.S. in the war on terror and provided access to its airspace, without conditions, when the U.S. launched the war in Afghanistan; Azerbaijan also assisted with other logistics. The country also provided peacekeeping troops in Iraq and Afghanistan. Azerbaijani troops were the last to leave Kabul airport in August 2021.
As a country that shares borders with both Russia and Iran, Azerbaijan is of great strategic value to the United States. In January 2023, the Azerbaijan Embassy in Tehran was attacked, leading to the death of the head of the embassy's security service and the wounding of two other employees. Mammadov stated that this is the first incident in Azerbaijan history where a member of its diplomatic staff was killed in the line of duty. This attack joins other recent provocative actions by Iran against its neighbor, including the Islamic Revolutionary Guard Corps holding two large-scale military drills on the border in 2021 and 2022. In addition, Iran is suspected of the attempted assassination in March 2023 of Azerbaijani MP Fazil Mustafa, a known critic of the Iranian regime. The president of Azerbaijan, Ilham Aliyev, recently stated that "relations between Azerbaijan and Iran are at the lowest level ever." This has led Azerbaijan to become far more closely aligned with the United States' grave concerns about Iran.
Deep and Growing Bonds With Israel
In April 2022 Azerbaijan celebrated the 30th anniversary of the establishment of diplomatic ties with Israel. The prior year, Azerbaijan opened trade and tourism offices in Israel, which have helped the two countries to deepen their collaborations in military defense, agriculture, information technology, and oil and gas development. Azerbaijan currently provides 40% of Israel's crude oil needs and has an annual trade turnover of $1.7 billion with Israel.
Another facet of the country-to-country ties are the former Azerbaijani residents who moved to Israel but maintain contacts with relatives in their "old country" and will visit graves of ancestors and extended family. There are direct flights between the two countries and lots of trade that facilitate these family ties.
Azerbaijan decided in November 2022 to open an embassy in Tel Aviv, appointing an ambassador to Israel in January 2023 and formally inaugurating the new embassy on March 29, 2023. This upgrade of activity has led to increased diplomatic ties between the two countries, with a visit by Israeli Foreign Minister Eli Cohen to Azerbaijan in April and a visit by Israeli President Isaac Herzog scheduled for May 30-31.
What Can We Do
Asked what the Jewish community in the United States can do to assist this important strategic ally, Mammadov shared that his country faces a barrage of unjustified criticism by pro-Armenian groups in the United States Congress, which distort Azerbaijan's post-conflict efforts. These criticisms damage their reputation and cloud their strong relations with the United States and with Israel.
Mammadov suggested that the American Jewish community can help Azerbaijan portray a more-fair picture of developments in the region and convey this understanding to decision makers. Such an effort can help Azerbaijan improve its relationship with Armenia and support a normalization and peace agenda, to avoid another war. The American Jewish community can also support Azerbaijan's relations with the U.S. and Israel.
---
Harry Glazer is the Middlesex community editor at The Jewish Link.