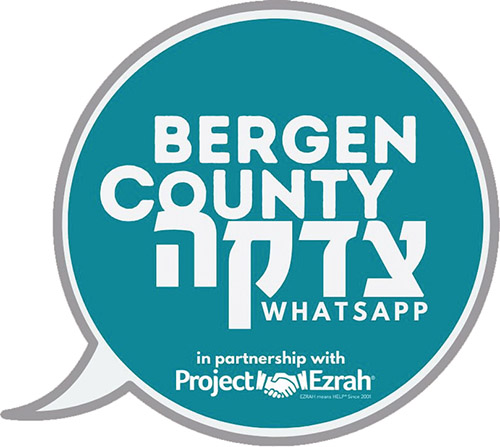 Within every voluminous issue of the now decade-old Jewish Link, there is a section devoted to local chesed organizations. In this past week's issue, five pages were devoted to spotlighting chesed organizations emanating from Teaneck/Bergen County. Included in these pages were two comprehensive lists, one of 21 chesed organizations and the second of 29 gemach listings. The chesed organizations offer assistance with finances, food insecurity, clothing, medical expenses, services for the challenged, mentaI health services, senior services and more. The gemach list offers clothing for babies, gowns for simchas, costumes, furniture, and medical equipment, among other offerings. In reviewing these lists, it becomes apparent that many of these chesed organizations and gemachs are the result of the inspiration, motivation and subsequent action of local residents. What a tribute to a Jewish community and what a statement about its values and ideals!
Adding to this list is an initiative inspired, motivated and created by two young local residents. Simmy Friedman of Bergenfield and Ari Ashkenas of Fair Lawn joined forces in November 2022 to create the Bergen County Tzedakah WhatsApp. In their words, "We created this WhatsApp group to assist families in Bergen County with critical needs including housing, food, medical care and other costs incurred through illness, job loss or other challenges. Our goal is to create a large pool of donors to help fund, partially or completely, the tzedakah needs within our community, both quickly and efficiently."
Simmy Friedman, who has resided in Bergenfield for 22 years with his wife Jen and children, became aware of a WhatsApp tzedakah group that has been active in Israel for the past six years. Modeling his tzedakah chat on this organization, Friedman tapped into the needs of local Bergen County residents, keeping their identities private while raising critical funds in a short window of time and ensuring that 100% of the funds collected go directly to the families.
Currently Friedman estimates that there are 375 people on the chat, of whom 190 have donated between $10 and $5,000. Cases have been referred to the tzedakah chat by various local rabbis as well as heads of school, for families in Bergen County. A committee reviews the cases and puts them out on the chat. Since its inception, Rabbi Yaakov Neuberger of Congregation Beth Abraham, Rabbi Andrew Markowitz of Congregation Shomrei Torah, Rabbi Daniel Fridman of the Jewish Center of Teaneck and Rabbi Beni Krohn of the Young Israel of Teaneck (and current president of the RCBC) have been involved in the new initiative.
Rabbi Markowitz, currently serving as the vice president of the RCBC, shared with The Jewish Link: "The Tzedakah WhatsApp will be successful as it addresses three important components in charity giving. It brings the hidden needs of the community to the forefront in an accessible yet private venue. Second, it offers donors the opportunity to donate to causes they connect with personally. Thirdly, it is an exemplary, positive use of social media. If we can access everything else online, why not tzedakah opportunities?"
Ashkenas has lived in Fair Lawn with his wife Rebecca and children for 12 years, where he is involved in the tzedakah needs of the community working with Rabbis Yudin and Markowitz. He has spread the word about the tzedakah chat through networking with friends and neighbors. Ashkenas said that these are difficult economic times for our community, especially for single-parent families and those beset with unanticipated medical needs. "Through the WhatsApp group, we are trying to tap into the amazing ecosystem of chesed organizations already in place here in Bergen County to be a referral source for those who can help with any given situation," he said. "In the interim, the Tzedakah WhatsApp can provide much-needed temporary reprieve from current hardships."
Friedman and Ashkenas have projected the needs beyond their tzedakah chat and have partnered with Project Ezrah to pick up where they have left off. In speaking with Rachel Krich, executive director of Project Ezrah, the partnership will provide added and ongoing assistance to those in need.
Krich shared, "People in our community have many ways of giving tzedakah. The more we can connect people to worthy tzedakah projects, the more successful we will be in helping our neighbors. WhatsApp groups all over the country and world are an excellent means of connection. They also allow for privacy and dignity through their online medium. After the initial boost provided by the Tzedakah WhatsApp, we at Project Ezrah can take on the recipients and assist them further through additional financial help. Most importantly, we can refer them to resources and agencies that can provide them with ongoing services and support."
Friedman and Askenas proudly report that since its founding in November 2022, a mere seven months ago, the Tzedakah WhatsApp has coordinated five campaigns through which they have directly assisted four families—three for medical costs, one for rent and one for general expenses. They have received 190 donations and have collected and disseminated $62,000 to date.
The Tzedakah Bergen County WhatsApp Group boasts a committee of devoted members in addition to the Friedmans and Askenases. They include Dani and Ariel Secemski, Adam and Bassie Lewis, Tzvi and Erica Solomon, Jason and Jordy Jacobs, Josh and Rachel Lipschitz, Daniel and Elana Miller, and Joe and Rebecca Westreich.
Teaneck resident Daniel Miller explained: "The Bergen County Tzedakah WhatsApp Group creates a social safety net throughout Bergen County for those in our community who need help. For yeshiva day school families on tuition assistance, there is little financial flexibility when things go wrong. But now, when the unforeseen happens, we have a live community-wide network throughout Bergen County that you can rely on."
Josh Lipschitz, who resides in Fair Lawn, said: "The Bergen County Tzedakah WhatsApp Group is such an important tool in bringing the community together in support of our neighbors in need by raising both awareness and funds in a quick, efficient and confidential manner. Playing a small role in this group is so meaningful as it allows us to make a real difference and shows that we are a community that cares and looks out for one another."
To learn more about donation opportunities through the Bergen County Tzedakah WhatsApp or if you are in need of assistance, email [email protected]
By Pearl Markovitz