Israeli Prime Minister Benjamin Netanyahu met with U.S. President Joe Biden on the sidelines of the United Nations General Assembly (UNGA) on Wednesday, September 20, in the first face-to-face between the two leaders since Netanyahu returned to power nine months ago.
The leaders said in public remarks ahead of their closed-door meeting, which took place at Manhattan's InterContinental Hotel, that they would focus on the Iranian threat, Saudi-Israeli normalization, the Palestinian issue and Israeli judicial reform.
"I hope we will see each other in Washington by the end of the year," Biden told Netanyahu, per the pool report.
The U.S. president added that the two would discuss "hard issues," such as upholding "democratic values" and "checks and balances," which was "a seeming nod to the prime minister's recent judicial overhaul proposal," per the pool. Biden added that Iran can never be permitted to develop a nuclear weapon.
"Israel has an absolute commitment to democracy. I believe that under your leadership, it is possible to reach an unprecedented agreement with Saudi Arabia," Netanyahu told Biden. "I hope we can get some things settled today."
During their meeting, the two discussed a range of bilateral, regional and global issues of mutual concern, according to a readout of the meeting from the White House. The President wished the Prime Minister and the people of Israel a happy new year during the HIgh Holidays. President Biden reaffirmed the unbreakable bond between the two countries, which is based on the bedrock of shared democratic values, and the United States' iron-clad commitment to Israel's security. The two leaders reiterated their commitment to ensuring Iran never acquires a nuclear weapon, as well as ongoing close cooperation between Israel and the United States to counter all threats posed by Iran and its proxies.
They also consulted on progress toward establishing a more integrated, prosperous and peaceful Middle East region, including through efforts to deepen and expand normalization with countries in the region. The two leaders welcomed the historic announcement made at the G20 to develop the India Middle East Europe Economic Corridor (IMEC) through the UAE, Saudi Arabia, Jordan and Israel, and discussed how the project can benefit the entire Middle East region with investment and new forms of collaboration across two continents. They and their teams welcomed the likely convening soon of a ministerial meeting in the Negev format to further advance regional integration initiatives, as well as deepening the ongoing U.S.-Israeli Tech Dialogue.
With regard to ongoing tension and violence in the West Bank, the President emphasized the need to take immediate measures to improve the security and economic situation, maintain the viability of a two-state solution, and promote a just and lasting peace between Israelis and Palestinians. To that end, President Biden called on all parties to fulfill their commitments made during meetings held earlier this year in Aqaba, Jordan and Sharm el-Sheikh, Egypt, to include refraining from further unilateral measures. The two leaders and their teams agreed to consult with regional partners with the aim of convening a meeting soon in this Aqaba/Sharm format. The President also reiterated his concern about any fundamental changes to Israel's democratic system, absent the broadest possible consensus. Finally, President Biden invited Prime Minister Netanyahu to Washington D.C. before the end of the year to continue direct collaboration on this broad range of issues.
Opponents of Netanyahu's government gathered outside the InterContinental Hotel on Wednesday morning, with simultaneous protests taking place near the U.S. embassy in Jerusalem and the American consular building in Tel Aviv.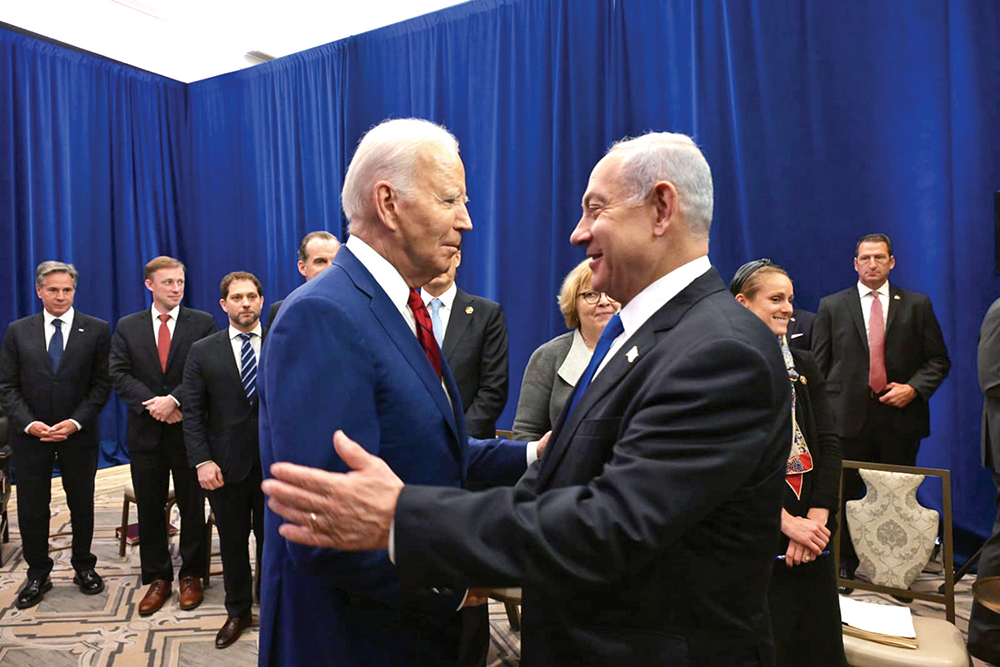 In a letter sent ahead of the meeting, the Israel Defense and Security Forum (IDSF), an NGO made up of thousands of former Israeli defense and security service officers, called on Biden "not to be sidetracked by the spillover of Israeli domestic politics" and to "allow our democratic process to run its course without external influences, including those of well-intended friends."
"It would be a shame for the U.S. and for Israel if strategic opportunities to advance our interests in the region were to be squandered as a result of political diversions and provocations," stated the IDSF.
Meanwhile, 12 lawmakers from Netanyahu's Likud Party warned the prime minister against making concessions to the Palestinians in exchange for normalization with Saudi Arabia.
"We will agree to peace only in exchange for peace," the MKs wrote in a missive that was signed by, among others, Knesset Foreign Affairs and Defense Committee Chairman Yuli Edelstein and former Israeli Ambassador to the U.N. Danny Danon.
"We give you our backing to present a strong position ahead of your meeting with the U.S. president and world leaders that Israel stands by its rights irrespective of attempts to make peace with Arab nations," said the letter.
Later on Wednesday, Netanyahu was set to meet with U.N. Secretary-General António Guterres and Yoon Suk Yeol, the president of South Korea.
Bibi Arrives in New York
Netanyahu and his wife, Sara, landed in New York early Tuesday morning to participate in this week's gathering of world leaders at the UNGA.
They were greeted on the tarmac by Israeli Ambassador to the United States Michael Herzog and Israeli Ambassador to the U.N. Gilad Erdan.
Later that day, Netanyahu met with Ukrainian President Volodymyr Zelenskyy, Turkish President Recep Tayyip Erdogan, Paraguay's President Santiago Peña and German Chancellor Olaf Scholz.
The premier began his first trip to the U.S. since being voted back into office on Nov. 1, 2022, with a visit to California on Monday, where he met with X (formerly Twitter) owner and Tesla CEO Elon Musk.
Netanyahu, Zelenskyy
Meet on Sidelines at UNGA
Netanyahu told Zelenskyy that the Jewish state would continue to assist Ukraine amid its ongoing conflict with Russia.
Netanyahu specified that aid would focus on humanitarian issues, including dealing with land mines.
Mossad Director David Barnea received a hug from Zelenskyy, who said, "I'm glad to see you." The exchange "sparked worldwide attention and speculation that the two know each other," Arutz Sheva reported.
Netanyahu's office called the meeting "cordial."
The meeting was the first between the two leaders since Russia invaded Ukraine on Feb. 24, 2022.
Netanyahu Tells Erdoğan 'Ties Improving'
Netanyahu and Erdoğan met for the first time in person on the sidelines of the UNGA, with Netanyahu telling Erdoğan that "our ties are improving." The two leaders agreed to continue advancing bilateral relations in trade, economic matters and energy, according to the Prime Minister's office.
During the discussion held at Turkish House, a 36-floor skyscraper located across from U.N. headquarters, the two men also talked about the U.S.-led effort to forge an agreement to normalize relations between Israel and Saudi Arabia, among other regional and international issues.
Erdoğan on Monday said that he supports Israeli-Saudi normalization, sources told the London-based Middle East Eye news site.
"Turkey views the normalization attempts between the two countries positively," the Turkish president said, according to two sources who attended a closed-door briefing with analysts and journalists in New York.
During Tuesday's meeting, Netanyahu thanked Erdoğan for the cooperation between Israeli and Turkish security services to thwart a plot by an Iranian-led terrorist cell in May of last year to target Israelis visiting Istanbul.
The pair extended invitations to visit Israel and Turkey, respectively, and it was agreed to coordinate the visits that will take place soon.
In Meeting With Musk, Netanyahu Stresses Need to Curb Antisemitism on Social Media
Netanyahu and Musk discussed artificial intelligence, Iran, antisemitism and judicial reform, among other subjects.
Netanyahu stressed the importance of curbing antisemitism on platforms like X (former Twitter), which Musk now owns.
"I know your commitment to free speech, and I know you're opposed to antisemitism. I hope you find within the confines of the First Amendment a way to try and roll it back," Netanyahu said. "I encourage you to find a balance. It's a tough one."
Musk reiterated his opposition to antisemitism as well as "anything that promotes hate and conflict." He said he is "against attacking any group."
"Free speech does at times mean someone you don't like is saying something you don't like," Musk added. "If you don't have that, it's not free speech."
Netanyahu responded that he condemns antisemitism on both the far-left and the far-right. He explained that while hateful speech is protected, it's important to keep such words limited to individual voices and not armies of bots from spreading it.
"This is actually a super-tough problem," Musk said. He said charging users on X is "the only way I can think of to combat a vast army of bots."
The conversation later turned to judicial reform in Israel. "To be frank, we probably got the most amount of negative pushback from people at Tesla about this interview than anything else I've ever done," Musk said.
Netanyahu said it was important for people to know what exactly they're protesting. "I think most of them don't know, and there's a concerted effort to make sure that they don't know," he said.
Paraguay, Israel to Elevate Relations to 'New Heights'
In a meeting on the sidelines of the UNGA, Peña reiterated the commitment that his country's embassy will move to Jerusalem by the end of the year.
Netanyahu said that the Israeli embassy will return to Asuncion, Paraguay's capital. The agreement will lift Israeli-Paraguayan relations to "new heights," per a readout from the prime minister's office.
Peña stated that he was "very proud" to make the announcement.
"Prime Minister, almost three years ago I visited Jerusalem. I was just a politician dreaming about a different Paraguay," he stated. "I said to you in that meeting that Paraguay will reopen and will put the embassy where it belongs, in the city of Jerusalem."
"Our history brought us together," he added. "The present brings us together. But the future will have us closer than we've been ever before."
Netanyahu will address the UNGA on Friday, after which he will remain in New York over Shabbat, flying back shortly before the start of Yom Kippur on the evening of Sept. 24.