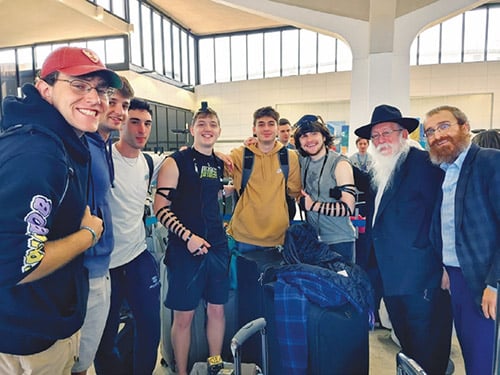 (Courtesy of Bris Avrohom) A group of young girls and boys who were on their way to Israel on a Birthright mission passed the Bris Avrohom stand at Newark International Airport. The boys had an opportunity to put on tefillin, many of them for the first time, with the help of Rabbi Avremy Kanelsky, director of the stand, and his father-in-law, Rabbi Leibel Schildkraut, shaliach of the Rebbe in Haifa, Israel.
The girls had the privilege to receive Shabbat candle cases distributed by Chana Kanelsky, daughter of Rabbi Avremy. In addition, each one received a Tefilat Haderech card, the traveler's prayer for protection in Hebrew and English.
The Bris Avrohom stand in Newark International Airport was established 10 years ago where thousands of travelers have the opportunity to don tefillin and to be part of the many holiday gatherings at the airport. A group of rabbis volunteer on a daily basis as they stand ready to help people with their needs. The volunteers include Rabbi Dovid Wilensky and Dovid Hoffer.