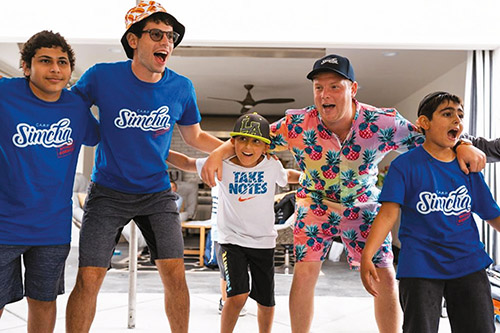 (Courtesy of Chai Lifeline) Three years after its initial launch during the heart of the COVID pandemic, Chai Lifeline, the international children's health support network, is once again preparing to bring Camp Simcha Without Borders to more than 600 children living with serious illnesses across North America.
Continuing the tradition of providing the "Simcha" experience to communities far and wide, this summer sessions for boys and girls will be taking place over the summer months in Miami, Los Angeles, Baltimore, Chicago, Lakewood, and Deal, New Jersey.
Campers will be treated to non-stop activities, action, music, and swimming, creating the opportunity to just be kids and take a break from the medical challenges faced daily. In addition to the camp sessions taking place in each city, each region will be hosting their own community event, with activities, games, concerts and more, giving local families a chance to see the work of Chai Lifeline and learn of opportunities to get involved in supporting the local families who benefit from their services.
"COVID presented us with an unprecedented challenge where many kids weren't able to travel to our Simcha campus in upstate New York, so we pivoted and brought Simcha to them," explained Jack Tabbush, director of Camp Simcha Without Borders. "While we're blessed that the world has returned to normal, we realize that the need for local community-based programming remains, and we are proud to continue to embrace this concept for the benefit of so many children and families."
Rabbi Simcha Scholar, CEO of Chai Lifeline, added, "At Chai Lifeline, we are committed to bringing year-round joy and support to children and families living with serious illnesses — be it in camp or in their own community. We are delighted to offer this exciting and valuable service."
For more information about Chai Lifeline, visit www.chailifeline.org.