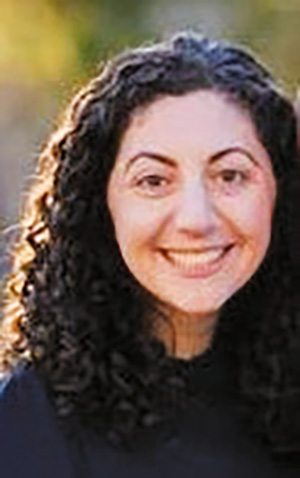 Chana Gorelik made aliyah from Passaic in September to the Katamon neighborhood of Jerusalem. Although she has only been here for a few months, she finds that she has become a better version of herself since moving to Israel.
Aviva: What shul did you go to in Passaic?
Chana: Tifereth Israel.
Aviva: What schools did you attend in New Jersey?
Chana: I went to Hillel Academy, which is now YBH of Passaic, and Bruriah High School.
Aviva: What about higher education?
Chana: I went to Michlala and then MMY for Shana Bet, followed by Stern for undergrad and then Montclair State for my master's in speech pathology.
Aviva: Do you feel that your education was Zionistic?
Chana: We always marched in the Israel Parade and I was active in AISAC (American Israel Student Action Committee) at Bruriah. MMY is very Zionistic and was always encouraging people to stay here and make aliyah.
Aviva: Is your family Zionistic?
Chana: My family is all about religious Zionism. I also have an aunt, uncle and cousins who live here. My grandparents also made aliyah when I was young, so aliyah is in my blood. I was always very passionate about it and always knew I wanted to end up here. I have so much gratitude to my family for raising me in such a strong halachic and Zionistic home. They have been so encouraging in my aliyah and their support has been unwavering even though it's hard for us to be apart. They are the reason I am here.
Aviva: Did you take trips to Israel when you were a child?
Chana: We came almost every year because we had family here.
Aviva: Who in your family lives in Israel?
Chana: My oldest brother, Yechezkel, made aliyah right after yeshiva and lives in Neriya with his family.
Aviva: What was the final push for you to make aliyah?
Chana: I decided to go to college and grad school in America, but I always felt that I would make aliyah some day. I was working for a few years and decided to move out. I realized that if I was moving, it should be to Israel. I worked on it for a year and made the move.
Aviva: What has your experience been like so far?
Chana: I have two wonderful roommates and I'm so happy living in Katamon. There are so many opportunities here and such wonderful people and everyone's so open to meeting new people.
Aviva: What do you do here?
Chana: At the moment, I'm in Ulpan, which I love. In the U.S., I worked with people with autism who had limited verbal output or did not communicate verbally, and I really loved teaching them how to communicate using multiple modalities. So, I'm interested in taking an intensive boot camp for web and app development because I want to combine my speech therapy knowledge with app development and help develop speech and language apps and speech-generating devices.
Aviva: What do you love about living in Israel?
Chana: There's something special about the avirah (environment) here. I'm open to new opportunities and experiences that I wouldn't have been open to before. I go to incredible shiurim and learn so much Torah. I also love keeping the mitzvot you can only keep in Israel, like Shmita.
Every place you walk just has so much history. I like getting myself lost and finding new routes. I read every street sign and about the people the streets are named after. There is so much history here and the streets are so holy.
Aviva: Do you miss anything about living in New Jersey?
Chana: I miss my parents, my brother Eli and my good friends back home.
Aviva: Do you have a message for anyone who's considering making aliyah?
Chana: My biggest pet peeve is when people pressure you to make aliyah. Everyone has their own story, and we don't know what people are going through. So, it's okay if you're not here yet.
Make sure it's the right time for you and your family.
My mom always says that as long as you have a yearning to live in Eretz Yisrael, that's what counts.
---
Aviva Zacks is a writer living in Israel who loves speaking to olim and hearing their stories. If you know of an oleh/olah who is interested in being interviewed for The Jewish Link, please email [email protected].