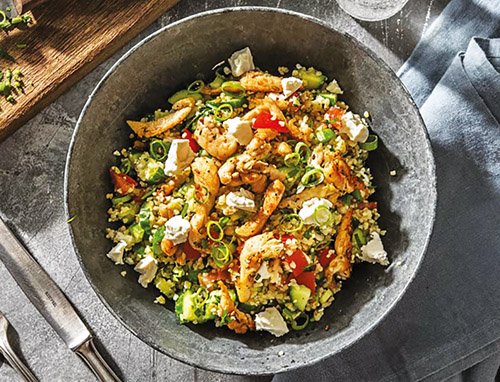 When I looked up the history of chicken salads, I didn't really expect to find it, but there it was.
"One of the first American forms of chicken salad was served by Town Meats in Wakefield, Rhode Island, in 1863. The original owner, Liam Gray, mixed his leftover chicken with mayonnaise, tarragon, and grapes. This became such a popular item that the meat market was converted to a delicatessen."
Here are some kosher, Israeli-style chicken salads for dinner.
Avocado and Chicken Salad
(makes 4 servings)
This came from a brochure for Israeli avocados. Avocado trees were first introduced into the land of Israel in 1908 and some varieties like Fuerte and Dickinson were not introduced before 1924. Real progress in avocado growing has been made in the past 20 years.
Ettinger, Hass, Fuerte, Pinkerton and Reed are grown for export in Rosh Hanikra, Kibbutz Dan and south around the Gaza Strip and Jordan Valley. Every year, about 10,000 dunam (approx. 1,000,000 square meters) of agriculture fields are planted with avocado seeds in Israel, 45% of which are exported.
Ingredients:
2 cups chopped chicken
1 cup chopped green pepper
1 medium sectioned orange
¼ cup slivered blanched almonds
¼ cup mayonnaise
½ t. salt
1 ½ T. lemon juice
2 halved avocados
salad greens
Directions:
1. In a bowl, combine chicken, green pepper, orange, almonds, mayonnaise, salt and 1 T. lemon juice. Chill.
2. Before serving, cut avocados in half. Scoop out flesh and add to chicken salad with salad greens. Sprinkle avocado halves with 1 T. lemon juice and top with chicken salad.
Serve with additional mayonnaise.
Chicken Tabbouleh Salad
(makes 4 servings)
Tabbouleh is a Middle Eastern salad originally from the Lebanese and Syrian mountains. The word is derived from the Arabic word meaning seasoning or dip and began to be used in English in the 1950s. Today, it is very popular in Israel as well as other Middle Eastern countries.
Ingredients:
2 cups bulgur
2 cups water
2 t. pareve chicken or vegetable bouillon
8 sliced scallions
½ cup chopped parsley
2 T. chopped mint
¼ cup lemon juice
3 T. olive oil
salt and pepper to taste
2 cups diced cooked chicken
Directions:
1. Heat water in a saucepan with bouillon. Place bulgur in a bowl and
pour bouillon on top. Let stand an hour or until liquid is absorbed.
2. Stir in scallions, parsley, mint, lemon juice, oil, salt and pepper and chicken. Cover and chill several hours.
Optional: top with mayonnaise and chopped cherry tomatoes
Peanut Chicken Salad
(makes 4 servings)
Ingredients:
2 cups diced cooked chicken
1 cup diced celery
2/3 cup salted peanuts
1/3 cup mayonnaise
2 t. lemon juice
salt to taste
Directions:
1. In a bowl, combine chicken, celery, and peanuts and toss.
2. In another bowl, combine mayonnaise, lemon juice and salt and blend.
3. Pour dressing over chicken mixture and toss again.
Sybil Kaplan is a Jerusalem-based journalist, author, compiler/editor/contributor to 9 kosher cookbooks and food writer for North American Jewish publications. She leads walks of the Jewish food market, Machaneh Yehudah, in English.