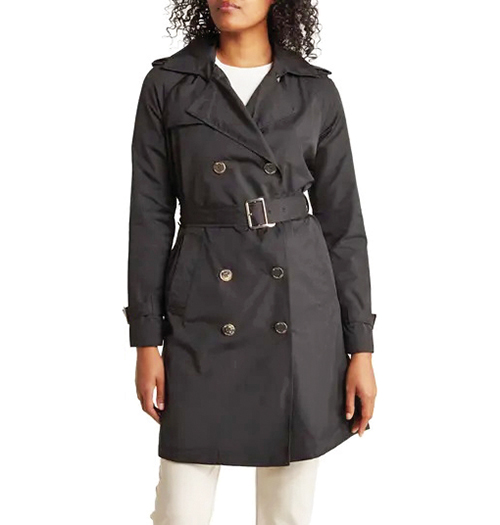 Two styles of women's outerwear for transitional seasons are back on fashion A-lists—the trench coat and the blazer. Fashion watchers have spotted many celebrities in trench coats this fall. People magazine has photos of actresses and models in trench coats of various colors and lengths.
The main difference between a trench coat and an overcoat is that the former is generally good for cool but not cold weather. That makes it perfect for transitional seasons. When you have days that can be 40 degrees or 60 degrees, sometimes both at different times in the same day, a trench coat with a zip-out lining can do double duty. If yours has a hood, you can leave the umbrella at home.
The trench coat began as a way to keep British army officers dry in the World War I trenches. But since then, the trench coat has become synonymous with a certain style of outerwear that is far from its original purpose. In the mid-20th century, the style was largely for men; think Humphrey Bogart in "Casablanca" or Peter Sellers in "The Pink Panther." It became fashionable in London's Swinging Sixties and became a style for everyone to wear on rainy days.
The popularity of trench coats has waxed and waned but is returning in force this season, in many permutations. Colors range from black to winter white, with neutrals, olive green and Burberry's plaid. Trench coats can be found in long and short versions. The classic trench coat is belted and double-breasted but there are many single row buttons as well. And while the trench coat is still largely for rainy or overcast days, there are plenty of iterations that have the style but not the purpose. I'm seeing trench coats in satin and cashmere.
Trench coats come at all different price points. You can find bargains on Amazon and designer styles at boutiques. Ariella Immerman, co-owner of The Reflective (https://the-reflective.com), a website with curated modest, higher-end fashion, said that trench coats are very popular with the creators they are working with and follow on Instagram. The Reflective has many trench coats on its site. "There is a return of timeless style, a gravitation toward quiet luxury—pieces you can have in the closet for years to come, that are an investment in quality," she said.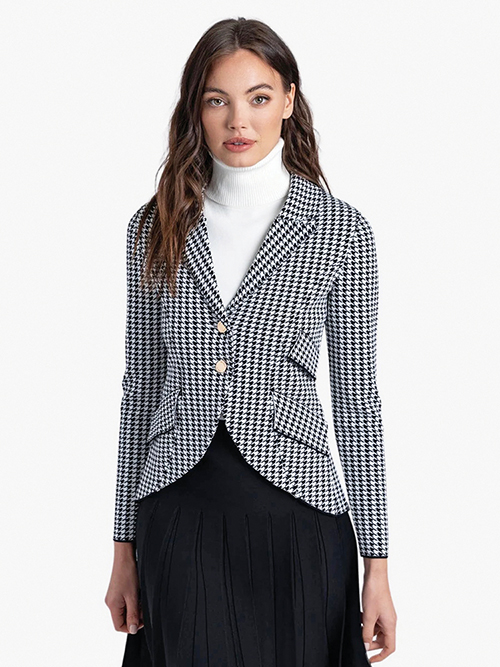 That philosophy extends to the return of the blazer, a type of jacket that can be part of an outfit or worn as outerwear. Immerman said recent fashion shows in New York, Milan and London showed a lot of "corporate chic" with blazers, button-downs and skirt sets geared for the office.
The most-cited origin story for the term "blazer" comes from a boat club in Cambridge, England, where collegiate rowers wore jackets made of bright red (blazing color) cloth. Wikipedia cites a 1952 article where blazer first appeared in print.
Today's blazers come in a variety of styles—relaxed fit, unstructured, tailored—and can be used for different occasions. Oversized blazers with shoulder pads are being called one of 2023's biggest fashion statements. More formal workplace blazers are generally fitted in the waist with sleeves that end at the wrist bone. A blazer can look and function like a suit jacket if you're heading to the office, or add a touch of style to a casual, off-to-do-errands kind of day. Blazers come in a variety of fabrics from cotton to cashmere. Just be wary of shatnes, a mix of wool and linen.