My family, good friends and some of our closest readers all know that I like visiting different communities in the summer months. When our children are away, my wife and I will always aim to go for summer weekends to see friends in different communities ranging from Long Branch, the Five Towns, the Catskills and, very occasionally, even more exotic locations. I always enjoy walking into a new shul anywhere and getting the feel and flavor of the chazanim, the rabbi and the shul members. And I always love to see and reconnect with those I know or recognize from my youth or yeshiva days, from earlier in my nonprofit career or from my role in The Jewish Link these past 10+ years. I also enjoy meeting new people and families and learning about what is going on in their respective communities. Every shul and community has a different flavor, a different ta'am, so to speak, and these visits are a vital part of my summer.
On one of the few weekends I was home this summer, I decided to partially simulate a weekend away by visiting one of Teaneck's newest shuls, Bais Menachem of Teaneck, for Shabbat morning davening. The shul, located pretty centrally within town at 1370 Windsor Ave, launched just before Shavuot in 2022, and was started by longtime Teaneckers such as Peter Hein, Yosef Levine and others. It's located about 15-20 minutes from my house and it also boasts Teaneck's (and possibly all of Northern New Jersey's) latest Shacharit start time of around 10:10 a.m. I convinced my son Noam to come with me on a particularly hot August morning and we arrived a bit early there.
Once there, one of the shul's founders, Yosef Levine, greeted me quite warmly and insisted on giving me a personal tour of the shul. He pointed out to me, with evident pride and satisfaction, all of the improvements and details that he and his co-founders have put into making the building a functioning shul and warm environment. I couldn't help but be impressed by his infectious enthusiasm for the shul and its future.
Davening was a beautiful affair and it definitely had a Chabad/chassidish flavor which is very much how its founders see themselves. Although many of its members have strong connections to Chabad, there were certainly other members present who were not from a Chabad background. Perhaps most striking to me was the kiddush after davening on the shul's second floor. There was a lot of great food but most of it was not take-out or catered food—in fact, nearly all of it was made by the shul's members. Yosef was happy to tell me that the shul kiddush offered not one, but two, different types of home-cooked cholent which my son eagerly taste-tested and chose a winner. I don't think I've ever seen two types of cholent at a shul kiddush or anywhere, really!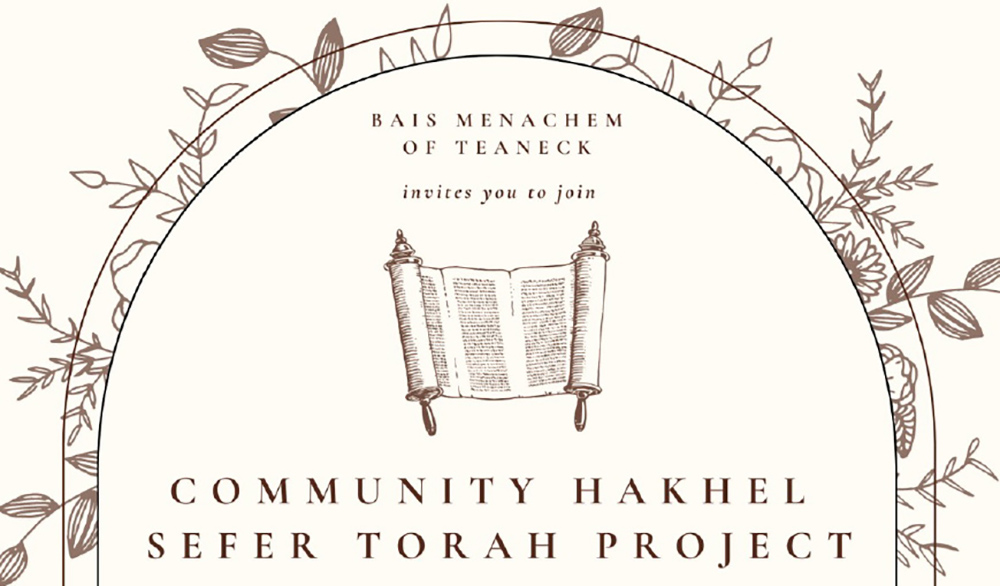 But what struck me most sharply as we left about 20 minutes into the kiddush was that we were the first ones leaving. Nearly everyone else had brought their entire families to shul and no one looked like they were getting ready to leave or were even thinking about leaving in the near future. They were there to stay and be with each other and socialize, as if they were already home. As the shul notes on its homepage baismenachemteaneck.com, it is "a shul where everyone feels at home." As I walked out that day, I understood what they meant.
Before I left, Yosef also let me know that their shul is embarking on what he believes is Teaneck's first ever Community Hakhel Sefer Torah campaign, which will culminate in a big hachnasat sefer Torah on Sunday, Sept. 10, at 2 p.m. We published an article about this unique campaign in last week's edition and the ad for the campaign is on page 26 of this week's edition.
Bais Menachem is inviting the greater Teaneck community to participate in the writing of the Torah and its dedication and sponsorship opportunities remain, ranging from parshiot for $360, a pasuk for $54, a word for $36 and a letter for $25. You can learn more and participate by visiting their site HakhelTorahTeaneck.org.
I wish my friends at Bais Menachem only hatzlacha and bracha with the ongoing Hakhel Sefer Torah campaign and with all of their growth and next steps.