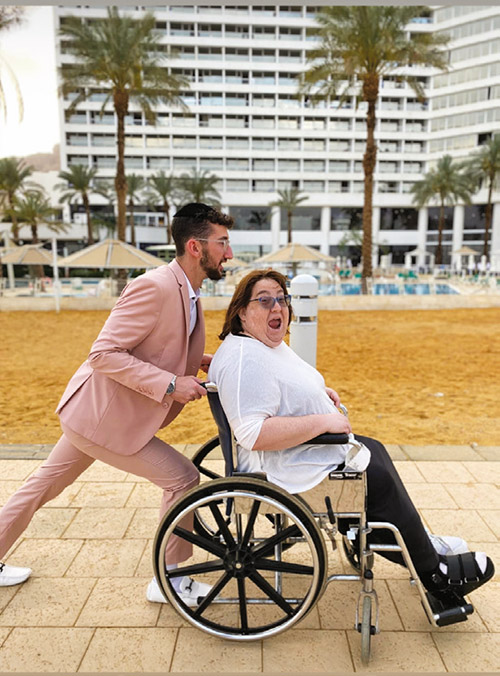 For Lori Nagel of Highland Park, her efforts to visit her son Eli during his year at yeshiva in Israel were no simple thing. Lori is a baalat teshuva and she has not been to Israel in decades. She is enormously proud of Eli's serious commitment to Yiddishkeit and was looking forward to seeing him in his habitat in Israel. She was also excited about touring for a few weeks and spending Pesach with Eli at a resort in Ein Bokek, along with her husband Walter, who was planning to get to Israel closer to the holiday. (Walter is also a baal teshuva, and this was his first trip there).
Then, a few weeks before the departure date, she ruptured her Achilles tendon and her doctor wasn't sure it was wise for her to travel. But Lori was determined to get there. She delayed her trip, eventually got the green light from her doctor to go, and figured out how to manage the new logistical challenges (such as how to navigate the trip from a wheelchair). And in mid-March, she was off to Israel.
Lori didn't get to do all the things she had initially planned. But she got to daven at the Kotel, which as she described to The Jewish Link, "reinforced my deep sense of connection to Israel and Judaism." She got to see a few friends, took fun photos at the 'I Love Jerusalem' sign by the Old City, and enjoyed breathtaking views of the sunrise over the Dead Sea. Most importantly, she got to meet one of Eli's rebbes and see firsthand the spiritual growth, maturity and responsible self-reliance that Eli now exudes. And that made all the struggles worthwhile.