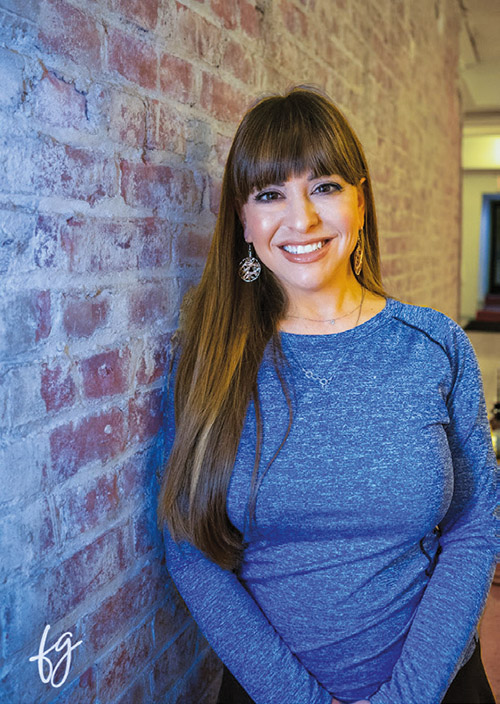 Bergenfield native and physical therapist Dr. Riva Preil wasn't always going to specialize in pelvic floor therapy and women's health. In her last year at Hunter College, she was approached by a friend who had suffered a traumatic labor and delivery. Preil's friend expressed excitement that she would "finally be able to help women" who have gone through the same trauma and injuries—except that Preil had never really thought about physical therapy in the context of pelvic floor health. As fate would have it, the Herman & Wallace Pelvic Rehabilitation Institute came to Hunter just a few weeks later, making Preil realize that pelvic floor therapy was her passion.
"I called my mom and said, 'Mom, this is it! I found my calling!" Preil recalled after learning about the kind of advocate she could be for women. Since that fateful day, Dr. Preil has gone on to start her own pelvic floor private practice, Revitalize Physical Therapy, where she treats various pelvic floor disorders, with three locations across Manhattan.
Last year, Dr. Preil released her book, "The Inside Story: A Woman's Guide to Lifelong Pelvic Health," which covers the ins and outs of pelvic floor dysfunction (PFD) and what women can do to take care of themselves and their pelvic floors in different stages of life. Knowing her own community, and the challenge in speaking about bodily functions for privacy or modesty reasons, Dr. Preil penned a version of her book catering to the Orthodox community with sensitive language and nuanced guidance, titled similarly as "The Inside Story: A Jewish Woman's Guide to Lifelong Pelvic Health."
In discussing pelvic floor health and postpartum recovery with Dr. Preil, I disclosed that I never really put much thought into it for myself until I had a baby nearly one year ago. Since then, I've come to realize the impact that pelvic health can have on a person's overall function, and what a difference pregnancy and labor can make for the body. I reached out to Dr. Preil to share her expertise on postpartum recovery—and how we can care for ourselves in the chaos that is motherhood.
"First of all, be your own biggest advocate," she shared. "Your pelvic floor has undergone a trauma, albeit a beautiful one, but a trauma nonetheless. With any trauma, people are routinely sent to physical therapy, and the same should be the case for postpartum."
Dr. Preil explained that there are two conditions that are specific to postpartum trauma: diastasis recti and prolapse. Pelvic floor specialists should check-in to rule out these conditions, and to assess muscle weakness so a strengthening program can be designed for the patient. "All it may take is a session or two to learn some exercises, and you can be on your merry way to postpartum rehabilitation."
Understandably, much of the attention is given to the newborn baby during the "fourth trimester," which is the first 12 weeks following birth. Dr. Preil emphasized that women should take care of themselves too—"because you can't take care of another human being if you are not taking care of yourself," she explained. "Pelvic floor recovery is a really important piece of postpartum care."
Dr. Preil elaborated on what pelvic floor specialists look for in a postpartum physical therapy session. "I like to call it the 'postpartum trifecta.' The first thing I always screen for is abdominal separation, which can happen during pregnancy as the connective tissue becomes overstretched. Number two is prolapse, which can develop in response to pregnancy and labor, especially with excessive pushing during delivery. This causes a downward pressure on the pelvic organs and places them in a lower position than they should be. Finally, we would check for incontinence, which is a very common symptom that women report during both pregnancy and postpartum. It indicates either a weak pelvic floor or muscular tightness, which each require different treatment."
Each of the issues in the 'postpartum trifecta' can be treated with a specialized strengthening program, curated specifically for the patient's pelvic floor needs. But the initial assessment and diagnosis is critical, Dr. Preil noted, because each recovery plan is unique. "I've had patients tell me that their symptoms got worse after trying to self-treat. We need to make sure there's no underlying tightness before beginning a strengthening program," she explained.
Many women also come out of labor and delivery with scar tissue, whether from natural tearing or a c-section, which can make normal body function painful in different ways. In this case, a pelvic floor specialist would begin "scar mobilization," which can be incorporated into the patient's overall rehabilitation plan.
"Finally, be kind to yourself and to your body," Dr. Preil shared. "You've undergone something tremendous. You've birthed a human, and incredible power to you. Many of my patients express frustrations over certain body changes and fear that their body will never resume its prenatal form. But there are so many ways to appreciate and connect with your body in this changed state. The postpartum body isn't the same, and that's okay. You've created a life and it's beautiful."
Dr. Riva Preil is available for pelvic health workshops and panels catered to the Orthodox community. She can be reached at [email protected]. More information about her practice and her book, "The Inside Story," can be found at www.revitalizephysicaltherapy.com.