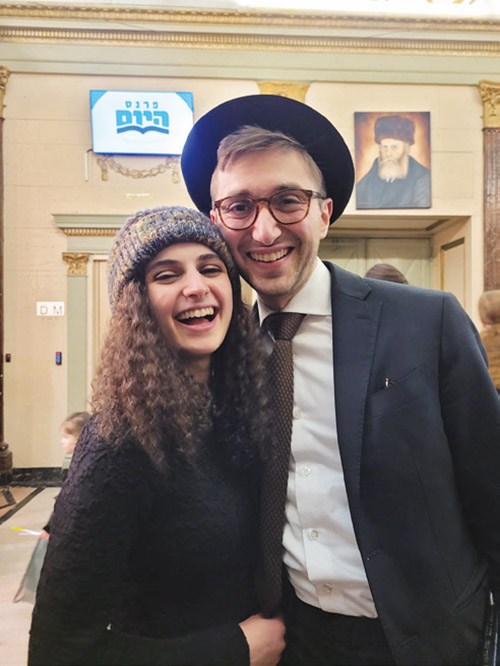 Shapell's/Yeshiva Darche Noam is excited to introduce its new David and Fela Shapell z"l Memorial Married Couples Fellows, Ben and Ita Weinstein of Edison. This dynamic couple will spend the 5783 (2023-24) academic year studying at Shapell's/Yeshiva Darche Noam and Midreshet Rachel v'Chaya, which will include participating in special classes and programs designed for young married couples. This prestigious fellowship will provide their full tuition and subsidized housing, allowing them to spend their year focused on their academic, spiritual and leadership growth.
Newly married and living in Edison, where they are part of the "Edison Chabura," Ben and Ita bring their diverse Jewish journeys to their shared enthusiasm for learning, commitment to community and desire to inspire others in their growth. "In order to build a home based on strong Jewish values, it's important for us to dedicate our first year of marriage to learning Torah," Ita explained. Added Ben, "We hope to gain many necessary skills for our individual learning, as well as the skills and knowledge to pass on to others and to future generations."
Ben comes from a Reform background, and as a teen worked his way up to leadership roles in Eagle Scouts. His journey to observance started with listening to online shiurim and podcasts followed by learning over Zoom—all of which left him with many big ideas to ponder. Along the way, he connected with inspirational rabbis who encouraged him to spend a year at the Shaar Program of Yeshiva Sh'or Yashuv in New York. He then moved to Edison, where he met Ita.
Ita, a native of Marin County, California, grew up in a Chabad family and attended a local Reform day school. After high school she spent two years in Sharfman's Seminary in Israel, where she discovered the deep meaning behind Jewish practices. She is an experienced early childhood educator, having worked in Jewish preschools both in California and Maryland. She aspires to one day direct her own Jewish early childhood center to inspire young children with a love for Judaism and the Jewish people.
The Weinsteins are excited to be an important part of the Darche Noam family and look forward to making close connections with teachers and peers. Said Ita, "Thank you to the Shapell family for your ongoing support to the Yeshiva and Midrasha and for making this incredible experience possible for us. We hope to bring what we gain during our time at Darche Noam to our community and inspire those around us to see the beauty in Yiddishkeit."
For more information about our programs please visit www.darchenoam.org
By Shmuel Jablon