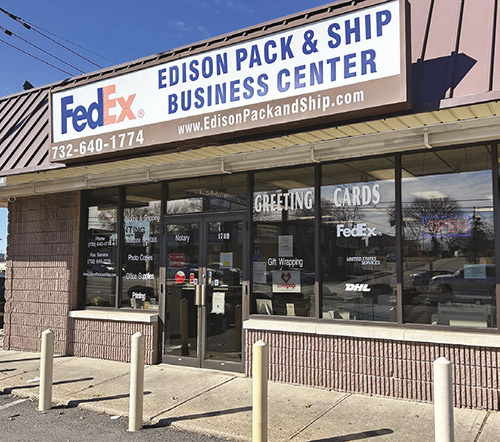 In 2012 Azriela and Stephen Jaffe of Edison reached a crossroads in their careers. The next steps were not clear.
After many years working in finance, Stephen lost his job in a corporate layoff action. As a 60-year-old professional, he learned soon that ageism in the field might keep him from finding a new position. Yet he and Azriela were not in a position to retire.
They began exploring setting up their own business and they were very thorough about researching their options. When they started to explore opening a pack-and-ship store, Azriela and Stephen, who live in Highland Park and daven at Agudath Israel, knew intuitively that this option would fit them both well. In his "prior life," living in Oregon and New Mexico, Stephen had learned carpentry and plumbing from tradesmen and had run a co-op store, so he had easily transferable skills. Azriela has an MBA, business experience and deep experience as a writer and journalist, writing for Mishpacha and Ami. She has taught public speaking as an adjunct at Rutgers University for nine years, so her skills would also help them build a new business.
They had to teach themselves many aspects of the business and search for the right location, one that allowed customers to drive up close to the store. Stephen spent a week in Jonestown, Tennessee, observing the operation of a well-established pack-and-ship store in that city, to learn about the design of the store and the basics of the business. One of the things he learned was that processing packages for DHL and FedEx would help keep the store open, but the couple would need another signature service to make serious income.
The Jaffes opened the Edison Pack and Ship Business Center in June 2013, and offered a wide array of services. The store features 220 rental mailboxes, faxing, shipping supplies, shredding, greeting cards, notary service, black-and-white and color copying, scanning and more.
The bedrock of the business, however, is specialty shipping of unusual and hard-to-ship items. Stephen regularly builds wooden boxes of various sizes, with bracing to withstand whatever treatment the boxes may experience along the way.
As Azriela explained: "We've learned that drivers and movers are rough with packages; they are constantly in a rush, so they don't have time to be delicate with a shipping container, and the assembly line is brutal to boxes. We have to pack things to resist any force, bumps or abuse they can encounter."
They've learned to use a variety of materials to cushion valuable objects in their tailor-made shipping containers—bubble wrap, polyurethane, building insulation, waffle board and masonite.
A page on their website lists the "Cool Stuff We've Packed and Shipped All Over the World." It's a long list, which includes:
Optics and prototype for a self-driving car (weighing 900 pounds)
An 11-foot long solid oak church pew
An antique grandfather clock
Mounted shark jaws with teeth intact
A 138-item collection of fine china
A 400-pound, $10,000 treadmill, won at an auction
A broken gazebo, in a zillion pieces, returning to the seller
Samurai swords
A Civil War rifle (without bullets—they checked)
A carton of mother's milk, shipped on dry ice to a friend in need
Asked to identify the most challenging thing they had to ship, Stephen spoke about the 1,000-pound oven they shipped to Alaska. Part of the challenge was "just wrestling it into the store," where it dominated a large swath of the walkable area until it was sent off. "It took me a week to figure out how to safely ship it," he said, and mentioned the herculean effort to just lift the oven off the ground and onto a pallet. Azriela recalled how the large shipping container started tipping while being loaded onto the FedEx truck, and Stephen pushed back on it; she was worried that he'd be crushed. (B'H, he wasn't.)
Over the past decade, Edison Pack and Ship has developed a strong regional reputation for their talents in specialty shipping. The Jaffes report that they've had customers come from as far as 60 miles away to use their services. The store has earned a five-star 4.9 rating on Google, with 112 reviews.
Debra Stonecipher wrote in one review: "I have shipped many high-value, delicate antiquities around the world over the years, and without a doubt, Steve provides the most thoughtful and careful packaging, clearest communication, and fastest and most courteous service that I have ever experienced. A real pleasure to work with someone who really cares about the shipment and the client! Recommend HIGHLY!"
Maureen Feldman wrote: "My husband asked me to find a shipper to convey family antiques, which were both fragile and irreplaceable, to our daughter and our niece. In both cases we were kept updated and our recipients were thoroughly appreciative of the fine service they received. Edison Pack and Ship is my go-to for all future shipping needs."
One thing that the Jaffes have learned is that given their business' location, they serve a diverse clientele. Azriela commented: "We have a broad spectrum of customers that come into our store. My husband and I are very aware of our imperative to be a Kiddush Hashem. We are very careful to represent Judaism to our clientele in the best way and to demonstrate the highest level of ethics."
Over the past decade, they've learned a lot about the global shipping business. For example, one of the most expensive places in the world to ship a box to is … Israel. Stephen explained that the "administrative burden," because of customs and time on a plane, is very high. As an unplanned illustration of this fact, while conducting this interview a customer came into the store, seeking the cost of shipping a box of neckties to Israel. They told him it would cost at least $95 and it would be cheaper to have a friend bring them in his or her luggage on their next visit.
As they look back on their 10 years in the business, they recall with amusement the business consultants who visited the store when they just started, interviewed them for two hours, and then issued a report. The consultants concluded that the business must be open on Saturdays or it wouldn't succeed. Going into their 11th year, it looks like the Jaffes proved them wrong.
Edison Pack and Ship is located at 1789 Lincoln Highway/Route 27, Edison, NJ 08817. They can be reached by phone at 732-640-1774, by fax at 732-640-1775, by email at [email protected], and online at www.edisonpackandship.com. They are open six days a week and closed on Saturdays.
---
Harry Glazer particularly enjoyed learning about and covering this business. He thanks Kay Silverman for offering the idea for this story. To share a news tip with Harry, please send him an email at [email protected]