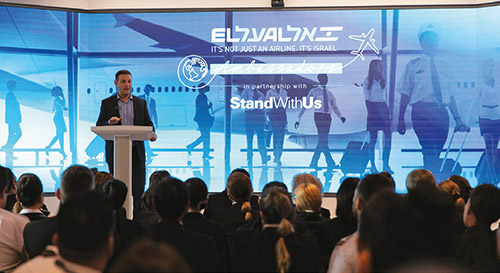 Israel's national airline, El Al was born in November of 1948 along with the State of Israel. Thus, El Al has always been intertwined with the existence and destiny of Israel and served, then as now, as an expression of national pride. Its fleet proudly displays the Israeli flag on its tail, visible in destinations around the world.
El Al is continuing Israel's legacy of expressions of national pride. El Al, in partnership with StandWithUs (SWU), a nonpartisan education organization that supports Israel and fights antisemitism, has relaunched its successful El Al Ambassadors program, which was shut down for two years due to COVID. The program, first launched in 2011, is a way for people to get to know Israel.
The initiative sees pilots and top flight personnel in uniform, utilizing their layover to visit and speak to audiences at university campuses, cultural and religious centers and at other public events. El Al's Ambassadors program has already helped hundreds of thousands of participants around the world to be able to see Israel through the eyes of its people, the many diverse faces of El Al.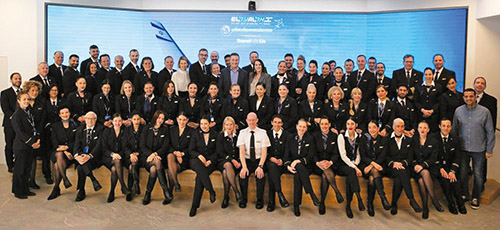 Roz Rothstein, co-founder and CEO of StandWithUs, said: "We deeply believe in people-to-people engagement and are proud that StandWithUs has been a pioneer in empowering Israelis to tell their own story in cities around the world. Through long-running programs such as the StandWithUs Israel fellowship, identifying future leaders and ambassadors of Israel, as well as our TEVEL youth program, which runs at high schools across Israel, we are giving Israelis opportunities to have a better understanding of how the world views Israel and a dynamic platform for them to share their own Zionism, to teach Israeli history, culture and more.
"Similarly, El Al is a natural partner for StandWithUs and we are thrilled to support their charismatic personnel with the opportunity to engage audiences around the world," Rothstein continued. "El Al flight personnel dispel misconceptions and foster understanding. That is what underpins the El Al Ambassadors program and that is why it is a jewel for the State of Israel and all who support Israel globally. As part of the relaunch of this important program, our staff spent a day hosting over 100 El Al pilots and top flight personnel at the StandWithUs Katz Education Center in Jerusalem, teaching them and hearing about their personal stories, and they are continuing to help shape these stories into powerful presentations.
"So many of the Ambassadors have rich, diverse personal histories. Some have lived in Israel for generations; others are immigrants from multiple countries. They have wonderful stories that give color and flavor to Israeli life and identity. We are confident that audiences of all ages will love meeting them and will find it both a learning opportunity and an inspirational experience."
Michael Dickson, executive director of StandWithUs Israel, said: "Many people have never met an Israeli. The El Al Ambassadors program is an ongoing way to introduce people to everyday Israelis who represent different aspects of Israeli culture. El Al is a leading carrier and travels to cities around the world regularly, which makes it easy to schedule events with a variety of groups on the ground. The El Al flight attendants and pilots have unusual, funny and interesting stories to tell. StandWithUs is proud to partner with them to support their outreach to people of all faiths and ages around the world. This is Israel at its best and an opportunity to showcase a side of Israel that is not often seen in the headlines and on social media."
The Ambassadors Program is an all-volunteer program, providing a chance for people to meet real Israelis who have incredible life stories to tell. Each Ambassador takes pride in being a part of this program, in making a difference and in representing their country.
---
Susan R. Eisenstein is a longtime Jewish educator, passionate about creating special, innovative activities for her students. She is also passionate about writing about Jewish topics and about Israel. She has two master's degrees and a doctorate in education from Columbia University.