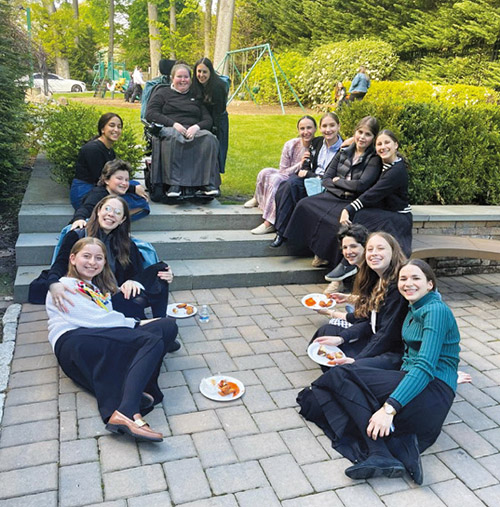 (Courtesy of Chai Lifeline) The Englewood community hosted Chai Lifeline's annual Friends and Fun Shabbaton on May 5-6, bringing together over 63 girls impacted by pediatric illness and a dedicated group of local volunteers. The uplifting Shabbaton was organized by committee members Lori Schlakman, Deborah Berger and Jodi Cohen, and featured a packed schedule of speakers, activities and delicious meals.
A pre-Shabbat welcome activity was hosted at the East Hill Synagogue, with davening and dinner at Congregation Ahavath Torah thereafter. On Shabbat morning, Chai Lifeline Warrior Rivka shared her story of a family ski trip that left her paralyzed and changed her life forever. She talked about how Chai Lifeline supported her and reflected on how her case manager "helped my family navigate a very difficult time in our lives and gave us a feeling that we are not alone."
Rivka closed with a quote she had heard that "there is nothing more beautiful than someone who goes out of their way to make life beautiful for others" and how she has "had a first-hand glimpse at how Chai Lifeline is making so many lives beautiful."
Shabbat continued with a community kiddush, a sunny outdoor hangout, lunch at Congregation Ahavath Torah and an afternoon tea at the Parker home, featuring a magic show by David & Dovid Berger. Before Shabbat ended, participants enjoyed Seudah Shlishit at Ahavath Torah, where Chai Lifeline Warrior Rivky shared her insights into life with a degenerative medical condition, and Aliya told about her inspirational cancer journey.
The shabbaton concluded with a musical Havdala, followed by a high-energy DJ dance party for all the girls and women in the community. Rivka Gordon, Chai Lifeline director of volunteers and organizer of the weekend, said, "The profound impact of this annual weekend on both the Chai Lifeline participants and the Englewood community is astonishing. Watching the community in which I grew up intertwine with the community I am now involved with full-time is especially meaningful. The food, entertainment and activities were enjoyed by all, but the warmth exuded by the Englewood families and the courage of the children and teens to unite and poignantly share their stories were the true highlights."