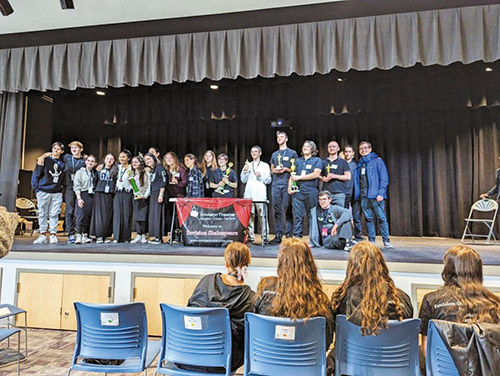 (Courtesy of Envision Shakespeare) In its ninth year, the Envision Shakespeare competition, run by Envision Theater's Rebecca Lopkin and SAR English teacher Nancy Edelman, featured a scene from "Othello" in which the villain Iago has stolen a handkerchief of sentimental value from the virtuous Desdemona and planted it where another man will find it in order to make her husband (and Iago's boss) Othello crazed with jealousy. The challenge: As the competition rules prohibit the use of any props at all, how will the actors make the audience "see" the handkerchief?
Over 100 yeshiva high school students spent an exhilarating day at Ma'ayanot last week, participating in theater workshops, performing Act 3, Scene 4 of Othello in front of professional actors and theater teaching artists, reciting original sonnets and, most importantly, meeting and spending time with other students who share their passion for theater and the arts.
The day began with a tribute by Ma'ayanot and Central students to Adira Koffsky, z"l, last year's director of the Central ensemble who was tragically killed in a car accident in Jerusalem earlier this year. Next, keynote speaker Laura Melnicoff, a professional cellist whose credits include the recent production of "Fiddler on the Roof" in Yiddish on Broadway, spoke to the students about the challenges and blessings of being an Orthodox Jew with a career in the performing arts.
The rest of the day was devoted to the competition. Each school's ensemble performed the same scene, with no costumes or props allowed except for four folding chairs. After the first round, which saw compelling and engaging scenes from Bruriah, SAR, Central, Westchester Hebrew High School, Kushner, The Idea School, Frisch, TABC, Ma'ayanot and Flatbush, the judges deliberated while the students ate lunch and answered Shakespeare trivia questions that earned them a raffle ticket for each correct response. After the sonnet competition (won by Frisch's Dani Lifshitz), three schools went on to the final round: Frisch, TABC and Flatbush.
The judges had a difficult time determining winners with so many talented young actors and well-prepared ensembles to choose from. In the end, the winners were: Best Overall Team/Grand Prize-Flatbush; Most Creative Interpretation of a Scene-TABC; Best Director-
Chananya Zaider and Avi Waxman (co-directors, Frisch): Best Actors-Judah Lopkin (Frisch) for playing Cassio; Tamara Mosbacher (WHHS) for playing Othello; Best Supporting Actors-Belle Shatzkes (Flatbush) for playing Bianca; Ariel Wallen (TABC) for playing Clown and Iago and Bianca; Adam Strub (Kushner) for playing Clown and Guard.
Students went home with T-shirts, Shakespeare-themed gifts from the raffle and trophies for the winners, and many were already talking about coming back next year and incorporating the expert feedback they received from the judges into improving their craft.
The Envision Shakespeare competition is a unique program that gives yeshiva high school students passionate about theater and the arts a chance to shine and showcase their talents while engaging intensely with the work of the Bard. Lopkin and Edelman are already at work choosing next year's scene and look forward to another enriching experience.
Check out Envision Theater's website for pictures, videos and more information about the event at www.envisontheater.com.
Schools wishing to join next year's competition should email [email protected] for more information.