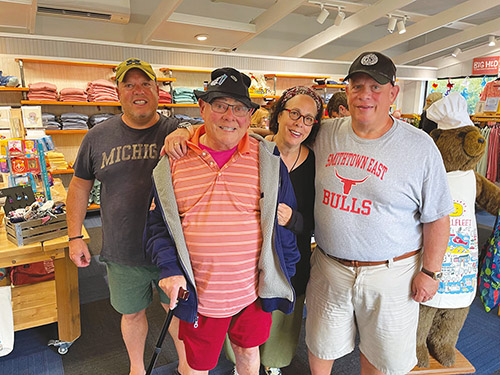 Two summers ago, my medically and cognitively healthy dad asked for an afternoon meeting with both my brothers and me. After arriving at my brother's home, Dad laid out the agenda for the afternoon. "We will have 15 minutes of light banter. Then I will share my love I felt for your mother, my love for Sandy [my stepmom], and I will share my impressions of each of you. Following that, I will discuss my will and my living will. We will close with any questions or thoughts you would like to share." And this is exactly what happened.
The 15 minutes of light banter was delightful. We laughed and shared some new stories about our kids. With the 15 minutes of banter completed, Dad referred to his agenda and began talking about his love for our mom. She was his first love. They met as teenagers and he quickly recognized that she was adventurous, bright, ambitious, and could be his life partner who would encourage his pushing-the-envelope lifestyle while responsibly setting limits. Unfortunately, this life partnership only lasted 28 years. At 41, Mom was diagnosed with metastatic breast cancer. He spoke about the peace he had knowing that he did everything he could to make sure she had a full life in the six short years before she passed away at the age of 47. They traveled, they dined, they went to shows, they went to our sports games, band concerts, hosted meals, and lived a full life. His one regret was that she wouldn't live to see grandchildren.
We talked about Mom's last days. The Friday night before she passed away, she asked to speak with all of us together. She turned to my dad and said, "What a life! You gave me everything I could have ever wanted. You made me so happy." Without a pause she continued: "I want you to go on with your life and be happy. I want you to get remarried. I'm telling you that in front of the kids because I don't want them to think you betrayed me by doing so." This was one of the bravest, kindest gifts my mom gave us. A year later Dad married Sandy. Sometimes it's hard to find one love of your life; to find a second is a tremendous blessing. He was with my mom for 28 years and with Sandy for 38.
My mom was cultured, academic, worldly, adventurous. She loved reading, traveling and the philharmonic. My mom was not outdoorsy. Sandy introduced my dad to the great outdoors. Bike riding, kayaking and gardening. Yes, they have traveled, gone to concerts and done incredibly interesting things, but Sandy loves being active and has pushed my dad to experience things that he never even had in his boyhood in Queens. During this conversation, my dad noted that between the two Sandys (yes, my mom's name was also Sandy), he had led a full life.
The next item on the agenda was Dad sharing his impressions of each of us. This was done openly for all of us to hear. He felt this was important, because as a rabbi, he refereed many conversations between siblings that included statements like these: "That's not true. Dad always was disappointed when you…" or "Mom hated when you…" Dad was honest, loving, and appreciated each of his relationships with his kids for very different reasons. Our parents raised us each to our personalities and encouraged our individualism. They embraced our strengths and helped us through our challenges.
The next topic on Dad's agenda was the will. We were a comfortably middle-class family in Suffolk County, New York. In our lifetime, our parents encouraged us to travel, to be open to new adventures and go outside our comfort zones. Dad was careful around money and yet found a way to provide us with rich life experiences. Financially, there was nothing left for him to leave the three of us. Whatever was left was for Sandy, her kids and their families. Not even a side glance was passed between my brothers and me. It felt a little jarring in the moment, but there wasn't a question that Sandy was deserving of everything. I recently asked my brother: "If you could relive that moment, would you have asked about the property left to Sandy's kids and not to all of us?" After tossing that around for a few minutes, we concluded that Dad wanted shalom bayit and wouldn't want us to fight with Sandy about money or property. Sandy has graciously said that she wants us to come to the house and choose items that would feel meaningful to each of us.
The last item on Dad's agenda was walking us through his living will. He clearly stated that he did not want any extreme lifesaving attempts. He would not want to be a burden and he wouldn't want to live the remainder of his life in pain or suffering. He let us know that Sandy would be his medical proxy and she would be making all the end-of-life decisions. This felt right to each of us and we let him know that we supported this plan.
Having completed his agenda, Dad asked for questions and impressions. We thanked Dad for his thoughtfulness and clarity. We shared our impressions of him as a father and grandfather. We reflected on his choices in life, those we agreed with and those we felt were more challenging. Organically, we returned to light banter and enjoyed the remainder of the afternoon with lots of laughter and light-heartedness.
I learned from both my parents the importance of conversations such as these when contemplating the end of life. When I was working at Sharsheret, I walked many women living with advanced cancer through these meaningful, sometimes heart-wrenching discussions with their families, and I continue to do so in my private practice when I am working with clients who have aging parents or a family member living with a life-threatening illness.
Thank you Mom and Dad for your foresight, courage, candor and commitment to shalom bayit. These family dialogues were gifts I will continue to cherish throughout my lifetime.
Shera Dubitsky, M.Ed., M.A., C.P.C., has a private practice as a therapeutic coach, where she works with clients all across the country and in Israel. Shera is available to explore or facilitate these conversations between family members. She frequently lectures across the country on varying topics including navigating day-to-day experiences, managing the emotional impact of illness, parenting, and spirituality. Learn more about Shera at www.sheradubitsky.com
By Shera Dubitsky