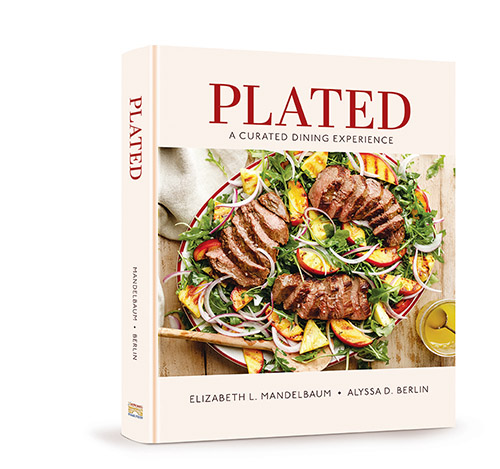 Light. Healthy. Delicious.
Isn't that exactly the kind of food that we're all craving right about now?
Apparently, Elizabeth Mandelbaum and Alyssa Berlin have read our minds, because their debut cookbook, "Plated," is a collection of recipes that involve plenty of fresh produce and flavorful good-for-you ingredients, and whose photogenic good looks make you want to grab a fork and just dig right in. While I have no doubt that both Mandelbaum and Berlin are well known as personal chefs and recipe developers in their native Los Angeles, those of us living elsewhere might be wondering who they are and why they are putting out a cookbook. Not to worry; the back inside cover of "Plated: gives us a full introduction to both the authors, as well as their credentials. Busy moms and professionals, Mandelbaum and Berlin shared an approach to cooking that balances mental wellness with creativity, as well as a firm belief that nutrition and great taste can, and should, go hand in hand.
There were a few things that jumped out at me about "Plated" that are worth mentioning up front. At first glance, I found myself wondering where I was going to find the vegan sour cream, butter or cream cheese that are used in several of the dishes here, until my daughter helpfully reminded me that I could use the words "vegan," "pareve" and "non-dairy" interchangeably for recipe purposes, which meant that any plant-based product line (think Tofutti, Wayfare and Betterine, to name a few) would all work well here. Amazon and your local health food store can be helpful for sourcing ingredients that may not be available in your local supermarket such as xanthan gum, and while I have never even heard of Cocowhip coconut whipped topping, which is used in several of the cookbook's dessert recipes, a quick Google search showed that it is sold in both Target and Walmart.
In a nutshell, while some of the ingredients may look unfamiliar, they may very well be more available than you think they are. And if you haven't tried items like coconut milk and almond flour, both of which are used in multiple recipes here, all I can say is there is no time like the present to find out why these items are so popular.
I've always been a big fan of reproducing current trends in my own kitchen. and "Plated" doesn't disappoint in that regard. Acai bowls have been having their moment in the sun for quite a while now, and with frozen acai packets readily available in the freezer section of many a supermarket, there's really no reason why you can't whip up your own at home. The acai base recipe in "Plated" is pareve, but like so many others in this 248-page book, there is an option for those who want to switch things up a little, in this case, by swapping out the acai for Greek yogurt.
Two different granola recipes offered on the facing page up the ante, making it super-easy (not to mention economical) to create an Instagram-worthy acai bowl at home that will be a hit with both grownups and kids. Also very current is a mini-chapter dedicated to bowls: Whether you choose to make customized portions for every member of your family or you throw the full recipe together into one giant serving dish, each recipe has an international flavor all its own. There is something for everyone here, from the bright flavors of the Hawaiian sushi bowl to the bold taste of the Mexican chicken cutlet version to the irresistible Middle Eastern bowl, with Greek and Thai barbeque rounding out the collection.
As someone who isn't really a morning person, I thought the book's sheet pan pancakes was a genius idea, turning out a breakfast favorite without having to spend 20 stove-side minutes flipping and frying. With a name that spans two different countries, the Dutch oven French toast sounds gourmet but is approachable enough to throw together for a festive breakfast or brunch, and once we're on the topic of comfort food, let's give a special shoutout to the pesto sourdough grilled cheese, presented in three different variations.
An ArtScroll publication, "Plated" goes beyond today's favorites and yesterday's most-loved dishes. With summer on the way, the watermelon, mint and feta salad presents a unique assortment of flavors, while the wilted kale tahini salad would work equally well as an appetizer, a side dish or even a main course. The cream of mushroom soup was one of several recipes in "Plated" where Mandelbaum and Berlin use coconut milk as a lighter and healthier stand-in for cream, a win-win on a variety of levels, while salad pizza talks a walk on the meaty side, with a marinated London broil, roasted beets, arugula and vegan parmesan—yup, you can find that on Amazon if you can't locate it locally—topping.
And just in case you thought healthy eating was boring and utilitarian, "Plated" has some really impressive looking recipes that I just don't have patience to make but would absolutely love to taste if someone else wants to make them for me. Case in point: pulled duck pockets with arugula and aioli; vegan manicotti with almond-based ricotta and umami mushrooms; blackened salmon and roasted corn salad with lime yogurt crema; pan-seared sea bass with mushroom cream risotto; and, last but not least, the oyster steak with grilled peach salad whose gorgeous presentation graces the book's front cover.
As a lover of all things dessert, I typically read a cookbook from back to front, looking to see what kind of goodies lurk in the final pages, and Mandelbaum and Berlin didn't disappoint. The concept of frying ice cream is always an intriguing one, and it is truly irresistible here, while not as intimidating to make as you might think. And never having developed a taste for coffee, I was thrilled to see tiramisu showing up in a luscious lemon version, a great dessert that just screams summer.
With plenty of intriguing eats that are as gorgeous as they are yummy, "Plated" has plenty of great recipes that just so happen to be healthy as well. I don't know about you, but that's exactly the kind of food that calls my name, not just during the warmer weather that's just a few weeks away, but any time of the year.
---
Sandy Eller is a freelance writer who writes for print and web media outlets and private clients. She can be contacted at [email protected]