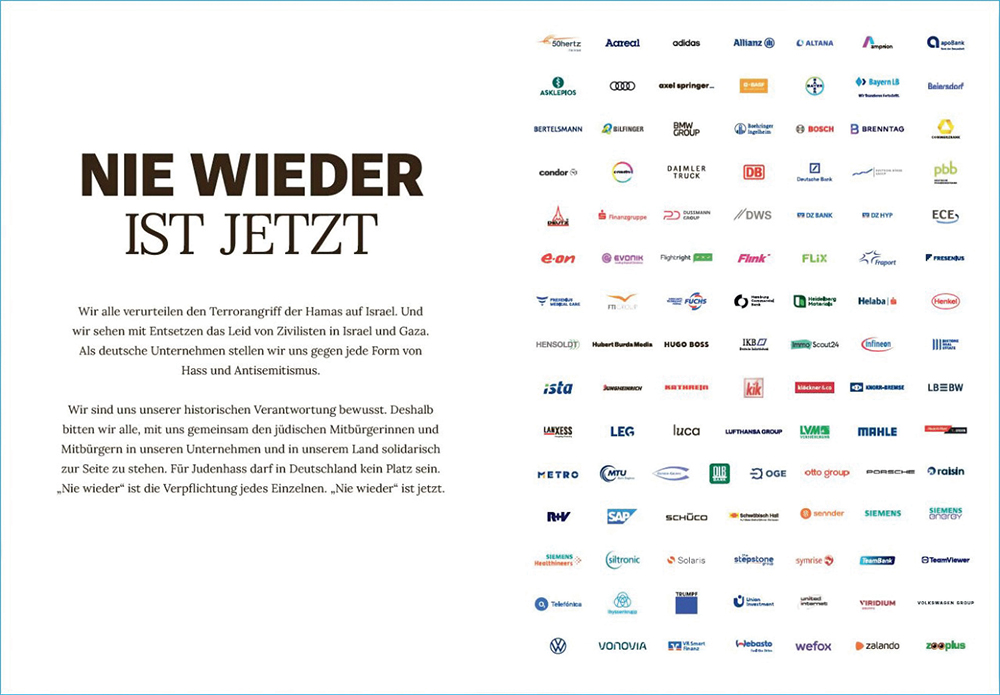 Since I spent a year in Germany as a fellow of the Robert Bosch Foundation following the completion of my master's degree, I am still in touch with many friends and colleagues in the country. And when the German government does what many others have not done, by making statements exceedingly protective of Israel's statehood and democracy and supporting Israel's right to defend itself in the strongest possible terms, it's important to understand their specific historical experience after having housed the perpetrators of the worst genocide in human history. To note that the situation in Germany for Jews is currently better, in theory, than in the United States' elite college campuses like Harvard, UPenn, Rutgers and Cornell, is to have laid bare the irony of American academia not having learned the basic lessons of history.
German Chancellor Olaf Scholz announced on October 12 that his government "will ban all activities and organizations supporting Hamas." He told the German Parliament, "Hamas is already labeled as a terrorist organization in Germany, but now the country will prohibit any activities in support of the group or its agenda." Germany has prohibited the display of the Palestinian flag and even the wearing of the Palestinian keffiyeh. (While France is not the subject of this article, it is important to note that France has also tightened laws regarding the display of Hamas symbols and banned all pro-Palestinian demonstrations.)
Robert Habeck, Germany's vice chancellor, said on this must-watch statement given in German with English and Hebrew subtitles (https://tinyurl.com/5n8yr3nf): "We stand by your side. We have not forgotten." Invoking the memory of Babi Yar, where in 1941 more than 33,000 Jews, over the space of 48 hours, were murdered and stacked into a ravine near Kyiv, he compared that massacre to others like in Auschwitz and Treblinka, where thousands of Jews were systematically murdered. "They are the reason why Israel was created as a state," Habeck said. He noted that these murders are the reason why Germans must stand up to protect Jews, both inside his country and worldwide.
"This is not the time to relativize. Now is the time for a clear, unmistakable commitment. Israel's security is part of Germany's raison d'etre. Israel has our unreserved solidarity. Israel has every right to defend itself."
Habeck added that the barbaric October 7 murder of men, women and babies in southern Israel and their taking of civilian hostages has nothing to do with anyone's fight for freedom or any resistance movement. "Hamas is not fighting for freedom. They are not fighting for Palestinians. They are not fighting for the people. They are fighting, they are murdering, only for themselves."
He called protests or anyone celebrating Hamas and Gaza in the streets of Berlin—or anywhere in the world—"shameful."
As if clear government statements were not strong enough, more than 100 of Germany's most prominent private companies took out an advertisement this past week in the country's most-read newspapers, Bild am Sontag and Welt am Sontag, to state the following and to express moral clarity, solidarity, and leadership:
"NEVER AGAIN IS NOW: We all condemn the terror attack of Hamas against Israel. And we see with horror the suffering
of civilians in Israel and Gaza. As German companies, we stand against all forms of hatred and antisemitism. We are conscious of our historical responsibility. That is why we ask everyone to join us in standing shoulder-to-shoulder with our fellow Jewish citizens, within our companies and across our country, in a spirit of solidarity. There is no place for hatred against Jews in Germany. 'Never again' is the obligation of every individual. 'Never again' is now."
Germany's minister of foreign affairs, Annalena Baerbock, posted on Instagram on Monday, October 23, a photo of herself with Israel Foreign Minister Benny Gantz following her visits to Jordan, Israel, Lebanon and Egypt. "I have made it clear everywhere: Germany stands firmly on Israel's side, which, like every country in the world, has the right and duty to protect its population within the framework of international law.
"At the same time, we see the incredible suffering of the people in Gaza. Hamas uses them as human shields. Hamas must be fought, otherwise there will be no peace—neither for Israelis nor for Palestinians. At the same time, new suffering among the civilian population does not reduce the terror, but rather is a breeding ground for new ones," said Baerbock.