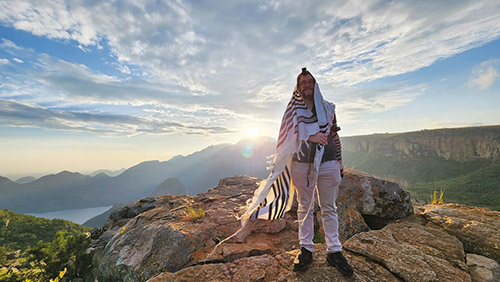 If a safari tour in Africa has been on your bucket list, get ready to check it off. Gourmet Kosher Safaris, the industry leader for five-star luxury adventures is ready to take you there … and the rest of the world.
Since 2001, Gourmet Kosher Safaris' Rabbi Yoni Isaacson has been coordinating private retreats off the beaten track for groups or families in some of the most stunning and amazing destinations in the world. Each tour is carefully prepared to ensure that his guests experience a first-class luxury boutique adventure uniquely tailored to each group of travelers.
On safaris to South and East Africa, adventurers enjoy the finest selection in high-end kosher cuisine. With a full-time mashgiach on hand and freshly produced food, Gourmet Kosher Safaris treats its guests to three sumptuous meals, snacks and refreshments throughout the day, all under the strictest hashgacha. From lavish breakfast spreads to gourmet dinners paired with a premium selection of world-class wines, Gourmet Kosher Safaris is the perfect way to indulge both the explorer and connoisseur in anyone.
Should you decide to take the Southern Africa Tour, expect to get some quality time with lions and leopards as you go off-road game-viewing in an open jeep at the private reserves in Kruger National Park. But before that, the adventure begins with a stop at the breathtaking Victoria Falls. Then, make your way through the African bush, on a safari of Chobe National Park, unique for its land- and boat-based safaris on the magnificent Chobe River and the undisputed Elephant Capital of the World.
Isaacson calls it "an incredible experience to see these animals in nature where they live their lives freely without human interference." With the abundance of wildlife that is native to that region of Africa, there's no telling how many buffalo, elephants, zebras, giraffes and antelope you may see just casually roaming the majestic terrain.
This trip also includes a weekend in coastal Cape Town, which Isaacson calls "one of the most beautiful cities in the world," along with an excursion to one of the "New Seven Wonders of the World," Table Mountain. Guests will get to spend an extraordinary Shabbat with Cape Town's vibrant Jewish community as they take in the glorious scenery. A trip to the Cape Peninsula includes a cruise out to Seal Island to watch a frolicking colony of Cape fur seals, and the famous Cape Point, a meeting place of the ocean currents. Then it's off to Boulders Beach to visit some playful Cape penguins.
You might also want to consider Gourmet Kosher Safaris' East African tour, an exclusive high-end safari experience where you will find yourself "glamping" amid the untamed beauty of Tanzania's Serengeti National Park. There you can witness the great migrations—the movement of millions of animals from one region to another, depending on the season, and where the rains and grazing are. "It's the greatest wildlife show in the world. The most animals that you'll see anywhere in nature," said Isaacson. It's an experience that would certainly rank high on anyone's bucket list.
This tour includes a trip to Mount Kilimanjaro, a beautiful region and the home to Africa's highest mountain, royally perched on the equator. Over at Arusha National Park you'll have the opportunity to meet the famous "blue" and "black and white" monkeys and then off to the magnificent Ngorongoro Crater, a volcanic crater which hosts countless species of wildlife.
If you have always wanted to check out South America but did not want the hassle and complications of bringing your own food provisions, Gourmet Kosher Safaris has got you covered. Its exquisite bespoke "Glaciers to Jungles Tour" begins amid the splendor of the Patagonian wilderness and steadily transports you, both physically and emotionally, to the Argentinean and Brazilian side of Iguazu Falls and an exotic bird park where Toucans and parrots adorn the trees with their marvelously colored plumage. Of course, the adventure would not be complete without a few days in Buenos Aires, where you will find the perfect blend of culture and architecture from all over the world, and one of the world's largest Jewish communities.
On a different trip on the other side of South America, Gourmet Kosher Safaris continues to provide world-class cuisine and lavish expeditions from Peru's famed Machu Picchu to Ecuador's legendary Galapagos Islands and Andean capital Quito. There, visitors can enjoy activities including snorkeling, meeting the many exquisite animals that inhabit the region, and cruises around some of the planet's best-kept secrets. If you happen to notice a marine iguana as you make your way through a cactus forest, feel free to give it a smile and a wave hello.
Traveling to Australia and New Zealand has never been easier or more spectacular than with Gourmet Kosher Safaris' first-of-a-kind luxury kosher trip there. This extravagant adventure will not only take you to Melbourne and Sydney, through the "Great Ocean Road," but introduce you "to a class of species not found anywhere else in the world" as you explore the continent's greatest natural attractions from the Great Barrier Reef to the Great Outback.
Travel with Gourmet Kosher Safari to India's Taj Mahal to see it in all its majesty and maybe take a ride via elephant in Jaipur. An unbeatable tiger trekking safari experience awaits you at Ranthambore National Park as does a trip to the spice capital of the world, Kochi.
If you're in search of the ideal European destination, Gourmet Kosher Safaris can take you there too, with bespoke trips to Croatia, Switzerland, Iceland and other locales—on demand. Stay in the best accommodations as you dine on world-class kosher fare, allowing you to properly focus on the sites and attractions and just having fun.
There is a reason why Gourmet Kosher Safaris is the leading company for high-end kosher travel—the best fine-dining cuisine, the best kashrut, the best accommodations and the absolute best service.
Your luxury adventure awaits. So what are you waiting for? Book now at www.gourmetkoshersafaris.com.
By Jewish Link Staff