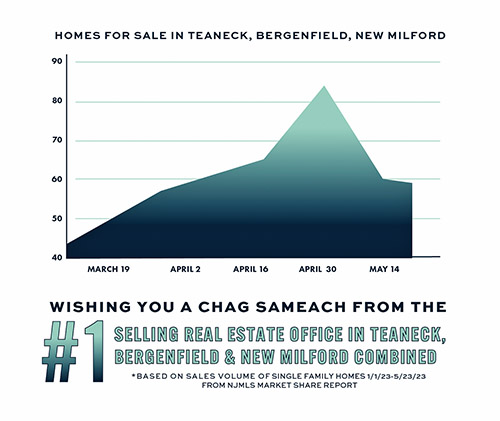 Since February we have been watching the welcome uptick of homes coming to market for sale in our area. There were close to double the number of homes for sale in the beginning of May as there were in February. While this trend is encouraging, it seems that even with this increase in homeowners deciding to sell, the pace at which these homes are receiving multiple offers and going under contract is faster than anything we have seen before. Taking a closer look at the numbers will clarify exactly what is happening.
In Teaneck, Bergenfield and New Milford there were 84 homes for sale on the first day of May. Every week since then, the number of available homes on the market dropped by roughly 10%, with demand for homes far outstripping the supply that is coming on, so that now in our third week there are only 58 homes remaining.
During these first three weeks of May, 40 homes went under contract. These numbers point to an incredibly strong market. The rental apartment buildings are filled with eager buyers who naturally flow into the single family homes of our neighborhoods. Add to this buyers hoping to upgrade their current home within our community and, of course, those seeking to come from out of town. The verdict is clear: Even with the increase in housing stock generated during the past winter months, the new listings cannot keep up with the demand.
This year, the housing market will barely take a break for the Shavuot holiday as it coincides with Memorial Day weekend. June will surely be as competitive as it gets, with only a month left to buy a house before the July 4th holiday. Let's watch and see if the traditional, more relaxed pace of the market for the summer break actually occurs.
---
Nechama Polak is the broker of record and owner of V&N Group LLC, located at 1401 Palisade Avenue in Teaneck. Send your thoughts and comments to [email protected] or call 201 826 8809.