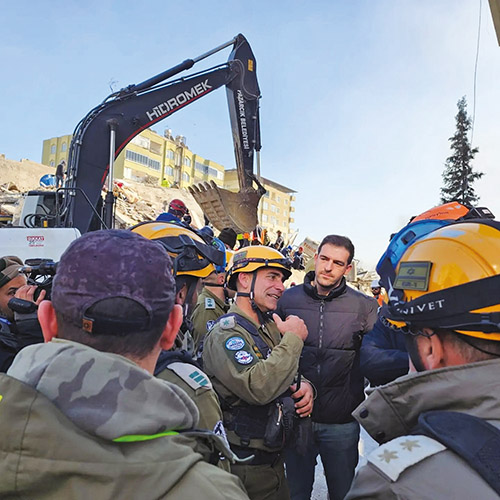 The news out of Turkey on Monday, February 6, was exceptionally tragic, with a 7.8 magnitude earthquake in the southern part of the country at 4:15 a.m. unleashing a cascade of destruction and a death toll that quickly shot into the tens of thousands. (The fatality rate has currently passed 40,000.) According to a report on NPR, this earthquake is understood to be the worst that Turkey has experienced in over 80 years. And with hundreds believed to be trapped under rubble, the death toll was poised to keep climbing.
Shortly after the quake hit, Turkish Interior Minister Suleyman Soylu went on television, declared the situation a major disaster and stated that the country was open to receiving international assistance. One of the first countries to respond to the call was the State of Israel, and over the next nine days the Israeli relief effort accomplished a great deal, creating a tremendous Kiddush Hashem in the process.
As Israel's Deputy Ambassador to Turkey Nadav Markman shared in an interview with The Jewish Link, as soon as the Israeli Embassy in Turkey heard the news of the earthquake and the call for assistance, Ambassador to Turkey Iris Lillian contacted the Israeli Foreign Ministry and requested a foreign relief mission. The first plane from Israel landed the night right after the earthquake, in the Adana airport in southern Turkey.
As a press release from the Israeli Consulate in New York stated, the 450-member delegation from Israel's Home Front Command included search and rescue specialists, medical personnel, engineers, trauma specialists and other first responders. Israel also delivered over 150 tons of humanitarian aid in 15 airlifts, including an off-the-grid water purification system and a fully equipped field hospital.
Markman added that there were 140 medical professionals on the delegation, with half who were IDF medical professionals and the other half who were working medical professionals. Many high-level doctors agreed to drop what they were doing on a few hours notice to go to Turkey.
Markman was designated as the point person for all the arrangements for the relief mission and, as he reports, it made for a very hectic nine days. He coordinated with local officials the arrivals of 20 planes over five days and the movement of all the personnel and humanitarian aid. He worked around the clock and slept intermittently in a field tent. He briefed Israeli generals, Israel's foreign minister and the head of Israel's Medical Corps. He was there to see the first plane arrive and to see the last Israeli relief mission member leave on February 15.
He reports that Israel's search and rescue team is proud to have saved 19 lives in the disaster zone, the second highest total of the over 80 international relief missions in Turkey. (Only Azerbaijan's group saved more).
"The Israeli relief mission met a high level of success because of strong coordination on the ground and their high level of dedication to save lives," the deputy ambassador said. He pointed out that Israel has gained a great deal of expertise in relief missions because of their considerable experience in this area; Israel dispatched relief missions to Bulgaria in 2012 (bus bombing), to the Philippines in 2013 (tropical storm), to Nepal in 2015 (earthquake), to Mexico City in 2017 (earthquake), to Brazil in 2019 (dam collapse), as well as many prior disaster relief efforts in Israeli military conflict zones.
Markman stated that the local reactions in Turkey to Israel's relief mission were "overwhelmingly positive on all fronts, and on all levels." The YeniSafak daily newspaper, usually a source of anti-Israel sentiment, stated in an editorial: "The earthquake diplomacy has left the bilateral tension aside, replaced with cooperation." In public remarks, Turkish President Recep Tayyip Erdogan mentioned Israel as one of the first countries to send aid.
The Israeli Embassy was showered with grateful messages from Turkish citizens via email and on Twitter, such as one from Halil Altinay, who stated: "This virtue, which is described as 'being human' in our culture, touched all of us very much. When I think of the curses and hostilities I've read on your behalf in the past, I want to express my shame for all of them. Thanks a thousand times." Another from Esref Larsen: "As a Turkish citizen, I thank you very much. Politicians may be enemies, but the Israeli people and Turkish people will remain friends forever. Thank you for your great support in this difficult time."
It is all the more remarkable that this growing appreciation of Israel's support is arising in a country that, over the past decade and a half, has had a mixed and at times cold diplomatic relationship with the Jewish state. Markman pointed out that Turkey was the first Muslim country to recognize Israel, in 1949, and bilateral trade has been stable and increasing, even in difficult times; in 2022, trade between the two countries was $8 billion. Yet international incidents in 2010 and 2018 caused a rupture in diplomatic relations. Since early 2022, however, the warmth in relations between the two countries has resumed, starting with a visit by Israeli President Isaac Herzog in March of that year. Over the next nine months the two countries traded visits of high-level government officials, and reinstated ambassadors from both countries in January 2023.
By Harry Glazer