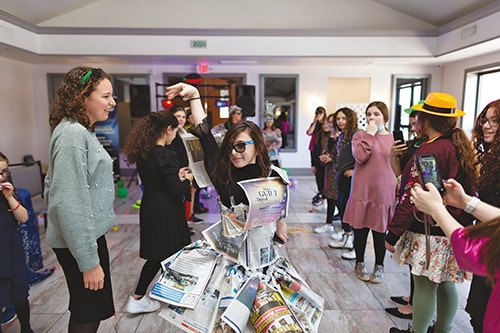 All couples are ecstatic when they purchase their first home. Ari and Rachel Carus have an additional reason to be thrilled: They now have a permanent base for their company, JAP (Jewish American Parties) Entertainment.
Ari and Rachel are the life of the party, bringing the music, leading the dancing and games and keeping the action flowing. But it takes a lot of behind-the-scenes action to bring it all together. With a permanent base that includes a driveway leading to the basement, the couple has a more convenient way to move their heavy, state-of-the-art sound equipment in and out. And Rachel has a place to teach dancing. Many bat mitzvah girls come to her home to learn the latest dance steps. A permanent home base in Teaneck means they are close to where many of their clients live, and now have more space for themselves and their growing business.
JAP Entertainment is known for making the bar and bat mitzvah the star of their show while giving their guests an unforgettable, great time. Rachel is the lead dancer for the bat mitzvah girls, and her husband, Ari, is the DJ. For the bar mitzvah boys, Ari is the emcee/lead dancer, and Rachel or someone she hires is the DJ.
Wherever people are getting together, JAP Entertainment provides the fun. Rachel said they are doing a lot more engagement parties, chesed and shul events. Every year they provide the entertainment for Bnai Yeshurun's annual Purim party with prizes, games and raffles.
As COVID becomes just another illness we get sometimes, events have returned. Although families still book bar and bat mitzvah parties in advance—unlike a wedding or brit, you know the date—some are cautious and want to plan closer to the event. So don't be shy about calling if the date is approaching and you decide that you would like a super party. JAP has made outstanding parties with a week's notice if they are available.
Rachel has been making parties since she was 15. She has many repeat clients—not just organizations with annual events but families who want their newly minted bar and bat mitzvah children to have the same phenomenal event as their older siblings. But JAP also must reintroduce themselves annually to the new class of girls turning 12 and boys turning 13.
Families are comfortable knowing that Rachel is there to run the show. She goes over the schedule, music, and games in advance. She is in contact with the other vendors throughout the party. "Sometimes we remind the parents, 'We got this; you relax,'" she said. "We're very much on top of things."
Parties are organized according to what the families want. Girls at bat mitzvah parties tend to want more structure and choreographed dancing. Boys like to jump around to music, run and play games. "One client told me her daughter doesn't like dancing; she wants more games," Rachel recalled. "So we played the newspaper game where the girl was the model and the guests were designers creating an outfit out of newspaper." Another fun activity is the balloon stuffing game in oversized t-shirts. Classics like the limbo, musical chairs and scavenger hunts are still popular. The guests have a blast with the Trivia game, in which the bar or bat mitzvah makes up questions about themselves and their friends guess the answers.
A common structure for parties is to have a half hour for hors d'oeuvres and a photo booth, 20 minutes for dancing, a 45-minute buffet with speeches, back to dancing and games for an hour and dessert with a montage of photos or video of the boy or girl, and more dancing and games, including the always requested Coke and Pepsi. The finale is a huge mazel tov announcement at the end.
Rachel and Ari stay up to date on all the latest music, including Israeli songs and whatever is trending on Tik Tok. "My husband is very musically talented and is also a break dancer," said Rachel. "He feels out the crowd and the type of music they like. Sometimes he gets up and dances."
Although they have a reservoir of talented dancers and DJs, Rachel tries to make it to every party, sometimes going to two or three in one day. "I put my heart and soul into every party," she said. "Each bar mitzvah, bat mitzvah and engaged couple deserves to feel special on their memorable day. I enjoy bringing simcha to every event."
Visit JAP Entertainment online at https://www.japentertainment.com or call (845) 445-0348
By Bracha Schwartz