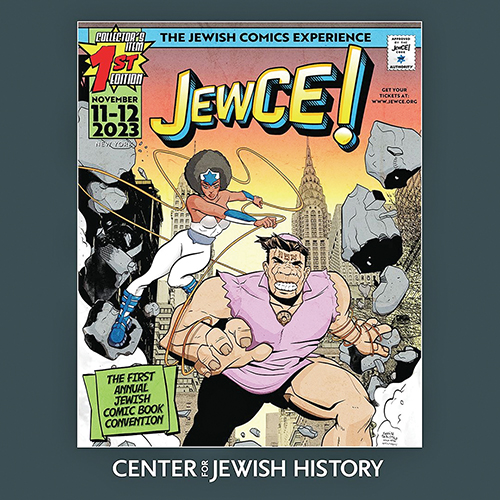 The Center for Jewish History in New York City will launch the Jewish Comic Experience (JewCE) this week, an extraordinary two-day event that promises to be an immersive exploration of Jewish history, culture and storytelling through the dynamic medium of comics and pop culture.
The first ever JewCe Awards, dedicated to recognizing exceptional contributions from artists, storytellers and creators who have harnessed their talents to enrich Jewish storytelling through the dynamic medium of comics, will take place Saturday night, Nov. 11. This year's awards ceremony features nominees from around the world who have devoted their creativity and passion to bringing Jewish stories to life through the art of comics.
The convention officially begins on Sunday, Nov. 12 at 9 a.m. It offers a unique opportunity for attendees to engage with industry leaders, including legendary cartoonists, writers and illustrators like Frank Miller, Paul Levitz, Trina Robbins, Stephanie Phillips, Neil Kleid, and E. Lockhart, all of whom have left an indelible mark on the world of comics.
In addition to the exciting array of panel discussions and workshops, visitors will have the opportunity to view JewCE, The Museum and Laboratory of the Jewish Comics Experience, which brings together an impressive collection of original artwork, historical artifacts and interactive installations celebrating the rich tapestry of Jewish narratives depicted through the lens of comics and graphic storytelling.
There will also be family-friendly activities, a large Artist Alley, and an exhibit hall filled with vendors offering comics, graphic novels and merchandise inspired by Jewish culture. For a full schedule of events and tickets, visit jewce.org.