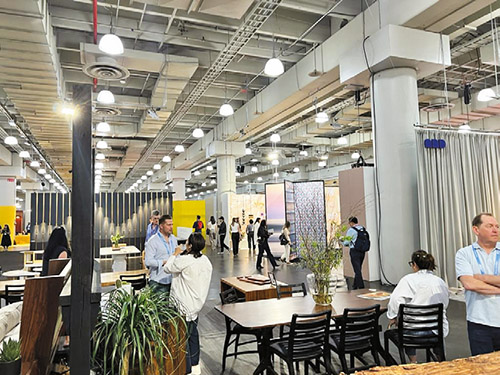 Last week, over 10,000 architects, designers, furniture retailers and distributors gathered inside the Javits Center in Manhattan for the final day of the International Contemporary Furniture Fair (ICFF). From May 19 to May 21, industry experts perused over 400 exhibitor booths for the first time since the pandemic, excited to fill showrooms and gather inspiration for their clients' homes. ICFF featured a broad range of contemporary furnishing products—including furniture, lighting, seating, kitchen and bath fixtures—as well as networking events and panel sessions for the attendees.
Each booth inside the Javits Center was designed meticulously and artfully, with displays including running water features, full living room setups and art installations, among other impressive presentations. It was rare to see a booth unoccupied during the expo, as attendees discussed products and services at length with each exhibitor.
"A lot of business comes from doing these shows," explained Shamir Einhorn, director of operations at Contempo Space, an exhibitor at ICFF. Contempo Space, which boasted a full-sized bed and large custom closets at its booth, manufactures and designs contemporary modern furnishing in Passaic.
"This is all about the relationships we can build with designers and clients," said Einhorn. "In this business, it comes from either a show or specific word of mouth. They're not going to find out about us from an ad in the paper."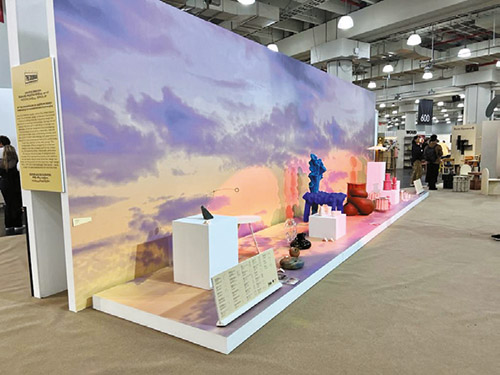 Josef Nigri, sales manager at Lucida Surfaces, echoed the same sentiment. "As an exhibitor, [ICFF] has been beyond what I expected," he shared. "There is such a diversity of people from different fields, including architects, designers, builders and even people who do home improvement. It's a great show for putting your name out there and building a stronger relationship with all of those people."
Nigri agreed that the exposition is "incredibly important" for manufacturers. Lucida Surfaces, which manufactures and distributes vinyl, SPC and LVT flooring from Wayne, New Jersey, prides itself on customer service and seeing projects through until the very end. "At this show, we get to reach so many more people. It's the place to be."
Both Contempo Spaces and Lucida Surfaces attended ICFF in hopes of reaching people like Adina Kornbluth, a NCIDQ-certified designer based in Monsey. Kornbluth shared that she came for "inspiration," noting that in the past she has worked on projects that were sparked from different shows.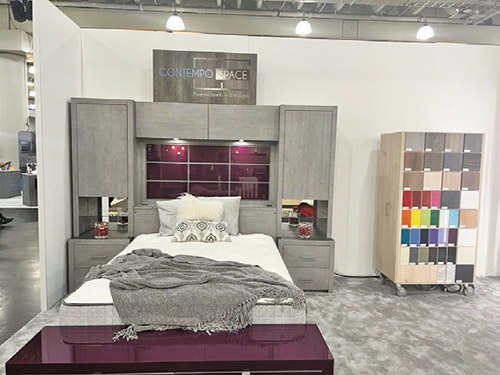 "I usually find one or two vendors that inspire me, and I can store that away in my brain for a future project," Kornbluth said. She recounted a project where she had utilized a flexible tile made out of resin and custom printed in Italy, something which she had seen previously at a show that piqued her interest.
"I really love what I do," she said, adding that she thoroughly enjoys the opportunity to give her clients a better quality of life with her work. "My job is to really utilize space. It's not just about making it beautiful; it's about learning what works for my clients' lifestyles."
Einhorn noted similarly that this is the appeal of customization—the limitless possibilities in creating something that makes sense. "We always say, 'Why settle?' We offer so many colors and configurations that can fit your needs. We're not cookie cutter."
Kornbluth's main goal, like many of the other architects and designers at the show, was to "absorb, absorb, absorb," especially given the sheer number of ICFF exhibitors. And the same for the exhibitors themselves, who all hopefully connected with as many potential partners as they could from the leading platform for contemporary furniture design.
"Creativity is always about inspiration," shared Kornbluth. "And maybe it's in nature, or travel, or these shows…you never know where you can find it."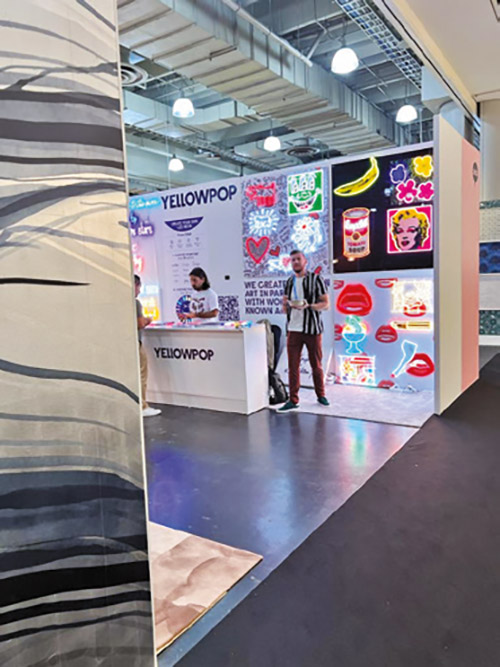 More information about Contempo Space can be found at https://www.contempospace.com/ and Lucida Surfaces at https://www.lucidasurfaces.com/. Adina Kornbluth can be reached at [email protected].
---
Channa Fischer is digital editor of The Jewish Link and is the resident 20-something in the office. She resides in Washington Heights.