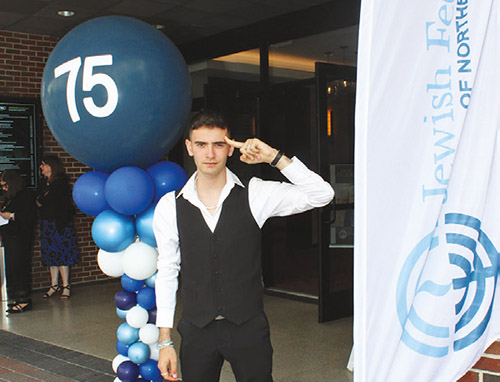 The Bergen Performing Arts Center in Englewood served as the venue for the Jewish Federation of Northern New Jersey's "75 Israel: A Community Celebration" held on Sunday, May 21. The air was charged with a spirit of celebration as close to 700 guests arrived.
The program commenced with a melodic rendering of the national anthem followed by "Hatikvah" presented by Zvi Klein on accordion leading the adult Israeli choir Makhela.
Welcoming remarks were presented by Daniel M. Shlufman, President of JFNNJ, as well as Lee Lasher, immediate past president. Yuval Donio-Gideon, consul for public diplomacy at the Israeli Consulate, delivered greetings from Israel.
The event began with a colorful performance of a dance piece entitled "Sababa BaMidbar" by the Keshet Chaim dance troupe. Keshet Chaim, translated as "Rainbow of Life," is an American-Israeli contemporary dance company dedicated to celebrating the inclusive spirit of Israeli culture and Judaism throughout the world. Founded in 1983 by Artistic Director Eytan Avisar, Keshet Chaim creates, develops and presents original choreography, fusing traditional Israeli dance with Jewish folk dances across the Diaspora.
The Bergen PAC's Performing Arts School Show Choir and Broadway Youth Ensemble, consisting of youngsters from diverse backgrounds, regaled the audience with a medley of Israel's winning Eurovision songs, including this year's third place winning entry "Unicorn" by Noa Kirel.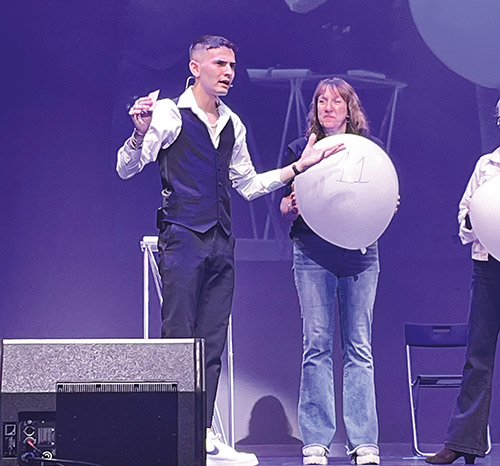 Video greetings from Mayor Ronen Marelly of the northern Israeli City of Nahariya was aired followed by a mind-boggling performance by Israeli mentalist Nevo Abutbal, credited with being "the youngest mentalist in the world." Beginning his career at age 12, Nevo made his television debut as a finalist on "Israel's Got Talent" at the age of 13. He has been praised by Uri Geller as the "rising star in mentalism."
Renowned Israeli pop star Rami Kleinstein brought the program to a rousing conclusion by performing his musical compositions well known to Israeli and American-Israeli audiences. Kleinstein was born in New York City to an American Ashkenazi Jewish family. He immigrated to Israel at age 8 and studied piano and classical music. He is regarded as one of Israel's greatest composers and musicians, and has often been compared to Elton John and Billy Joel.
Among the guests in the audience were those sporting t-shirts reading "Zahal Shalom." This grassroots nonprofit, with four branches throughout the U.S., including the local chapters in Tenafly, Teaneck, Fort Lee, Glen Rock and other local communities, hosts wounded Israeli IDF soldiers for a whirlwind trip to the U.S. Local families host these soldiers, who have suffered physical injury or emotional trauma, for two weeks during which time they form strong bonds and provide a needed reprieve and emotional support. A thunderous standing ovation was given to the hosts and the participating IDF veterans in the audience.
Jason Shames, CEO of JFNNJ, extended warm greetings to the audience to which he added some personal anecdotes about growing up in a Zionist environment. A shout out went to Laura Freeman, director of marketing and communications, and Debbie Corwin, Center for Israel Engagement, for their many months of planning for this celebratory event. The program listed the 10 sponsoring organizations, 32 partnering agencies and 39 partnering synagogues who participated in this exceptional community celebration.
To learn more about the many activities of the Jewish Federation of Northern New Jersey, go to www.jfnnj.org
By Pearl Markovitz