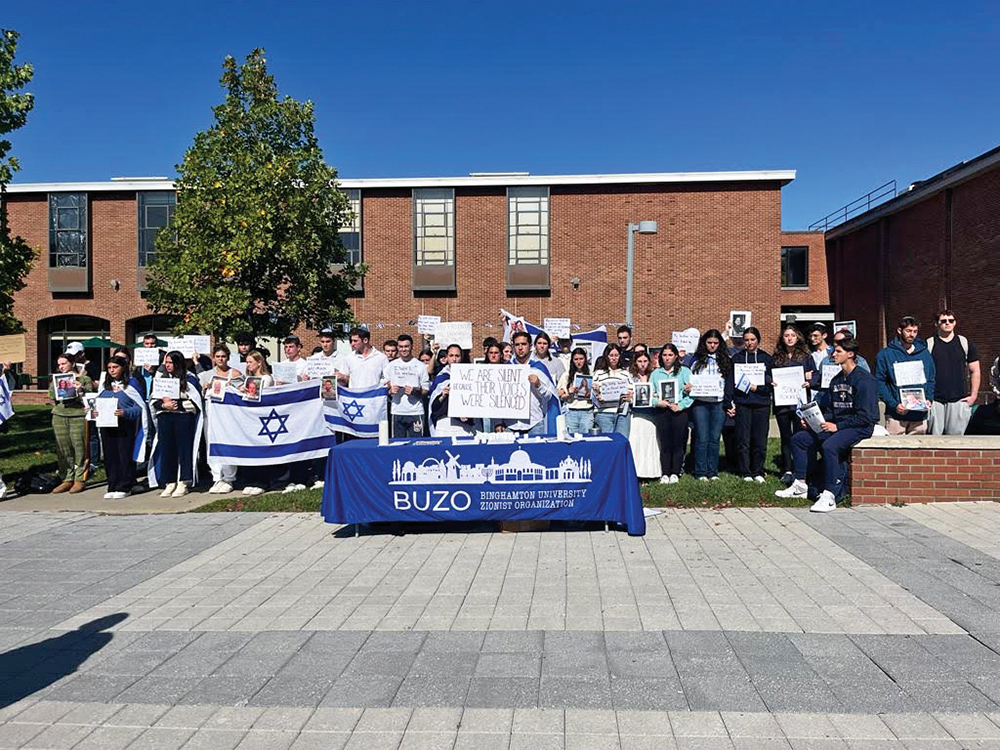 Jewish students at many of America's colleges have been targeted with antisemitic messages, almost daily demonstrations from groups like Students for Justice in Palestine (SJP) and ineffective leadership in condemning the hate.
Prominent universities, particularly Harvard and the University of Pennsylvania, have lost multimillion-dollar donors because of actions deemed antisemitic or their downplaying of atrocities committed by Hamas in attacking Israeli kibbutzim and slaughtering or taking hostage innocent Israelis. Columbia University, the scene of significant anti-Israeli activity, postponed its annual Giving Day. Law students, including from Harvard, New York and Columbia Universities, who have blamed Israel for the attacks have had job offers rescinded.
Hillel International reports that three out of four Jewish college students say the war is affecting them; another 56% reported being scared; 58% feel unsupported by their college or university and, as of October 24, one in four Jewish students say there has been an act of violence or hate within the last 10 days and only half are satisfied with their institution's reaction to that incident.
College students interviewed by The Jewish Link as well as student leaders on an October 19 virtual program sponsored by Hillel International and the American Jewish Committee's (AJC) Campus Global Board told stories of students celebrating the Hamas attack, harassment and even professors making them feel unsafe.
A student at Cornell University, who was too frightened to even allow her first and middle initial be used, asked to be identified only as a freshman from Bergen County. She said she removed the mezuzah from outside her door and won't wear any garment, such as a T-shirt, with Hebrew lettering, that might identify her as Jewish. When talking to family she makes sure it is in the privacy of her room so that no one overhears her saying anything indicating she is Jewish.
"I chose Cornell because I had heard it's supposed to be a welcoming place for Jewish students as opposed to other Ivy League schools," she said. "But ever since I got here it has been the opposite."
In addition to SJP events, the upstate New York university has been jolted by the remarks of history professor Russell Rickford who told a pro-Palestinian rally he was "exhilarated" by the Hamas attack. After mounting criticism from the university's president and board as well as pro-Israel and Jewish groups, he has apologized. However, those who called for his resignation were accused of doing so because he is Black.
The student said there was "quite a bit " of antisemitism on campus because of the spread of misinformation, much of it on Sidechat, a social media platform used by a small number of elite universities allowing students to post messages anonymously that can only be seen by others at their universities.
"They are posting things like 'Zionists control the university,'" said the student, and called the three different statements issued by Cornell President Martha E. Pollack "all pretty bad."
A move to get the university's student assembly to pass a resolution labeling Israel as the aggressor failed to pass after a nasty debate between both sides.
However, the student needs to take courses next year with some professors who have taken an anti-Israel stance. "I don't want to take their classes," she said.
Hillel International President and CEO Adam Lehman said that Jewish students have been silenced and marginalized in classrooms, with faculty and instructors "speaking out in completely unacceptable and even threatening terms," and Jewish students being subject to harassment and abuse in dorms and on campuses—leading to physical assault or abuse on social media channels that are often specific to their universities. "Very sadly," he said, "far too many university administrators do not speak up, do not show up or stand up for their Jewish students."
Talia Segal, a panelist from the Georgia Institute of Technology representing the Hillel International Jewish Student Leadership Network, said the worst incident there has been the vandalizing of the AEPi Jewish fraternity house, which had "Free Palestine" written on it in shaving cream. The perpetrator was quickly arrested. A bake sale held by the Muslim Student Association distributed "egregiously misinformed flyers."
On the positive side Hillel, AEPi and Chabad held a vigil attended by a representative of the Israeli Consulate, the university's president and several other administrators, drawing hundreds of Jewish and non-Jewish students who came out in the rain.
Kayla Diamond, another of the four panelists, is vice president for global outreach on the AJC Board and a student at the South African College of Applied Psychology. Students there are in a particularly difficult situation because the country's leading governing party, the African National Congress, has pledged its allegiance to the Palestinians and has received a letter of thanks from Hamas.
"I think living in a country where your government isn't supportive of you and is, in fact, supportive of the enemy … of your people, has been really, really trying," she said, adding that Jewish students at many campuses have worked tirelessly to stop the narrative that Israel is an apartheid state being pushed by a government in a land once the epicenter of apartheid.
Rutgers University, home to more than 7,000 Jewish students, has seen regular SJP rallies on its New Brunswick campus, but pro-Israel Jewish students have also made their voices heard.
Omer Nativ, who is president of Rutgers Jewish Xperience, also helped found an organization last year called Fighting Antisemitism on Campus. She, too, asked to be identified as being from Bergen County rather than her hometown.
The SJP protesters wear face coverings to hide their identities. There have been a few incidents with faculty although Nativ, who was born in Israel and still has distant relatives there, had only positive things to say about her professors, who have been supportive and granted her assignment extensions in the week after the attack when she was too upset to concentrate on work.
Nativ said two students reached out to her after a few of their classmates screamed at them that they were Zionists during a class discussion on the Israeli-Palestinian conflict. Another student overheard a conversation in a dining hall where Jews were called "dirty pigs."
During a vigil involving all Jewish campus organizations as they were beginning the prayer for the safety of IDF soldiers someone yelled, "Free Palestine."
As on many campuses, posters put up of the kidnapped hostages were torn down.
"What Jewish students are struggling with most is not antisemitism, it's the double standard of our non-Jewish friends," said the Rutgers student. "With anything else they would try and get educated and would be reaching out. With this they don't care."
Yet, unlike some others at different colleges, she said she generally feels safe on campus and described the university police as "amazing" in their efforts to protect Jewish students.
A bake sale held on the sidewalk outside Hillel on heavily trafficked College Avenue to raise funds for Magen Davd Adom brought in $3,600, which was donated through former New York City Mayor Michael Bloomberg, who was matching all donations to MDA through October 20.
"We ended up donating over $7,000," said Nativ. "Some people gave us looks or walked by and didn't look at us. One kid just took a cupcake and said, 'Free Palestine.' But we ignored him."
However, two students, who identified themselves as Palestinian, stopped to say they were sorry for the attack, and purchased baked goods.
Keira Kepets is a sophomore from Teaneck attending John Jay College of Criminal Justice in Manhattan, part of the City University of New York. She said that while Jews have been a small minority on campus, there are a substantial number of Palestinian students.
"Right away our student council started advocating for only one side, " she said, and when, after much prodding, College President Karol V. Mason, finally put out a statement condemning the attack, she was slammed with hateful messages.
While John Jay's Jewish community had a small rally, pro-Palestinian students held a larger rally, and in violation of school guidelines, marched through one of its two buildings shouting "Free Palestine" and into the area between the structures, where it was shut down by school security.
A statement put out by Hillel said students feel unsafe and isolated on campus, a sentiment confirmed by Kepets, who said students have had others come up to them and say they knew they were Jewish and demanding their name and address.
However, the main issue contributing to that unsafe feeling comes from the school's student council, which put out a statement expressing "solidarity for peace in Israel and Palestine," without condemning the terrorist attack.
Student council president Aiisha Qudusi put out a statement on her official Instagram account associated with the college sympathizing with Hamas, referring to them as "freedom fighters" and the massacre of innocent civilians as "the resistance."
In its statement Hillel said the student council had consistently refused to put out announcements of Israeli and Jewish events, including holiday programming. "We are disgusted by Student Council's bias, their justification of terrorism and their complete disregard for Jewish students on campus," the statement said.
Eliana Lewis, a psychology major from Englewood, said students on her Binghamton University campus do feel safe, although a friend at Washington University told her she was so frightened she left school and is taking classes virtually.
"The Jewish community here [at Binghamton] is amazing, thriving and united," she said, adding that as SJP held its rally about 100 pro-Isael students held a silent rally holding signs of Israelis killed.
"They were a bit more riled up when they went past us," she said. "The reason we decided to hold a silent protest is because we are peaceful and united, while Students for Justice in Palestine were yelling at the top of their lungs."
Lewis described the university's administration as "amazing," including President Harvey Stenger, who came to Chabad and immediately released a statement saying the attack was despicable and everything possible was being done to keep Jewish students safe. Lewis added that campus police have shown up at every event.
She said there have been a couple of incidents with professors, one of whom has since apologized.
Students from the Binghamton University Zionist Organization have been setting up tables most days, including handing out small Israeli flags. "Two weeks later I'm seeing Israeli flags sticking out of backpacks and people are asking for more, even non-Jews," she said, "I'm so lucky to be here where I feel completely safe."
Jeremy Davis, a Hillel Leadership Network member and a student at Ohio State University, said there have been disturbing chants on campus and by the same groups at the statehouse—which he found ironic since Gov. Mike DeWine attended a pro-Israeli community vigil that attracted 600 including other legislators. A campus vigil attracted more than 500.
"I have never seen the Ohio State Jewish community more united," Davis said, adding that the university has been supportive in providing security and even mental health services to Jewish students.
Abe Baker-Butler, also on the AJC Campus Global Board and a Yale University student, said the celebrations of the Hamas attack at various universities "broke a lot of trust."
He said Yale's administration has been particularly strong in supporting Jewish students but there has been graffiti and pro-Hamas chants by Palestinian solidarity groups. Yet, he had seen Jewish students at Yale and across the nation "come together in ways I never thought possible."
Hillel International, Anti-Defamation League and the Secure Community Network have launched ReportCampusHate.org, an online portal that allows Jewish students and their allies to report antisemitic incidents on college campuses and receive immediate support.
Incidents, videos of hate speech, photos of offenders should be sent to Canary Mission, canarymission.org.
For physical assault and harassment, contact campus security or police.
---
Debra Rubin has had a long career in journalism writing for secular weekly and daily newspapers and Jewish publications. She most recently served as Middlesex/Monmouth bureau chief for the New Jersey Jewish News. She also worked with the media at several nonprofits, including serving as assistant public relations director of HIAS and assistant director of media relations at Yeshiva University.