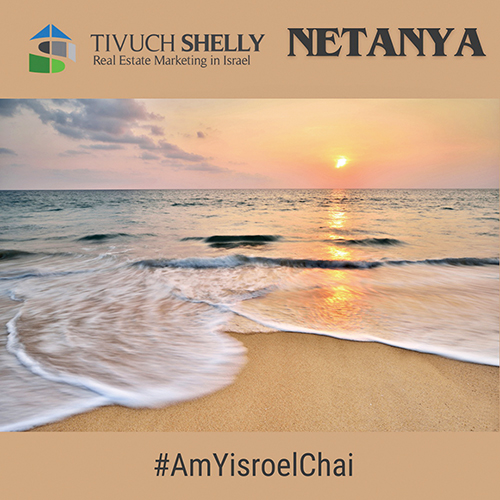 (Courtesy of Tivuch Shelly) Netanya, located on Israel's beautiful Mediterranean coast, is famous for its stunning beaches, cultural activities and city life, making it a top choice for our Anglo clients. Tivuch Shelly is now presenting two new projects, providing affordable luxury in the prestigious Ir Yamim and the closest adjacent neighborhood, offering more options for our Anglo buyers. The projects complement the reasonably priced developments we are currently selling in Anglo areas in North Netanya, all within walking distance to the beach and shops. Over the past three years, Tivuch Shelly achieved significant success selling a diverse range of projects throughout Netanya while accommodating the preferences and budgets of our distinctive clientele.
Nestled on the stunning Mediterranean coast, Netanya is a sought-after destination for a wide range of homebuyers looking for seaside living, community, culture and affordable luxury.
Ir Yamim is Netanya's best address for luxury living on the Mediterranean. While it might appear exclusive to some, Tivuch Shelly is reshaping this perception with an exciting new project. Introducing spacious 140-square-meter, four-bedroom apartments, featuring an option to add an additional room later, expanding your space to 150 square meters with five bedrooms. The standout feature of these residences is unquestionably the stunning sea views, convenient beach access and proximity to numerous shops and restaurants. Our presale prices will be available until the end of December, presenting a rare opportunity to secure a slice of Ir Yamim paradise at a reduced price.
Our newest Netanya project is within walking distance of the beach and adjacent to Ir Yamim. It comprises 256 units in four buildings, each with 21 floors, featuring six apartments on every floor. With a range of layouts available, including two-, three-, and four-bedroom apartments, as well as penthouses, we ensure there's a suitable home for everyone. Storage units and underground parking provide a convenient solution to the urban challenge of limited space. Green areas surrounding the buildings will offer residents a space to relax, exercise and enjoy the outdoors. Real estate prices in desirable coastal areas can often be prohibitively high. However, these new projects aim to change that by offering high-quality, affordable housing in an upscale neighborhood near the beach. This is your opportunity to live by the Mediterranean.
Two new projects in the more affordable North Netanya will make your dream of living near the sea in a thriving Anglo community a reality, offering a project that is a hidden gem—providing a blend of convenience and community living within walking distance of the water. Comprising three towers with a central garden, these buildings cater to every aspect of your lifestyle. Residents can enjoy amenities like a tenants' club, music and game rooms, communal workspaces, a private gym, and outdoor communal areas. With two- to four-bedroom apartments, four-bedroom penthouses, and stunning five-bedroom penthouses, these projects are perfect for families of all sizes. What's more, private parking and storage units are included at no extra cost, ensuring a hassle-free living experience. The best part? Prices start at just 2,400,000 NIS, making coastal luxury accessible to a wide range of homebuyers.
Other Netanya projects are available including one close to Nitza Boulevard with three- and four-bedroom apartments facing the sea. Our vast array of projects covers the area near the hotels and promenade and both the Anglo-Young Israel shul as well as the more Torani community near Kiryat Sanz. Whatever your preference or location of choice, Tivuch Shelly has something to offer.
Tivuch Shelly prides itself on providing comprehensive services to its clients. Beyond the property sale, we guide our clients through every step of the process and offer technical design assistance at no extra cost. Additionally, we will rent, sell, or flip the property without added fees, making us your one-stop solution for all your real estate needs.
Netanya offers an exceptional Mediterranean lifestyle with stunning beaches, charming promenades, a vibrant city center and diverse cultural experiences. Thanks to Tivuch Shelly's success, Anglo buyers can now realize this dream. Whether you seek affordable luxury in Ir Yamim, a welcoming community in North Netanya, or various other projects across the city, Tivuch Shelly is your trusted partner to make your Netanya dreams come true. No matter your budget, Netanya and Tivuch Shelly have you covered for beachside living.
Contact: Shelly Levine: 646-704-1185 * [email protected]
Yoni: 516-737-3180 * [email protected] www.tivuchshelly.com