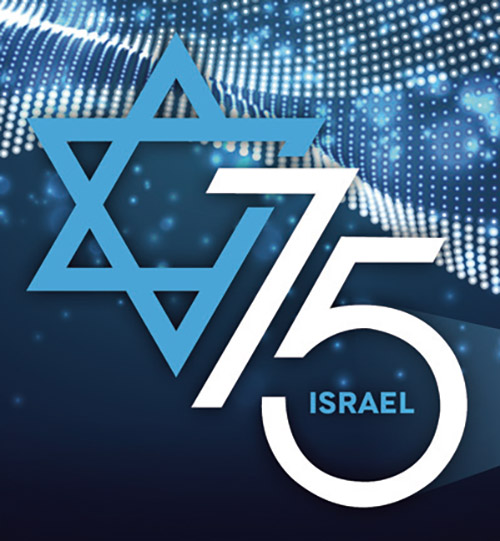 We are so excited. Yom Ha'atzmaut is less than a week away (See ad on facing page).
Teaneck/Bergen County will do something dramatic and significant. Our pro-Israel community is going to take our celebration of Israel's 75th birthday into the public square. Of course, a community like ours is going to lead the way in declaring our love for Israel. We have created an exciting program that you will not want to miss.
We are all well aware of the changing face of both support and challenge for Israel in America and the world. As proud supporters of the Jewish state, we have an opportunity to proclaim, "We love Israel."
We will be loud and we will be proud. Our request of you: Be there with us. Be there for Israel.
Rinat Yisrael, in partnership with many local institutions, will be launching the Yom Haatzmaut Experience. It will all take place on April 25 (אור לה' אייר) with a Yom Hazikaron kumzitz at the Rodda Center at 6:15 p.m. and a drone show at the Votee Sportsplex at 8 p.m. The program will conclude before 9 p.m.
You are welcome to attend any part of the program. The kumzitz will include heartfelt music (led by Uri Davidi) and short divrei Torah from communal leaders and reflections from family and friends of fallen Israeli soldiers. Drones will light up the sky over Votee Park with imagery celebrating Israel's 75 years along with a video telling Israel's unique story. Everyone is welcome to attend all or part of the program.
We look forward to celebrating Israel's 75th birthday with joy and celebration as a community. Our program's goal is to create a celebration that children of all ages will remember. This will be a "wow" experience. Our community will celebrate Israel for the "big deal" that it is.
We will dedicate this celebration in honor of the Dee Family of Efrat. We join Rabbi Leo Dee in declaring before all the world:
"The Israeli flag is a sign of good. It is the sign of building something worthy … It is about building a better future."
Please join us as we wave that flag with joy and celebration.
By Rabbi Chaim Strauchler