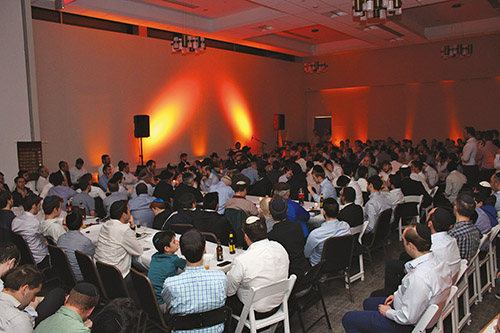 Monday night commemorated Lag B'Omer, the day commemorating the passing of the great Rabbi Shimon Bar Yochai (Rashbi), the author of the Zohar Hakadosh. Hundreds of men and women packed the newly constructed social hall at Congregation Beth Abraham in Bergenfield for a night of inspiration and friendship. The night was highlighted by words of inspiration from Beth Abraham Mashpia Rav Moshe Tzvi Weinberg, accompanied by the evocative music of the popular band Zusha.
Rav Moshe Tzvi began by addressing the mixed emotions that were felt in the room as the community recalled the tragic passing of Donny Morris, z"l two years prior in Meron. Rav Weinberg mentioned Donny's qualities as a ben aliyah, always striving to grow, and a role model of stellar middos, the likes of which we all aspire to be.
Rav Moshe Tzvi then went on to discuss the esoteric and mystical components of Lag B'Omer, highlighting the thematic connections between the day and the crowns which adorn all of the Jewish people. The Rashbi and Rabbi Akiva, both of whom are commemorated on Lag B'Omer, are both associated throughout the Talmud and Midrash with crowns, in both literal and figurative ways. Rav Weinberg's speech linked these crowns and the crowns which have adorned the Jewish people since receiving the Torah at Har Sinai.
A spirit of "togetherness" was the other palpable theme of the evening, as the new social hall of Beth Abraham was filled to capacity with a crowd gathered from far beyond Bergenfield. Many students came from Yeshiva University, and men and women came from as far as Monsey and Long Island.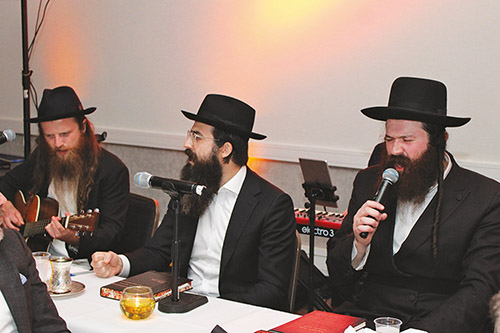 "This achdus is why we have this new shul," remarked Ari Burack, who helped organize the event. "It is a chance for us to come together, become closer as a community and become closer to Hashem."
The music started soulfully, as Shlomo Gaisin, the singer of Zusha, began slow and melodic niggunim. As the evening progressed, the tempo rose and the crowd rose to their feet and the room was filled with impassioned song and fervent dance. The culmination of the evening was a communal bonfire, part of the traditional Lag B'Omer celebration.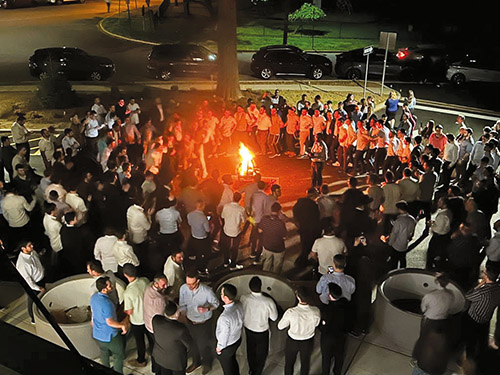 "It is incredible to see how thirsty the Jewish people are to grow close to Hashem and be uplifted together in their avodas Hashem," commented Rav Moshe Tzvi. "It is nights like this that remind us of just how special and great we are and the potential we all have inside."
By Benjy Mayer