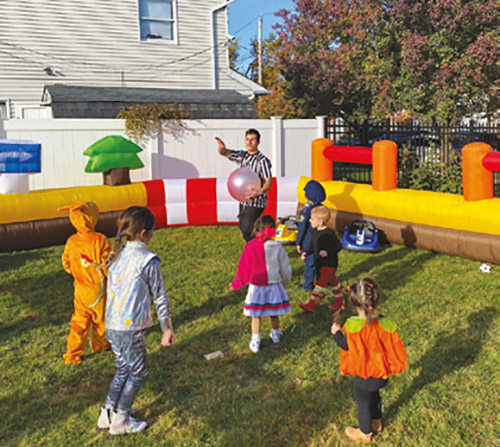 Kids birthday parties can be tough to plan out. There's the matter of figuring out the theme of the party, where it will be held, the logistics, and that's not even mentioning parents looking for a wow factor to make the experience one their child will never forget.
Little Racer Party Rentals aims to be that wow factor. They are a full-service party-rental company providing race car-themed birthday parties and experiences for kids in the tri-state area. Their parties are brought to homes and set up in backyards and include bumper cars, inflatable arenas, remote-control cars and slot cars. The parties work best for children between the ages of 2 and 8.
Little Racer Party Rentals is created and helmed by Daniel "Donny" Chamish, who is a self-described "race-car enthusiast." He loved ride-on and remote-control cars growing up and sees the company as an opportunity to pass on this passion to the next generation.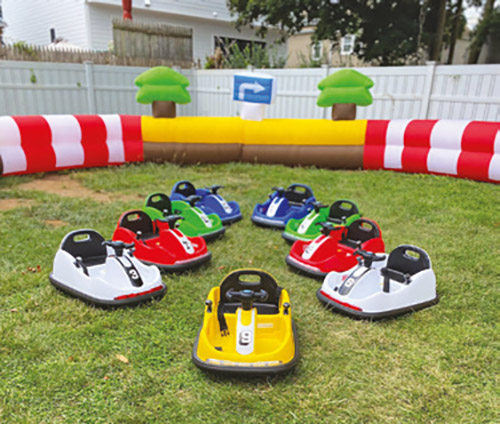 "This would have been my dream party as a kid," Chamish shared with The Jewish Link. "If I was 5 or 6 and saw my backyard transformed into a bumper-car arena I would have been beside myself. But here we get to do that regularly and offer kids a truly incredible experience. We can go to people's houses, schools and synagogues, just about anywhere. The parties are always a hit, and there's lots of fun to be had."
In addition to his work with Little Racer Party Rentals, Chamish works at a large investment bank as a project manager. He was looking for something extra to do that would be fun and exciting and came up with the race-car, party-rental company.
"Like me growing up, my kids also love electric car toys, and I was curious if something more could be done with the idea," Chamish continued. "We started off with Power Wheels and then transitioned the company to incorporate off-road bumper cars, which turned out to be a big hit. From there we added more and more things, and people have responded very positively."
Little Racer Party Rentals was created last summer and held its first party in August. Since then the company has seen consistent growth and received strong reviews. Chamish has even been able to hire additional workers to help run the parties.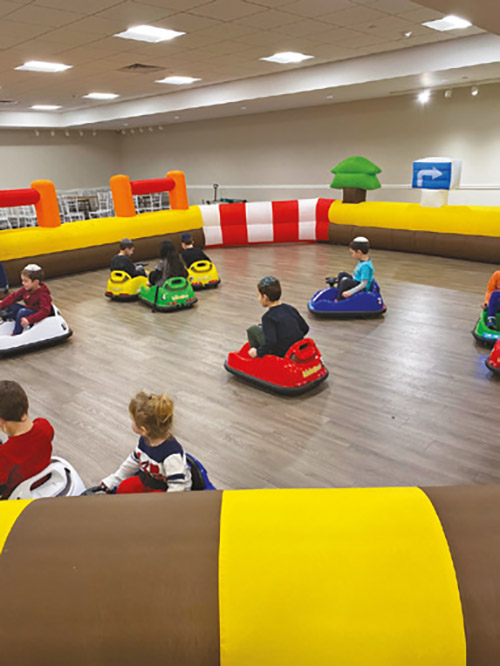 "We've been blessed that the community has taken to what we do," Chamish continued. "There's been good word of mouth, and it's helped us find our footing. The best part though is when I go to the parties and see the kids having a blast and racing around. Like I said, this would have been my dream party as a kid, and knowing that I get to offer that experience to kids now means the world to me."
The parties last either one or two hours based on the selected package. Fresh cotton candy and bounce houses can be added to enhance the party. In addition to being great for birthday parties, the events are also great for daycares and summer camps.
"One of our main attractions is the bumper cars," Chamish continued. "We set it up in the backyards and have a tutorial session showing the kids how to work the cars. Eventually you can see their motor skills start to improve and they get really good at it. Once they start going it turns into an absolute party."
Two trained staff members attend every party: a lead staff member and assistant. They coach the kids through the activities and keep everything moving. The company's Instagram page is loaded with color pictures of the activities.
"I've had people come up to me and say "You made my son's birthday party amazing," Chamish went on to say. "Those moments are incredible and inspire me to find new ways to innovate our ideas. We have even more fun stuff planned on the horizon, so follow us on Instagram to keep up with updates!"
If you would like to learn more about Little Racer Party Rentals and their offerings, you can do so by visiting LittleRacerPartyRentals.com. To schedule an event, you can call 201-571-3617 or email [email protected]. You can also follow them on Instagram at @littleracer.partyrentals.
---
Adam Samuel is a journalist from Teaneck. He blogs at www.adamssoapbox.com.