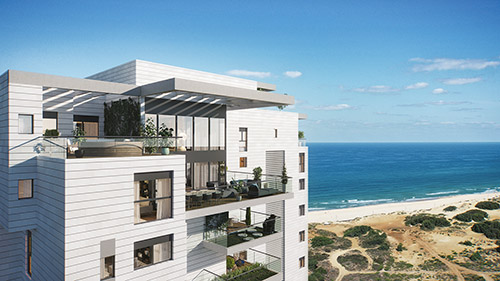 (Courtesy of Tivuch Shelly) In the last few months, Tivuch Shelly has had much success leading scores of buyers from overseas to settle or invest in the beautiful resort city of Netanya.
Currently, we are representing four residential developments ranging from the most exclusive to moderately priced, from Ir Yamim to South and North Netanya, in the best three Anglo communities in the city. These communities each have shuls, pools and communal life. We are confident one of these projects will serve the needs and budget of just about everybody who is looking!
We are currently representing two exceptional projects in the luxurious Ir Yamim neighborhood. Both of these projects are near the reserve, consisting of huge balconies overlooking the Mediterranean Sea. They have beautiful lobbies, a tenants' lounge, a gym, a swimming pool, storage units and two parking spaces per apartment. Here you can wake up to the spectacular views of the Mediterranean and enjoy stunning sunsets daily.

Ir Yamim boasts a beautiful promenade on the waterfront, unique recreation and leisure complex, shopping, restaurants and community services including schools, kindergartens, and synagogues. Located just a short drive from Herzliya, Ranana and Tel Aviv. Ir Yamim is up-scale Israel at its best.
In South Netanya, the SIA property is a five minute walk to the beach and promenade, near the hotels, and a 15 minute walk to the center of the city. A beautiful residential project with parking, a tenants club, panoramic beach views, four and five-room apartments, amazing mini-penthouses, and also huge penthouses. There is also a shul with an Anglo population close by.
We also represent a wonderful project in North Netanya: four new state-of-the-art towers with three and four-bedroom apartments, mini penthouses, and penthouses overlooking the ocean. This project is located in the well-established Anglo community complete with the famous Young Israel Netanya Shul. Only 500 meters from the sea, you can also enjoy all the city has to offer.
Don't lose the opportunity to live by the beach, enjoy the wonderful city of Netanya, and join the established Anglo community!
Netanya provides a beach life with the benefit of city life, including plenty of entertainment, culture and leisure centers: coffee houses, restaurants, shopping, movie theaters and art galleries, as well as various outdoor beach activities. Netanya is centrally located and only a quick train ride away from Tel Aviv and Haifa. No wonder English-speaking olim who love the sea atmosphere, among them religious buyers, are turning more and more to beach communities.
Shelly Levine is in the tri-state area through March 28 and is available for meetings.
Contact us today and join your neighbors who have already bought in Netanya!
Shelly Levine – 646-704-1185 * [email protected]
Yoni – USA – 516-737-3180 * [email protected]