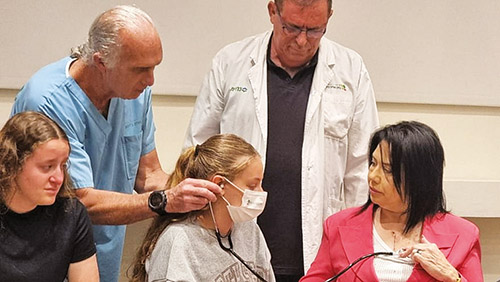 (JNS) Lucy Dee's family participated in an emotional meeting with the recipient of the murdered Israeli woman's heart.
The gathering took place at Beilinson Hospital in Petah Tikva and featured a touching moment when Dee's surviving daughters Keren, 19, and Tali, 17, felt their mother's heart beating in Lital Valenci's chest.
Valenci, 51, a mother of two, suffered from severe heart failure for five years before receiving Dee's heart.
The surgery was performed in the early hours of April 11, shortly after Dee died on April 10 at Ein Kerem Hospital in Jerusalem.
"I was so moved when I learned who I was receiving a heart from as I had read about Lucy Dee and what an incredible woman she was, with an exemplary family," said Valenci.
Dee's husband, Rabbi Leo Dee, and their son Yehuda, 14, were also present at Beilinson for the meeting.
A total of five people received organ transplants from Dee. The Dee family also met Mordechi Elkabetz, 51, who received one of her kidneys, and Daniel Geresh, 25, who received her liver. Ahmed Suliman, 38, also received one of her kidneys but was unable to attend. He instead sent a plaque with bible verses as a tribute to Dee.
"Listening to my mother's heartbeat made me feel like I am with her. It was moving meeting Lital and all the recipients. We have lost so much but are comforted that so many families were saved from similar pain," said Keren.
"Nobody can understand what it is like losing a mother and two sisters at once and to hear my mother's heartbeat was comforting," added Tali.