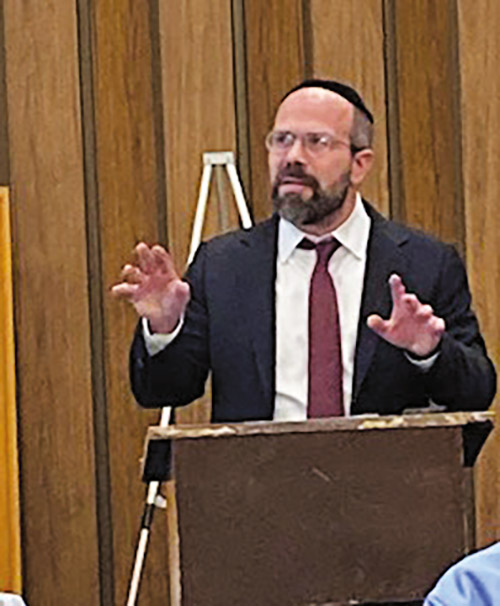 Nestled amid the hilly landscape of Ramat Beit Shemesh, the new community development of Meromei Shemesh will combine state-of-the-art urban planning with innovative construction, contemporary and convenient home living, safety and technology. But even more than just "a place to live," the planning for the Torah community components of this development are already well under way, with Rabbi Larry Rothwachs, rav of Congregation Beth Aaron in Teaneck, at its helm.
Mah Nishtana? The Meromei Shemesh project is exactly that. Different from the usual model of a neighborhood that becomes populated and only then begins to figure out how and where to build a mikvah, shul, schools, municipal services and businesses, Meromei Shemesh is the careful, cooperative and proactive effort of all interested parties.
Congregation Shomrei Torah in Fair Lawn hosted a presentation about the new community on May 16. Rabbi Rothwachs joined with other representatives involved in the project, including the representatives of Rotshtein Heights developers, the office of Mayor Aliza Bloch of Beit Shemesh, Yigal Realty, Deloitte professional services network and Zev Gershinsky of Nefesh B'Nefesh in presenting the Meromei Shemesh community to prospective olim. "Based on current demographic trends, in 20 years from now the vast majority of Jews will be living in Israel," Rabbi Rothwachs said. "The communal infrastructure is already in formation, with the shul at its center."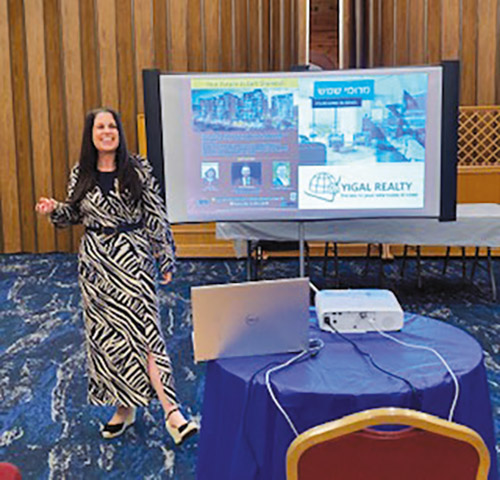 For prospective residents, it will be much more than a residence, because people will be living among friends, and the location for the shul has already been designated. Rabbi Rothwachs emphasized that the builders are mission-driven. "The foundations of this shul will reflect the highest values and communal standards," he said, with the leadership dedicated to "building a cohesive kehillah of growth-oriented families.
"Planning our dream of making aliyah adds a new perspective to everything," he continued. "Week after week, every parsha is experienced differently than it has been in the past."
The Rotshtein construction company, with its 60-year history across the country, has impressive credentials. Their engineering and construction "fingerprints" can be found all over, including IDF installations, the nuclear research facility in Dimona, refineries in Haifa, Ichilov Hospital in Tel Aviv, and many projects for the National Roads Authority of Israel.
Meir Dombey and Avi Nefoussi of Rotshtein spoke extensively about how Rotshtein and Yigal Realty have worked to make the purchase and financing processes as straightforward and buyer-friendly as possible. For new olim the amount available to finance can be as high as 75%, with 25% paid in advance. They explained that their financing process provides lower fees, faster transfer of funds from the U.S. to Israel, and better conversion rates than Israeli banks.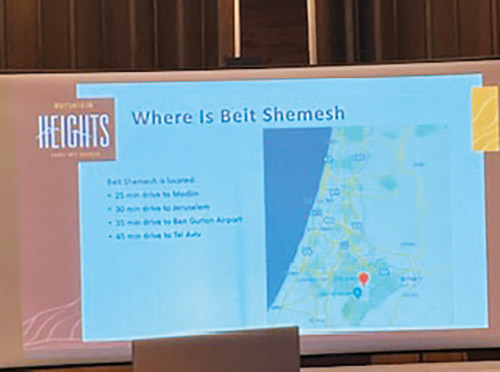 Zev Gershinsky, with many years' experience working with Nefesh B'Nefesh, pointed out that there is now significantly improved cooperation across agencies in Israel to not just accommodate but to facilitate new olim in their planning, preparation and execution of aliyah. He said that they have finally learned how to more meaningfully, smoothly and comprehensively address the important needs and concerns of olim, especially of Americans.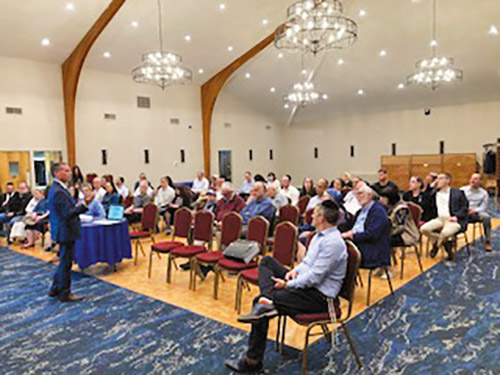 Alex Lebovits of Deloitte presented information employment opportunities in Israel, where Deloitte already has a significant presence. Tax and audit accountants, as well as other specialists, can find excellent options with comparable income potential. Sometimes they can begin to work in the U.S., keep their positions after aliyah, and continue to advance professionally in the company as well.
Avi Hirt, a tax accountant from Teaneck, spoke enthusiastically about his experience with Deloitte. "Part of our plan was to make aliyah when our daughter turned 5. We are excited to be moving to Israel in August," he said.
Mayor Bloch was slated to speak at this event, but due to reports of debris from exploded missiles falling in Beit Shemesh, she had to return to Israel. Reportedly by the time she boarded her flight to Israel, the ceasefire had begun, but it was too late to turn around. A representative of the mayor's office spoke briefly, offering words of welcome and encouragement to prospective olim about the astounding development in the area, and how "culturally friendly" it is for Americans.
For more information, please reach out to Rabbi Rothwachs at 201-747-8740 or [email protected], to David Wiener at 718-207-6766, or visit the website [email protected]
By Ellie Wolf