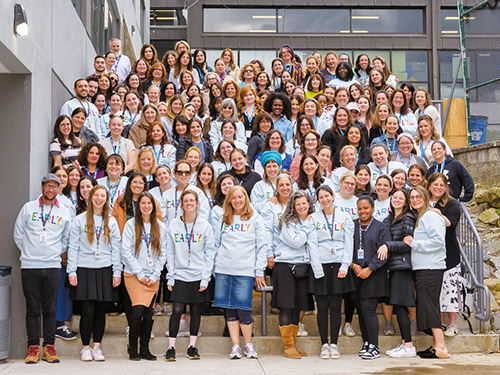 (Courtesy of SAR Academy News) The school year is rapidly coming to a close at the Riverdale Temple. But Alexandra Abikzer, director of the Riverdale preschool, is already brimming with excitement for the fall.
That's because Abikzer is gearing up to implement some new and progressive changes to the curriculum in September, inspired by the Immersive Study Tour she attended at SAR Academy's Early Learning Center (ELC) earlier this month.
"I left [the Study Tour] feeling so inspired and excited to try new things," Abikzer said. "As educators, it is easy to get comfortable and stick to what we know. But it is important that we push ourselves…and move out of our comfort zones because that is how we grow."
This was the exact sentiment Alana Rifkin Gelnick, associate principal, SAR ELC, hoped attendees would walk away with when she organized this professional development experience.
Over the course of two-and-a-half days in May, more than 100 early childhood educators and administrators—from Jewish schools across the US—convened in the ELC to learn about the school's progressive and inquiry-based teaching approach.
They participated in numerous comprehensive workshops, which covered a range of topics—from teaching Hebrew in an immersive way, to fostering inclusive learning environments, to unpacking what it means to be the "Happy School," a common moniker for SAR. The overarching goal was to guide the educators in implementing those strategies in their own classrooms.
The event was organized in conjunction with the Paradigm Project and sponsored by the Jewish Education Project.
Rifkin Gelnick said she felt this was an auspicious time to host this event, given how enervating the past two years have been for educators during the pandemic, due to the Zoom learning, masking and constant disruptions because of Covid-19 outbreaks.
"Everybody is feeling tired and drained and is trying to find their way," Rifkin Gelnick said. "We were in survival mode the past few years and now people are looking to be inspired."
Offering "inspiration" right now is especially critical, given the ripple effects early childhood centers are continuing to suffer because of the pandemic.
According to a survey published by Teaching Strategies, an early childhood education resource provider, 45% of early child educators are battling mental health challenges and burnout. Schools are also facing devastating staffing shortages. Between January 2020 and January 2022, around 120,000 child care workers left the industry.
Due to a confluence of factors, the ELC has been spared from this, and Rifkin Gelnick wanted to let her visitors in on her "secret."
Part of the reason is due to Rifkin Gelnick's encouraging nature. She regularly acknowledges and compliments teachers for the hard work they put in—from the small gesture of comforting a distraught child to a teacher identifying an intervention that can help a student learn in a more comfortable way.
Rifkin Gelnick was hopeful that this event would also uplift her staff, and enable them to hear from someone—other than her—about how special and inspiring they are.
"The teachers felt so much pride and were so energized," said Rifkin Gelnick "They had 100 people walking through this building—mouths open. They could not get over what these teachers are doing."
A big source of awe was the inquiry-based learning approach. This gives power to the children to help direct the lesson plans.
"It's a team of teachers who know the students deeply," Rifkin Gelnick said. "They are planning together. They are dreaming together. They are creating together."
At points, the visitors were allotted unstructured time to tour the 35,000-square-foot creative and airy nursery school space and experience—firsthand—how the children take the lead in the classroom.
Rifkin Gelnick said many of the educators were wowed by the fact that, because of the students' input, no two classrooms look alike.
Back in January, one class, for example, decided to "open" a restaurant, so they visited a local eatery to learn more about the process and all that it entails, something the teachers hadn't initially anticipated doing. As Purim approached, the students were inspired to explore serving Persian food at their establishment. To enhance the unit even further, the teachers invited a child's grandparent, who is of Persian descent, to educate the class about the country's culture and food.
In another classroom, when a child got a small injury, the class learned that that student was fearful of blood. That led to a deep and unexpected exploration into blood and the human body.
Last week, the kindergarteners took a "trip" to Israel and recreated many iconic destinations in the country, including the city of Tel Aviv and a kibbutz. At one point, a child was inspired during the free play period to craft his own map of the country.
"Each class seemed to explore something so different from the next because they were driven primarily by the unique interests of each child," Abikzer said.
This is something Abikzer and her staff have started brainstorming how to introduce at the Riverdale Temple.
"We're making room for more creativity and deeper exploration—unique to each group's interests," Abikzer said.
Abikzer was just one of many participants who said she found the experience rejuvenating.
Rifkin Gelnick has a thick stack of handwritten notes on her desk from participants, sharing their feelings about the tour.
"I forgot why I love what I'm doing. I'm going back with a totally new lens," one note read. "I was going to leave the field. I didn't think I had it in me anymore," read another. "And now, you've given me so much to think about and to try."