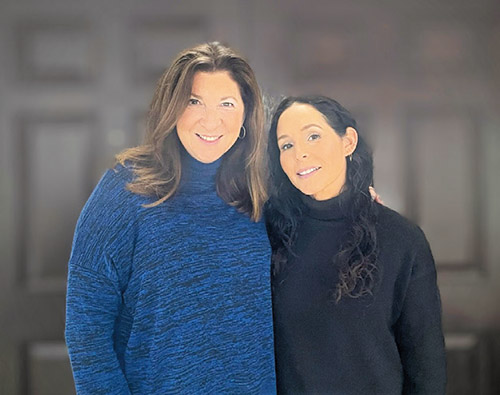 Two long-time friends from West Orange are "putting the soul back into matchmaking" with their newly launched site www.jewishsoulsmates.com. (Note the extra "s" between "soul" and "mate.")
Focused on women and men in the US, Soulmates is a completely free service to anyone who wants help finding their soulmate. While they began with a focus on Modern Orthodox young people who were not comfortable going to a traditional shadchan, they soon realized that there is a need on a broader scale that covers Jews of many different ages and levels of religious observance. They are now open to all Jewish women and men who are serious about finding their "person."
Lisa Kops and Deena Rubin met 22 years ago at a shul event for women in West Orange. "I was already living in West Orange for nine years before Lisa moved in," Deena told The Jewish Link. "We talked about getting together with our boys who were both 3 years old at the time, and we decided to carpool together for nursery school at Congregation AABJ&D."
The two women soon became close friends, spending free time and family Shabbat meals together. They even became pregnant with their fourth children at the same time.
This past summer, Kops called Rubin and told her she had had a revelation that she was going to become a matchmaker. She was calling to bounce the idea off of Rubin and make sure she wasn't crazy.
Kops' inspiration came, in part, from watching a few dating shows on TV that summer. "I was sure I could do a much better job than the professionals I was seeing on the shows," she said.
"I jumped right in," Rubin said. "I had been thinking about doing the same thing!"
Rubin, a realtor, said she always loved setting people up. "When selling homes, I say that I am making a shidduch—a match with a seller and a buyer—and to me that is an incredibly good feeling."
Both women are themselves happily married. Kops met her husband, Steven, at Queens College as they were both rollerblading around campus to get where they needed to go. Rubin met her husband, Reuven, at a mutual friend's wedding.
And both women have had success helping friends find their match. One success story stands out for Rubin: "My best friend was single and a good friend wanted to take her out. I thought it was a great idea but she wasn't interested in him at that time. Fast forward to my wedding, where I put them at the same table and they spent a majority of the wedding together and started dating after that. They have been happily married for over 28 years [and have] three children."
The friends say that there are a few key elements that make Soulmates unique from the apps that are out there, and from other matchmakers. "We do not use an algorithm to make our matches. Our matches are made for people by people, not by a computer." They insist that this human touch is an essential element for finding long-lasting matches.
Additionally, they are also completely confidential. This means that nobody other than Kops and Rubin will know that you joined Soulmates. "Lastly," they said, "the way we see it is that it is a win-win situation because it costs no money to join, so there is nothing to lose."
On the site, potential matches will find a questionnaire that is designed to give the matchmakers basic information. "We're not looking for a resume. We're not looking for your dating profile," the website states. They ask for a few photos and most importantly a short video that will only be seen by the two of them.
"All of the questions give us basic information as well as a true understanding of who you are—where you are from, your religious observance and what you're looking for. The short video we require allows us to really put a face and personality to your name. We know this isn't a simple ask, but we feel this is the key component for us to get to know you without meeting you in person."
While the whole endeavor is completely confidential, the only caveat is that when the matchmakers feel confident that they have found a great match, they will reach out to the other party and see if there is interest. They will share some details and a photo, but never the video.
"We are always looking to grow our database of amazing men and women, and we are very excited and encouraged by the incredible feedback and interest in Soulmates," the matchmakers said.
Are you looking for a match? Give Soulmates a try. www.jewishsoulsmates.com
By Talia Liben Yarmush