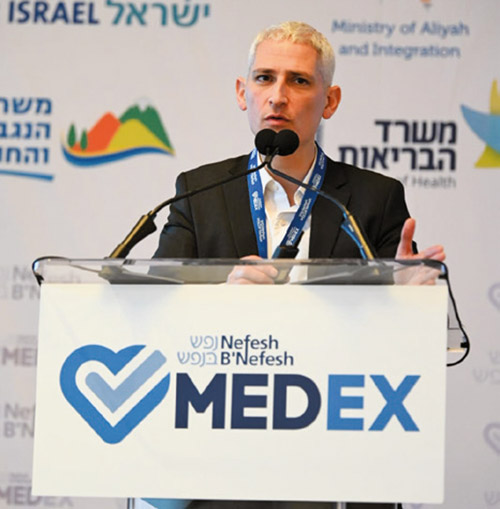 The Glenpointe Marriott was festooned with blue and white Nefesh B'Nefesh (NBN) banners March 19-20, as once again it was hosting the NBN "MedEx" event. The event is designed to provide premedical and medical professionals, both in advanced stages of planning aliyah or at the beginning stages of long-term goals, the opportunity to meet with Israeli medical professionals representing many Israeli medical institutions.
The event was focused on two different groups: those planning aliyah within the next two years, and those who just started to consider their aliyah options.
For the first group, the event offered the opportunity for medical professionals to actually begin their licensing process by opening files with Israel's Ministry of Health, whose representatives were on site to review each individual application. This streamlined opportunity is being offered to physicians, nurses, dentists, physician assistants, podiatrists, psychologists, ophthalmologists, pharmacists, occupational therapists, physiotherapists, speech therapists, audiologists, dieticians/nutritionists, dental hygienists and medical laboratory professionals. Most importantly, throughout the day, leading Israeli health and medical institutions interview qualified candidates for positions in the medical industry so that olim can secure jobs even before they arrive in Israel.
The second track, entitled "Taste of MedEx," was geared to medical students and professionals, nursing students and physical therapists who are more long-term planners seeking to learn about transferring their licenses, exploring medical and allied health careers in Israel, and networking with potential employers and representatives of medical institutions throughout the country to learn of the many options available in the medical field.
Throughout the event, sessions and workshops were featured on a variety of topics relevant to current and future medical professionals, including nursing, physicians and a special presentation by Deputy Director General of Israel's Health Ministry Dr. Sefi Mendelovich regarding emergency medical care that Israel provides in response to natural disasters.
Minister of the Negev, Galilee and National Resilience, Yitzhak Wasserlauf spoke of the urgent need for physicians of all specialties to consider moving to the Galil and Negev regions of Israel where they will be offered financial assistance packages to help them integrate into Israeli society; modern, spacious housing; top-notch schools for their children; cultural opportunities for the whole family; and religious enclaves with shuls. Wasserlauf said: "Moving to Israel is equivalent to contributing to Zionism at 100 kilometers per hour. Moving to the Galil and Negev is contributing to Zionism at the rate of 200 kilometers per hour." Director General of the Ministry of Aliyah and Integration, Avichai Kahana made a presentation as well.
In speaking to representatives from the hospitals in the Galil and Negev we learned that there are excellent medical institutions in these areas, such as the 763-bed Galilee Medical Center in Nahariya, near the Lebanese border, which offers departments in all the specialties but is in serious need of pathologists, speech therapists, pharmacologists and dieticians. Mirit Betito, director of development of the Negev, explained that Soroka Hospital in Beer Sheva, and Yoseftal Hospital in Eilat, together with the many Kupot Cholim throughout the Negev. are in dire need of pediatricians, nurses and physical and occupational therapists. And as the IDF will be relocating its central base to Beer Sheva, there is a new hospital in the planning stages, which will need a complete faculty of physicians.
Among the participants in the event was Eliana Farkas of Bergenfield who attended with her mother, Toba Farkas, to explore options about attending medical school in the U.S. and then making aliyah or applying to the limited number of medical schools in Israel open to U.S. students. Ezra Schneier, who resides in the Walraven Apartments in Teaneck and is a second-year student at Hackensack Meridian School of Medicine, attended to explore different areas of medicine in Israel that would provide opportunities for him and his wife, who is studying clinical psychology.
Yakira Schonbrun of White Plains came to the MedEx event to learn about opportunities in the field of speech pathology and occupational therapy in Israel. Schonbrun, currently at Touro College for Women, would like to service individuals with special needs as she has been active in Yachad's Mendel Balk Center in Teaneck and Camp HASC. When studying at Tiferet in Israel she visited the Adi Village in the Negev where she learned of all of the special services provided to the challenged population.
Flying in from Hollywood, Florida, to the event was Dr. Roland Kaplan, MDO, together with wife Anna, an advanced practical registered nurse, who had several interviews planned during the event with representatives of various hospitals in preparation for their imminent aliyah.
The Nefesh B'Nefesh MedEx event was planned in cooperation with Israel's Ministry of Aliyah and Integration, The Jewish Agency for Israel, Keren Kayemeth LeIsrael and the Jewish National Fund-USA, alongside Israel's Ministry of Health and the Israeli Medical Association.
Tony Gelbart, co-founder and chairman of Nefesh B'Nefesh, said: "Our MedEx track has proven to be an indispensable part of the medical aliyah process and it is exciting for us to once again host this in-person event in New Jersey, especially as we continue to see an increase in aliyah interest from medical professionals across North America. Through MedEx we are excited to assist medical professionals in making substantial inroads in processing their future Israeli medical licenses while minimizing the bureaucracy by enabling real-time interviews and job placements in advance of their aliyah."
Since its inception, Nefesh B'Nefesh has assisted more than 840 physicians and 2,900 medical professionals with their aliyah process. Most are now employed in hospitals, Kupot Cholim and the private sector. Nefesh B'Nefesh anticipated 300 medical professionals would attend this year's MedEx event.
To learn more about medical opportunities in Israel, visit www.nbn.org.il
By Pearl Markovitz