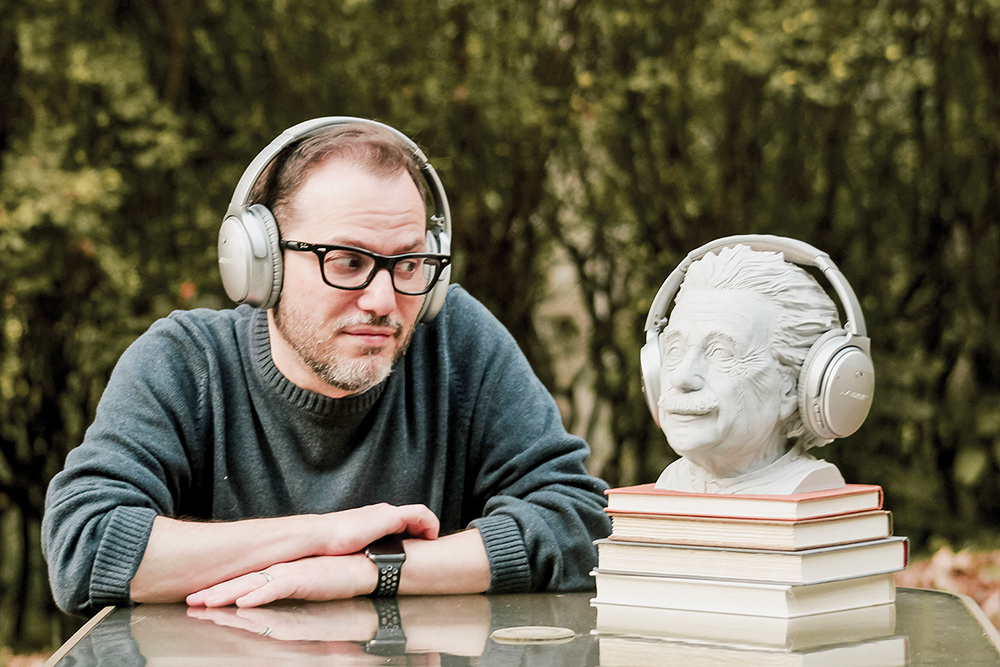 Reviewing: "The Einstein Effect: How the World's Favorite Genius Got into Our Cars, Our Bathrooms, and Our Minds" by Benyamin Cohen. Sourcebooks. 2023. Paperback. 384 pages. ISBN-13: 978-1728248387.
Benyamin Cohen, a Jewish journalist and news director at The Forward, America's oldest Jewish newspaper, spent most of his life in Atlanta, but moved to Morgantown, West Virginia in 2012, where he resides with his wife, three dogs and a flock of chickens "lovingly called the Co-Hens."
Cohen is the son of an Orthodox rabbi. All of his brothers became rabbis, and one of his sisters married a rabbi. His brother Rabbi Daniel Cohen is the senior rabbi at Congregation Agudath Sholom in Stamford, where Cohen will be speaking on Sunday, August 20 at 10 a.m. about his new book, "The Einstein Effect: How the World's Favorite Genius Got Into Our Cars, Our Bathrooms, and Our Minds."
The author's first book, "My Jesus Year: A Rabbi's Son Wanders the Bible Belt in Search of His Own Faith," was published in 2008. Cohen went to 52 churches on 52 Sundays, and wrote about what he learned and how the experience actually brought him closer to Judaism. It was named one of the best books of the year by Publishers Weekly.
Cohen's fascination with Albert Einstein began decades ago when he read about the scientist's autopsy. The doctor performing the procedure stole Einstein's brain and kept it in a beer cooler in his basement for decades. Cohen thought, "What else don't I know about Einstein?" And so it set him on a journey where he uncovered all sorts of quirky but true stories about Einstein. "I'm a journalist and I made Einstein my 'beat,'" Cohen said, "and I just kept writing more and more articles about Einstein."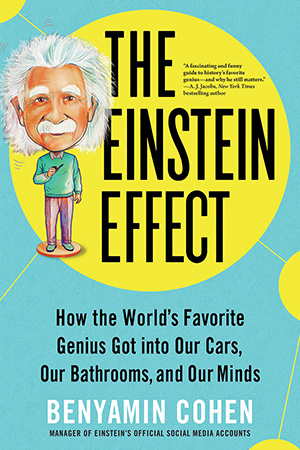 So, what is "The Einstein Effect" all about? The writer explained: "The point of the book is to show the modern-day relevance of Einstein. For example, there are a lot of technologies that we use each day that come courtesy of Einstein. Take GPS. Einstein's theory of relativity laid the foundation for GPS. So think about that the next time you're having an Amazon package delivered to your home. The driver found your home thanks to Einstein." In the book, Cohen also explains how the Nobel Prize winner's work is part of many other modern-day appliances such as iPhone cameras, burglar alarms, remote controls, supermarket scanners, laser eye surgery, driverless cars, shaving cream and toothpaste.
However, the book is not just about science and technology. Cohen interviewed actors and artists about how Einstein inspired them. Christopher Lloyd said that he based his famous Doc Brown character in "Back to the Future" on Einstein. Interesting!
Most of all, Cohen said, "I hope readers find the book both fun and funny. I tried to insert as much humor as possible. There's a whole chapter where I interview people who have the last name Einstein, and what it's like growing up with such a famous name that they can never live up to. I actually found not one, but two Rabbi Einsteins."
Cohen writes about how Einstein was not only a scientist but a humanitarian who spent his own money helping German Jews relocate all across the globe. "The Einstein Effect" took two years to research and write. Cohen said he would wake up each day at 5 a.m. to write The Forward's morning newsletter of Jewish news, and then write the book at night on the weekends. "It was two years of round-the-clock working. I needed a long nap after I turned it in."
If you're still wondering what happened to Einstein's brain from the start of the article, Cohen explained that the doctor who stole the brain wanted to conduct research on it, so he cut it into many pieces and sent it to different researchers. Some scientists actually did find unique aspects to Einstein's brain. Shortly before the doctor died in 2007, he gave the brain to a younger doctor in Princeton, New Jersey. However, nobody knew where the brain ended up. So Cohen resolved to find out for his book, and he succeeded! He even managed to hold the brain.
It was in this moment that Mr. Cohen describes how "20 years earlier, the story of the stolen brain is what first got me interested in Einstein. It wasn't quantum mechanics. And for all these years, it had just been that—a story. And then, here I was holding the actual jars. But more than that, I was holding Einstein himself. Sure, he was dead, his body cremated.
"But somehow, through some twist of fate, I was able to reach across time itself and hold a piece of history. This was an actual piece of Albert Einstein's body. I started to tear up. I thought about all the new ideas this brain imagined. I had embarked on a journey to find all that this genius had inspired, and here I was holding the original relic itself. This was more than just the physical remnants of a famous person; Einstein's brain represented so much more—the curiosity that surrounds our very existence in the universe. It was a spiritual experience."
Cohen is now embarking on a 24-city book tour with a few other tri-state stops, Stamford being his first. To see the dates of the tour and learn more about Cohen and his fascinating book "The Einstein Effect," visit his website www.einsteineffectbook.com. You can find his book wherever books are sold. Lastly, if you have Instagram, check out the @alberteinstein account, which is run by Cohen.
---
Julianne Katz is a former Jewish Link intern.