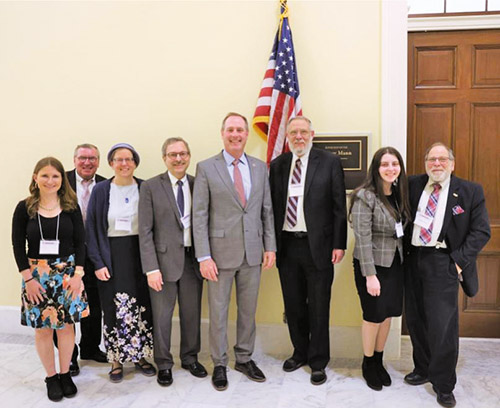 On May 10, a bright and beautiful Wednesday morning, two busloads of Edison and Highland Park neighbors, including our community Rabbis Eliyahu Kaufman, Yaakov Luban and Steven Miodownik, and high school teenagers, departed from Congregation Ohr Torah in Edison with the focused mission of lobbying the members of Congress to support a strong, vibrant and robust relationship between the United States of America and the state of Israel. As we boarded our bus, the driver was running the "Red Alert" app, which signals when an enemy missile has been fired at Israel. The siren sound from the app seemed endless as at least 100 rockets were fired at Israel. One issue on the day's agenda was the continuing support of the U.S.-Israel defense systems and technology, including Iron Dome and David's Sling, which was being put to active use that day.
NORPAC organized this mission, the resumption of face-to-face meetings after a four-year COVID hiatus. According to their literature, "NORPAC is America's largest multi-candidate bi-partisan political action committee working to strengthen the U.S.-Israel relationship."
Our buses arrived in Washington before 11 a.m. We were greeted with a well-trained security detail and a wide selection of box lunches inside the Warner theater. Several senators and congress members addressed the attendees, including Jewish Sen. Ben Cardin, who will be retiring from Congress next year.
NORPAC determines the agenda for a very active day. In the past, meetings were arranged with 90% of Congress. We were going as citizens of the US, encouraging maintaining a strong and lasting bond with Israel.
There were four prearranged detailed "talking points" on specific topics:
Israel and the U.S.: A 75-year mutually beneficial relationship
The key role of American security assistance
Iran (and the imminent nuclear threat)
Reducing incitement in Palestinian education
The schedulers at NORPAC arrange for mostly small groups of four to seven participants to have meetings with the elected congressional representatives on both sides of the aisle and their legislative aides from the Senate and House of Representatives.
A significant aspect of the day is to meet with all members of Congress, not just representatives from the New Jersey/New York metropolitan area. I was in Group #31 and we met with members of Congress and their legislative aides representing Colorado, Indiana, Kansas and North Carolina.
Our meetings lasted approximately half an hour. The legislative aides were very attentive to write down House Resolution numbers and proposed legislation.
We thanked all of them for their support of H.R. 311 celebrating the 75th anniversary of Israel's Independence, which passed 401-19. The resolution wording is recorded as, "Encouraging the expansion and strengthening of the Abraham Accords to urge other nations to normalize relations with Israel and ensure that existing agreements reap tangible security and economic benefits for the citizens of those countries and all peoples in the region."
It seemed as if all of our members of Congress had taken eye-opening trips to Israel in recent years.
By the end of the day, we assessed the significance of our meetings. In some cases, it seemed as if we were preaching to the choir; our overall feeling, however, was one of satisfaction achieving our goals.
Getting back to the Warner theater at the end of the day, we settled back into our buses with our catered dinners for our slow ride home through Washington rush-hour traffic. There were many first-hand accounts of the receptions we received and the positive experiences we all had.
My greatest pleasure came from taking my 15-year-old granddaughter for her first trip to the nation's capital. It was thrilling to see her reactions to the meetings and witnessing how our government runs and the grandeur of the Washington architecture.
(P.S. One of my personal highlights was seeing and talking to Carole King. I don't know why she was there and I didn't take a selfie but she was easily recognizable under her large black facemask. She said thank you to me for being there, hopefully because she saw my NORPAC kippah embroidered with the U.S. and Israel flags. She has appeared in Congress previously for environmental issues.)
By Milton Erdfarb