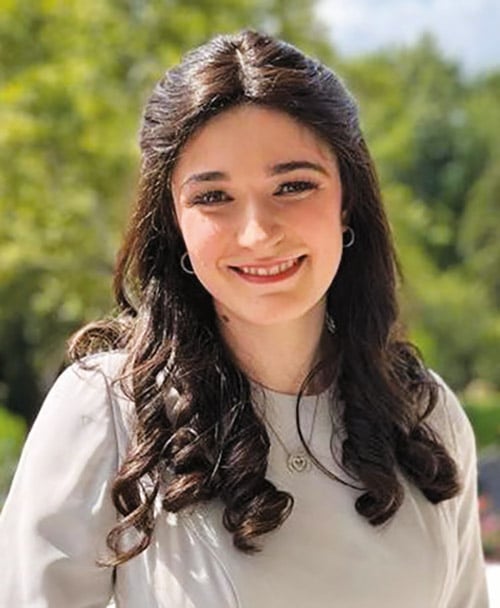 (Courtesy of Touro University) Teaneck native Chana Rosenbluth and Passaic resident Aliza Peikes were named 2023 Touro valedictorians. Both will serve as student speakers at the 49th annual commencement, to be held at Alice Tully Hall in Lincoln Center on June 4. Rosenbluth, who attended Touro's Lander College for Women, is headed to Columbia Law School this fall to prepare for a career as a patent attorney, and Peikes, who attended Touro's Lander College of Arts & Sciences, is already working as a software engineer at Goldman Sachs. Additional valedictorians include future psychologist Daniel Sokel of Lander College for Men and future dentist Dovi Teigman of Lander College of Arts & Sciences.
Chana Rosenbluth is passionate about both law and computer science, but since they don't seem to have much overlap, she didn't see any reason to focus on one subject at the expense of the other. Instead, the aspiring attorney majored in computer science, having found a way to combine her passions: She plans to work as a patent attorney, and to take the patent bar exam—separate from the traditional state bar exam—for which one must have either a professional or educational background in science.
"As a patent attorney, there are lots of very minute areas that you need to be able to understand exactly in order to properly articulate what's novel about whatever you're patenting," she explained. "So I decided to just stick with the science that I already knew I enjoyed."
"Chana is a brilliant interdisciplinary thinker who makes everything seem easy.," said Dr. Marian Stoltz-Loike, dean of Touro's Lander College for Women and vice president for Online Education at Touro University. "More than that, Chana has a wonderful ability to integrate disparate information, which she uses to understand and explore new ideas. On a personal level, she is warm and supportive of her fellow students and eager to help them succeed. It is an honor to have her as our 2023 valedictorian."
Originally from Teaneck and now living in Washington Heights with her husband, Akiva, Chana attended Bruriah High School for Girls and came to Lander College for Women after spending two years learning at Michlalah in Jerusalem. She is an honors program student graduating with a 4.0 grade point average. Chana achieved the Dean's List every semester and was the recipient of the Lander Merit Scholarship. She received the Butler Fellowship from Columbia Law School, where she will begin this fall. Between her first and second years in Israel, Chana interned for a patent attorney, and she enjoyed the experience so much that she's still working as a legal assistant for the same attorney.
She made a strong positive impression on her computer science professors as well, and they tapped her to serve as a teaching assistant. After she completed her coursework in January, she started working in a similar position at Touro's Lander College of Arts & Sciences in Flatbush, serving as a teaching assistant in four classes between the two schools.
In August she'll switch gears for law school, and she's looking forward to the challenge.
"I really enjoy everything that comes along with hard work—the legal analyses that you're able to do once you've done a whole slew of reading, and learning how things have been decided in the past, trying to understand the principles behind all the decisions that have been made, and trying to see how the future is going to play out."
A Passion for Technology Sparks Career as Software Engineer
Aliza Peikes was drawn to the world of computers from a very young age. As a child, she enjoyed playing around with basic computer programs and later on, her interest grew to include problem solving and logic games, which propelled her towards a career in computer programming.
Entering Touro's Lander College of Arts & Sciences in Flatbush after a gap year at BJJ in Israel, it didn't take Peikes very long to choose her major—computer science was the obvious choice. Today, the 2023 class valedictorian and summa cum laude graduate of Touro's Lander College of Arts and Sciences is employed as a software engineer at Goldman Sachs. She works closely with finance teams to improve the overall efficiency of financial operations, and designs and develops software systems that are used to generate the firm's financial metrics and reports.
Besides her stellar grades and corporate internships that led to full time employment, Peikes seeks opportunities to do chesed so that she can help individuals and organizations. For 10 years, she offered respite to a family with a special needs child and has also lent her time and talent to help small companies and startups with software consulting. Additionally, she helped digitize the operations of a local charity organization that provides discounted clothing to rabbis and rebbeim.
"I chose Touro in Flatbush because it provided me with a quality education while upholding my personal values. The positive experiences of my mother and six siblings, who also graduated Touro, further influenced my decision," said Peikes.
"When it came to gaining real world experience, Touro connected me with alumni who are working at the top of the field. My journey began with an internship at Goldman this past summer, followed by another internship as a software developer at IBM in the fall. I then secured my full time role at Goldman Sachs, with the guidance of Touro's computer science department chair and a Touro alumnus who is currently employed at Goldman Sachs," shared Peikes.
She looks forward to an exciting career but says her ultimate goal is to stay true to her values and dedicate herself fully to every endeavor she undertakes. She strives for excellence and seeks to make meaningful contributions, professionally and in the community.
"Aliza Peikes has achieved excellence in her academic studies and has performed at a high level in two extremely competitive internships at Fortune 500 companies. Beyond academics, she demonstrated sterling character traits and middot in her general conduct. She is a role model for all our students to emulate," said Dr. Robert Goldschmidt, executive dean at Touro's Lander College of Arts & Sciences.
Peikes is an outdoor sports and travel enthusiast who particularly enjoys visiting national parks. She's been to Yellowstone National Park, Grand Teton National Park, the Colorado Rockies, Badlands National Park, Windcave National Park and Mount Rushmore, and hopes to add many more scenic parks to her travels.