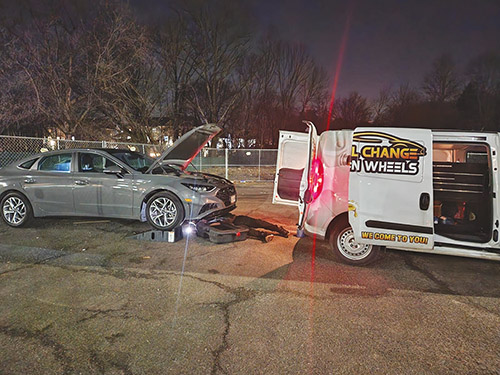 As far as annoying errands go, taking your car in for maintenance might just be at the top of that dreaded list. But Oil Change on Wheels is changing all that by providing car maintenance that is fast, easy, convenient, and best of all, hassle-free.
Instead of bringing your car into a dealership or mechanic, stranding you without a car for what could be hours, or even a whole day, Oil Change on Wheels comes right to your door and does all the work your automobile could possibly need, right there on the spot. Sheea Malamud's team of mechanics can come right to your house, your work, and anywhere you could think of. In fact, Oil Change on Wheels has even serviced cars while the owners were at the gym or attending other appointments.
A professional mechanic himself, Malamud worked as a truck mechanic for many years before starting Oil Change on Wheels. He came up with the idea a couple of years ago during COVID, when he noticed that people were not yet comfortable bringing their cars in for maintenance.
Today, Malamud leads a team of professional mechanics who have years of experience working on automobiles.
Malamud says maintenance should not need to take so long and there is no reason why people should have to wait hours to get their car back. In as little as 30 minutes, Oil Change on Wheels will conduct a full-point inspection. The full service also includes an oil and filter change, in addition to refilling the coolant fluid, which Malamud explains is not necessarily done by many mechanics. His team will also refill the washer fluid, check the brake fluid and ensure everything about your car is safe and in good working order.
With several state-of-the-art, fully equipped trucks that come with their own jacks, Oil Change on Wheels offers a full menu of other services including, tire plugs, tire rotation, air and cabin filter replacement and even wiper-blade replacement.
Oil Change on Wheels services all makes and models and right now, for a limited time, it is offering a special promotional price $85.00 for full synthetic oil. For higher-end luxury models prices are slightly higher.
"Our main goal is to make every person happy and satisfied," said Malamud. "We give very professional, friendly service and we bend over backwards to make sure we satisfy every customer." You can also just check out all the five-star reviews and see for yourself what satisfied customers have to say about Oil Change on Wheels.
To schedule your hassle-free car maintenance appointment call or WhatsApp
845-587-3535